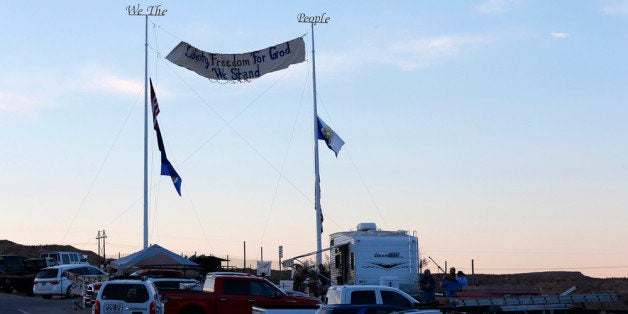 Carol Bundy, the wife of a Nevada rancher locked in a tense standoff with federal rangers, warns the ongoing dispute could escalate to the point of a confrontation similar to those at Ruby Ridge and Waco.
"If you saw the artillery and their presence -- the intimidation they are trying to put on us -- it could turn into that," Bundy told The Huffington Post.
She was referring to the federal authorities camped around the Bundys' land in Bunkerville, an unincorporated town located 80 miles northeast of Las Vegas.
The Bundy family and the U.S. Bureau of Land Management have been involved in a lengthy dispute over the alleged misuse of federal land for grazing. According to the BLM, the Bundys have used federally managed public lands for their cattle and have refused to pay the appropriate grazing fees for the past 20 years. The bureau says the family has ignored repeated warnings to remove the cattle. The family now owes more than $1 million in unpaid fees, the BLM says, which prompted the agency to obtain a federal court order last week to seize and auction off the Bundys' cattle.
Carol Bundy and her husband, Cliven, contend their water and livestock rights to use the public lands were recognized by the state of Nevada long before the federal government took over management of the land in the 1940s. They contend that what the federal government is doing constitutes harassment.
Protesters have already gathered on the ground in Bunkerville to support the local ranchers. Carol Bundy estimates there are some 300. But this weekend the situation may escalate.
Militia group members already in Bunkerville are saying that others from around the country, including Florida, Montana, New Hampshire, Texas and Utah, plan to converge on Bunkerville to rally behind the Bundys. "Based on what these groups are hearing from their members," said Robert Richardson, owner and author of Off Grid Survival, there could be as many as 5,000.
Richardson, who is from the area and has been to the Bundy ranch this week, also counted hundreds of supporters already there.
"It is becoming a flag issue for various militia groups," Kay said. "It is the perfect time -- the perfect storm -- for them to come together and flex their muscles and show that they are going to stand up against what they call 'tyranny' in the federal government."
Kay also points to disturbing similarities between this dispute and the ones that led to the tragedies at Ruby Ridge and Waco. The latter two began with allegations that individuals had violated gun laws and ultimately escalated into armed and deadly standoffs.
Ruby Ridge, Idaho, was the site of a 1992 confrontation between the U.S. Marshals Service and Randy Weaver. The standoff resulted in the death of Weaver's wife, his son and a deputy U.S. marshal.
The next year, law enforcement laid siege to a rural Texas compound near Waco, Texas, that belonged to the Branch Davidians, a religious group. The standoff lasted 51 days, and before it was over, four federal agents and 82 Branch Davidians had died.
Carol Bundy, a mother of 14 and grandmother of 52, insists that her family is trying to "keep it peaceful" and do it "the constitutional way," but so far, she said, that has not worked.
"[Federal rangers] are walking around heavily armed and trying to intimidate and trying to harass," Bundy said. "There are snipers on the hill. They have cameras on our house."
Richardson said he has also noticed the presence of armed BLM law enforcement agents. "I can definitely confirm that," he said. "There are armed agents crawling through that area."
The BLM did not immediately respond to a request for comment from HuffPost on Friday.
Carol Bundy said that the federal government should just back off.
"Our water and our livestock rights are filed with the state," she claimed. "If you have water rights filed, then you also have access and forage rights for your cattle. We don't own the land; we own the rights to use that land for livestock."
Bundy acknowledges that her family owes significant money in unpaid grazing fees, but she refuses to pay that money to the federal government.
"Everybody wants to put out there that [we] have not paid [for] grazing rights, but we did try to pay the fees to Clark County and the state of Nevada," she said. "We tried to pay to the people we filed the water rights with, but they refused to take it."
Bundy said she and her 67-year-old husband are not budging.
"We're standing for liberty," said Bundy. "We're not going to move. We're not giving up. We're actually gaining strength."
"We have the support of the nation behind us," she said.
CASE PHOTOS: (Story Continues Below)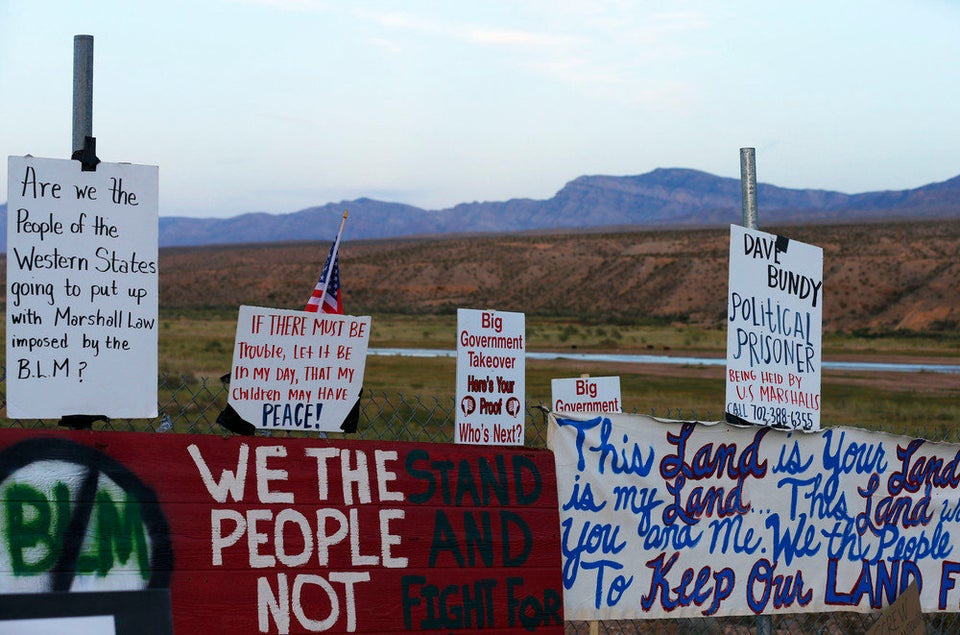 CLIVEN BUNDY
The dispute escalated last week, when the BLM seized 352 of the Bundys' cattle that were found grazing on federal land. The Bundys estimate that each of those cattle -- roughly half their overall herd -- is worth between $1,000 and $2,200.
On Sunday, the situation worsened, after Bundy's son Davey, 37, was shot with a stun gun and taken into police custody.
According to Carol Bundy, he was "standing on the side of a state highway taking pictures out of the way of anybody else. He was in nobody's face. They descended on him and threw him to the ground. They beat him up pretty good."
In a statement to the Las Vegas Review-Journal, BLM spokeswoman Kirsten Cannon said Davey Bundy was taken into custody to "protect public safety and maintain the peace."
"While anybody can express their free speech anytime on open public lands in accordance with the codes and ordinances that exist, there are temporary closures of some of the public lands related to this impound operation, and those are in place for public safety," Cannon said.
Cliven Bundy gave an impromptu press conference after his son's arrest, during which he claimed the government had stolen his cattle.
"Davey is a political prisoner," Bundy said, according to the Las Vegas Review-Journal. "That's what you want to call him -- he's a political prisoner."
Davey Bundy was jailed overnight. He received two citations, one for resisting arrest and one for failure to disperse.
Since then, other incidents have occurred.
On Wednesday, a BLM truck was struck by a protester outside the ranch, and a scuffle between authorities and protesters escalated when a police dog was allegedly kicked and officers "were threatened and assaulted," according to a BLM press release.
Carol Bundy said she blames, in part, the governor of Nevada and the county sheriff for letting things spiral out of control.
"We're under martial law right here in Clark County today," she said "To resolve this, I think that Nevada needs to claim its sovereignty -- its equal footing with the original 13."
Kay said that while he does not expect Nevada to "claim its sovereignty" anytime soon, it is possible to resolve the situation without bloodshed.
"In this case, what it comes down to is if the government can find some way to back down and negotiate some sort of settlement," he said. "They haven't collected money in 20 years. What's another few months?"
Kay added, "But the government tends not to want to engage in much appeasement in these types of incidents, and that's what really worries me. The government feels like it can't back down, and the militia feels it's really its time to stand up against so-called tyranny."
For now, it seems, no one is willing to budge.
"We love America and we love each other," Carol Bundy said. "Together, we're standing up. This is not about cows; it's about our federal government. They have unlimited power right now, and we're tired of it."
Like Us On Facebook |

Follow Us On Twitter |

Contact The Author
Related
Popular in the Community