The Bureau of Land Management claims Bundy has let his cattle graze on federal land without paying since 1993, saying he now owes more than $1 million in grazing fees. When federal agents came to confront Bundy about the fees, they were met by an armed militia, a move that has fired up conservatives.
Bundy is attempting to use his newfound fame to spread more than just his views on grazing rights, telling the Times he planned to hold a daily news conference. During Saturday's conference, Bunday shared his views on "the Negro":
"I want to tell you one more thing I know about the Negro," he said. Mr. Bundy recalled driving past a public-housing project in North Las Vegas, "and in front of that government house the door was usually open and the older people and the kids — and there is always at least a half a dozen people sitting on the porch — they didn't have nothing to do. They didn't have nothing for their kids to do. They didn't have nothing for their young girls to do.

"And because they were basically on government subsidy, so now what do they do?" he asked. "They abort their young children, they put their young men in jail, because they never learned how to pick cotton. And I've often wondered, are they better off as slaves, picking cotton and having a family life and doing things, or are they better off under government subsidy? They didn't get no more freedom. They got less freedom."
Bundy's comments, published Wednesday, led Republican lawmakers who had previously shown their support for his cause to back down. A spokesman for Sen. Dean Heller (R-Nev.), who had previously hailed Bundy and his supporters as "patriots," rebuked the rancher's racist remarks, saying the senator "completely disagrees with Mr. Bundy's appalling and racist statements, and condemns them in the most strenuous way."
"His remarks on race are offensive and I wholeheartedly disagree with him," Paul said, according to a spokesman.
UPDATE: 12:30 p.m. ET -- On Thursday, Media Matters released video of Bundy's comments.
UPDATE: 1 p.m. ET -- According to TPM, Bundy told Alex Jones he would appreciate it if The New York Times retracted their story. Mediaite reports Bundy appeared on The Peter Schiff Show Thursday to further explain his remarks in the Times piece.
Below, a transcription of Bundy's remarks on the Schiff show, from TPM:
I'm wondering if they're better off under a government subsidy and their young women are having the abortions and their young men are in jail and their older women and children are sitting out on the cement porch without nothing to do.

I'm wondering: Are they happier now under this government subsidy system than they were when they were when they were slaves and they was able to their family structure together and the chickens and the garden and the people have something to do.

So in my mind, are they better off being slaves in that sense or better off being slaves to the United States government in the sense of the subsidy. I'm wondering. The statement was right. I am wondering.
Before You Go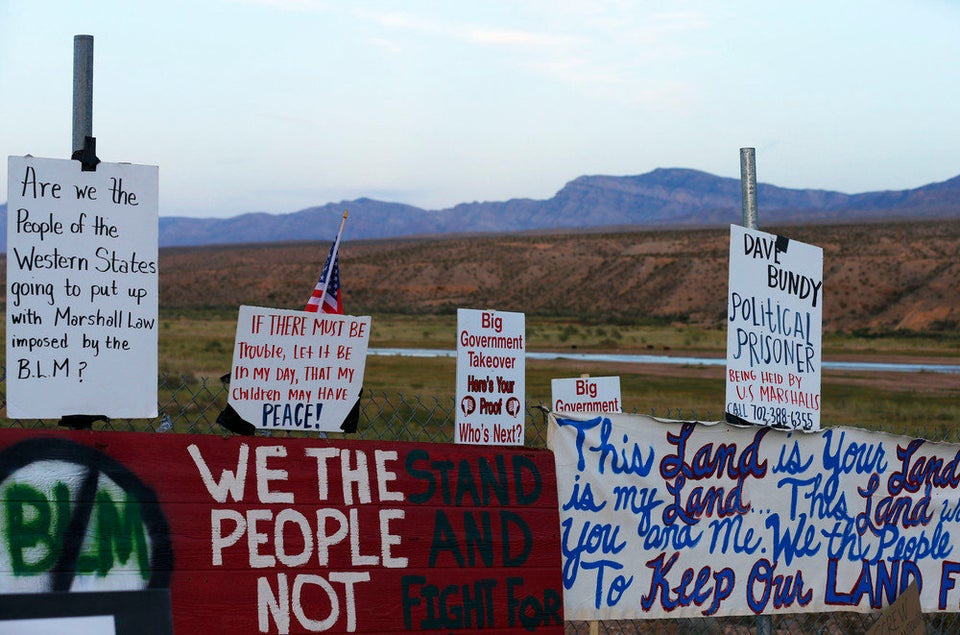 CLIVEN BUNDY
Popular in the Community