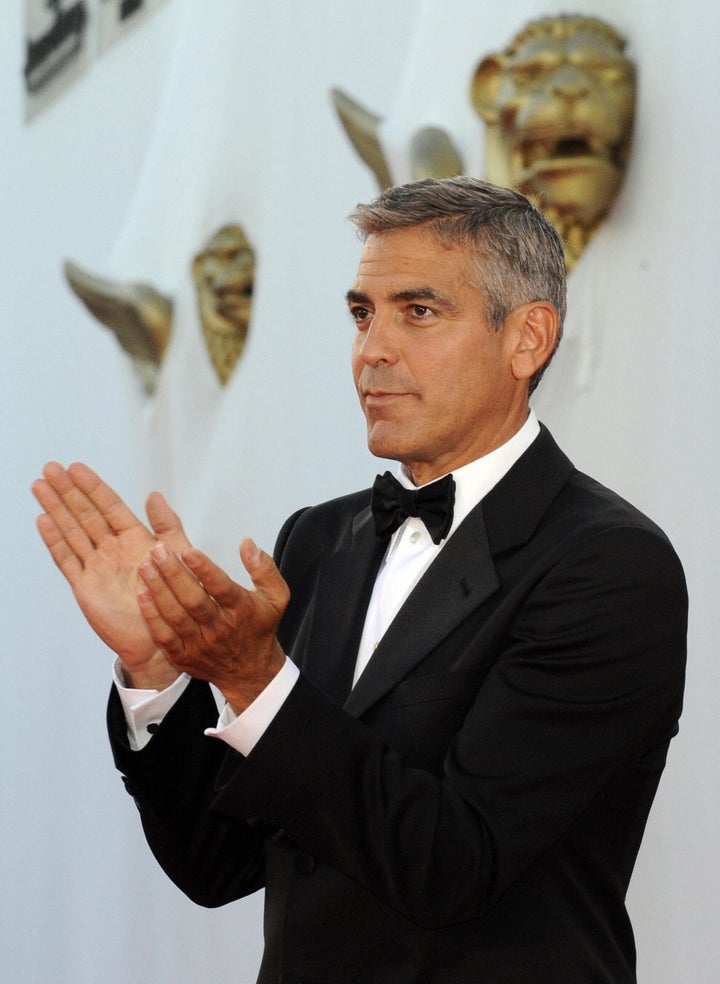 Up in the Air, one of this year's most anticipated movies for grown-ups, had its world premiere this weekend... up in the air. More specifically, the George Clooney vehicle made its bow 9,545 feet above sea level, in a screening room at the Telluride Film Festival that is accessible primarily by taking a ski gondola to the top of a mountain. In the film, directed by Jason Reitman (of Juno and Thank You for Smoking fame), Clooney plays an itinerant exec whose goal in life is to amass 10 million frequent flyer miles. Telluride Festival passholders who spent a lot of time going in and out of clouds on that gondola began to know how he felt.
Reitman said he only finished the film two days before bringing it to Telluride, where the dramatic comedy was shown as a "sneak preview" in advance of its official world premiere at the Toronto Film Festival. "You were already in line when I was still working on this movie," the filmmaker joked to the audience. It had already been touted as an awards contender sight-unseen, but now that the movie has actually been seen by an audience, it's safe to say its Oscar buzz is... elevated. (Non-festival-goers will have to wait till Dec. 4.)
The director started writing Up in the Air six years ago, based on Walter Kim's novel. Fortuitously for him, in a way, but unfortuitously for the nation, it's grown about a hundred times more timely in the intervening years, because Clooney's job in the movie is being a terminator -- someone brought in by cowardly corporations to handle the actual in-person firings of employees in a mass layoff. But that nutshell description risks making the movie sound a little more high-concept than it is.
"No, I don't think I make high-concept movies," Reitman told me after the screening. "The fact that he fires people for a living is kind of one of six plotlines in the movie. The fact that it's relevant as a movie very much of 2009 is not only the result of it being about a guy who fires people for a living. I think it's also a result of a guy whose life experience is very 2009. The way that he travels, the way that he texts people -- I think all of it makes him a man of the moment."
There are romantic, sexual, familial, and purely professional entanglements along the way. Reitman didn't take much from the novel beyond the central character and his carefree philosophy about the superiority of perennial rootlessness. Major characters invented just for the screenplay include the ones played by Vera Farmiga, as Clooney's equally itinerant love (or possibly just sex) interest, and Anna Kendrick, playing a young upstart who disrupts Clooney's happy flyboy existence by bringing in a new system of downsizing-by-teleconference-call. Clooney finds his formerly chilly feelings about love and home changing as the result of attending his estranged sister's wedding, another element not found in Kim's source novel.
Reitman is the first to acknowledge the frequent changes of tone in the film; he says he thinks of the first act as being like Thank You for Smoking's corporate satire, the second act as like Juno's more intimate comedy, and the third act as something much more personal for him. At various points the movie feels very Cameron Crowe-esque, with its exec-finding-his-soul overtones harking back to Jerry Maguire or Elizabethtown. At other times it feels like it's leading in the direction of being a romantic comedy, but what it offers in the end is something far less conventional than that. It's not actually a "feel-good" movie, finally, though Telluride attendees left feeling awfully good about it. "I'm trying to take the audience in a certain direction so that when the ending happens, you really feel the impact of it," Reitman said -- and to be any less cryptic than that would be offering spoilers.
The main character definitely involves Clooney playing to suave, commitment-phobe type, up to a point. "I feel that this is a movie very much in his voice," Reitman said. "And I thought--I presumed, and I found myself to be correct--that this movie, this storyline and its characters, really speak to him, and that you can feel that in the authenticity and vulnerability of his performance." If people see parallels between Clooney's intelligent playboy image and the movie's alternately glib and soulful terminator, so does Reitman. "It's interesting, the connections between him and this character... I think he saw this as a chance to stare that straight in the eye."
The director says the film is "truly about connecting with other human beings... For the first time ever, [the Clooney character] realizes he's alone in the universe, and I wanted to leave you with that feeling." But he sees that as upbeat, mind you: "When you realize how alone this character is, you want to reach out and love other people."
But the initial focus will surely be on the incredible timing of the unemployment angle. Most of the "actors" Clooney lays off in the film -- who respond by swearing, threatening suicide, weeping, or with real resignation -- are people who really were recently fired. The filmmakers placed an ad, saying they were making a documentary about job loss. They narrowed the field down to 100, filmed 60 people, and 25 of those made it into the movie as firees. The closing end-credits song is also written and sung by a regular guy in his mid-50s who handed Reitman a cassette of a sad tune he'd written about his own job loss and the subsequent search for purpose. Jason Reitman: He's Hollywood's one-man stimulus plan.