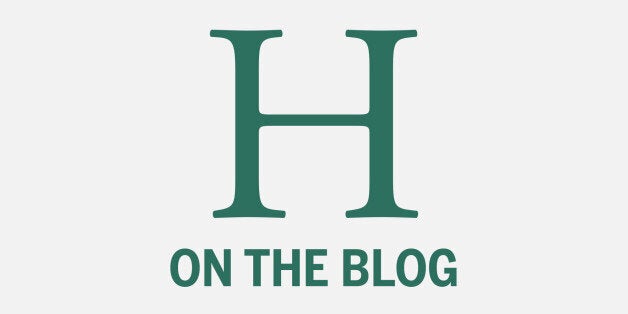 As editor of the music trade Record World during the 1970s, I met the greatest music-makers in the world just by showing up for work. Sooner or later, it seemed, just about everyone who had a hit record, or wanted one, stopped by for a chat and a photo op.
But when John Lennon, the artist I most wanted to meet, arrived unannounced one Friday during the winter of 1974, I was holed up at a printing plant in a desolate corner of the then-desolate town of Hoboken, NJ.
Every Friday around 5 a.m., RW associate editor Howard Levitt and I met at Dispatch Press -- purveyor of such other aptly named trades as Floor Covering Weekly, Mortuary Monthly and Shipper and Forwarder -- to put together that week's issue. We'd feed typed-up/pencil scrawled pieces of paper and cheap Polaroid photos to veteran typesetters and camera guys. Then we'd use top-of-the-line scissors and brand new Scotch Tape to lay out each page on a cardboardish "dummy" sheet while the rest of the staff arrived for proofreading.
On the day in question, assistant editor David McGee was given a reprieve so that he could do an exclusive interview with Jackson Browne from the office, via telephone -- his first interview with a major artist.
McGee, who had only recently been promoted from the RW mail room, recalls, "To study up, I brought to the office not only Jackson's new album, Late for the Sky, which would be the focus of the interview, but his two previous albums, Jackson Browne and For Everyman. A pair of headphones was on the desk, and although I plugged them in while I played the albums, that didn't stop the music from pouring out of the speakers. I had my back turned to the door and was hunched over the cover of the Jackson Browne album, listening to the haunting 'Song for Adam,' a requiem for Browne's departed friend Adam Saylor, who apparently committed suicide in Bombay.
"It's one of Browne's greatest songs, as beautiful as it is mournful, and apart from its Biblical allusions it's a touching testimony to the power of friendship. As I played the song for probably a third time, I became aware of a presence in the room; I knew I wasn't alone anymore. Thinking it was probably someone from the office, I kept focused on the music, until finally I had to see why this presence wasn't leaving.
"When I turned around I was face to face with John Lennon, who was standing alone in the doorway, listening to 'Song for Adam,' apparently as intently as I was. When it finished I took off the headphones, and John, who wasn't introduced and obviously didn't need to be, said, 'That's a great song. A really great song. The whole album's like that, isn't it?' The latter wasn't really a question; it was a rhetorical statement. And then, like that, I was in a spirited conversation with John about Jackson Browne, finally getting around to Late for the Sky, of which he had heard only the title track. 'That one got under my skin,' he said, and then John Lennon -- John Lennon, mind you -- added: 'I wish I could write songs like that.'
"Talking to him was as easy as catching up with an old friend. No pretense, no attitude, no sense of entitlement on his part but exuding a real warmth engendered by a connection through our mutual awe at what a song can mean in a person's life, and how it comes out of a person's life.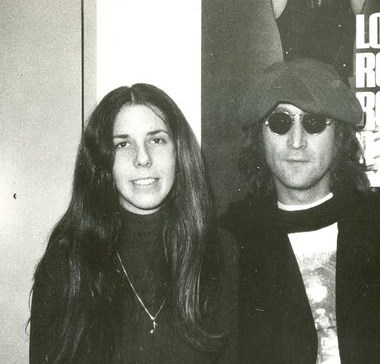 John Lennon with RW assoc. chart editor Toni Profera/Winter, 1974
"It's now 2014, 40 years later, and during the ensuing years I have met any number of big-time musical artists, including some of the most important ones of our time. But there was something about John's presence that was utterly different from any other artist's -- or even any other human being's -- that I've ever met. He simply seemed to be operating intellectually and spiritually on another plane, and yet at the same time was as regular a guy as you could imagine -- through Jackson Browne's song, he had no trouble connecting with a kid who was then only two years off the plains of Oklahoma and only a few months removed from running the mail room at Record World.
"All told, I had about 10 minutes alone with him in that room discussing Jackson's work before May Pang (John's significant other and a great friend to us RWers) emerged and escorted him away. I don't know why he was in our office that day, and really don't care. To date that is my only personal meeting with a Beatle. And if that's the way it is from here on out, I'll take it, because that moment was so electric for me."
We were wrapping up at Dispatch on that Friday when a phone call came through. Those last-minute calls were never good news. Was it a panicked PR person wanting a story changed? A record mogul saying he'd bury us if we didn't give his single a bullet? Our publisher demanding that we find a "printer's trick" to add an ad after the magazine came off the presses?
I recognized John's voice immediately. What stunned me was that this man whose music and worldview had so changed my life didn't want to talk about himself; he was interested in what I was doing in Hoboken. My experience of his life force, his infectious exuberance, was similar to David's. I don't have the words for it, so I'll borrow a few of John's: "Limitless undying love/which shines around me like a million suns/It calls me on and on/across the universe."
Popular in the Community