Local Activists Rally to Close Guantánamo and End Indefinite Detention as Part of the Global Day of Action -- Joining Protests in 46 Cities Worldwide
Protests come exactly one year after President Obama recommitted to close down the detention facility.

Minneapolis, MN -- On Friday, May 23, one year after President Obama once again promised to close the detention facility at Guantánamo Bay in a speech at the National Defense University, local anti-torture activists will rally at noon in front of the U.S. Courthouse, 300 S. 4th St., Minneapolis. They are calling on President Obama to transfer the dozens of cleared detainees and make good on his commitment to close the prison this year.
The president's pledge last May to close Guantanamo came amidst a mass hunger strike at the prison by men protesting their indefinite detention. Since then only a handful of men have been released from Guantanamo, where hungers strikes and brutal force-feedings continue.
"There is no excuse for further delay in closing Guantanamo," says Patty Guerrero, a member of Women Against Military Madness (WAMM), who also conducts a weekly Pax-Salon in St. Paul, and has been a worker for peace and Justice since the '60s. "The president has the power to shutter the prison and needs to use his authority, or his promise is meaningless."
"The human rights abuses at Guantanamo are the concern of everyone, including right here in Minnesota," says Gary King, 66, leader of the Twin Cities Amnesty International group, AIUSA 37. "Guantanamo continues to shock the conscience as a place of indefinite detention, solitary confinement, and forced-feeding. These are all forms of internationally condemned torture. The Guantanamo gulag must close now."

Groups are also calling on President Obama to release the full Senate report on CIA torture and ensure that the CIA does not have the final say about what information is made public.
Activists in Minnesota, some dressed in black hoods and orange jumpsuits, will update and dramatize the situation at Guantanamo with a timeline noting the historical path to the "dark side" that occurred after 9-11. The names of dozens of torture victims that ended up dying or being killed as a result of their being tortured will also be displayed and read.
The protest is part of a Global Day of Action to Close Guantanamo and End Indefinite Detention, in which 35 human rights organizations have banded together to hold rallies in more than 46 cities worldwide (including eight different countries). Cosponsors include Witness Against Torture, Code Pink, and the Center for Constitutional Rights, among many others. Events will also be held in New York City, Washington, D.C., London, Boston, Chicago, Munich, Sydney, and other cities (full details here).

WHERE: U.S. Courthouse, 300 S. 4th St., Minneapolis, MN

WHEN: Beginning at 12 noon on Friday, May 23, 2014

WHO: Anti-torture activists in local chapters of Amnesty International; Tackling Torture at the Top Committee of Women Against Military Madness, Veterans for Peace and other local peace and justice groups

WHAT: Local Rally as Part of Global Day of Action to Close Guantánamo & End Indefinite Detention
ADDITIONAL INFO: Our "Timeline to the Dark Side" reproduced in the 11 posters below was researched and created by our Tackling Torture at the Top Committee, and is being shared for use by any group wishing to protest U.S. torture and indefinite detention and lobby for the closing of Guantanamo.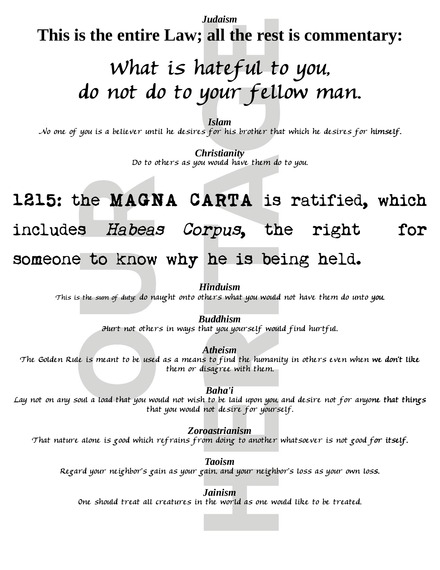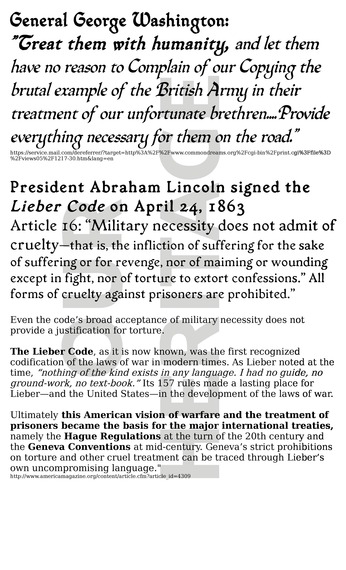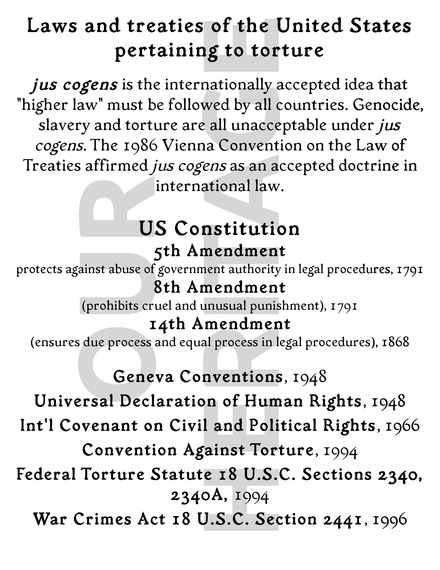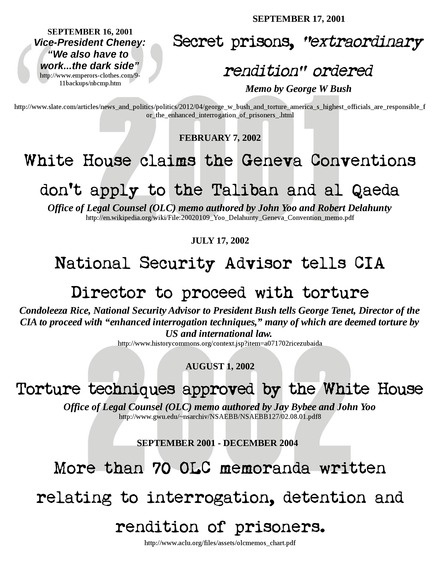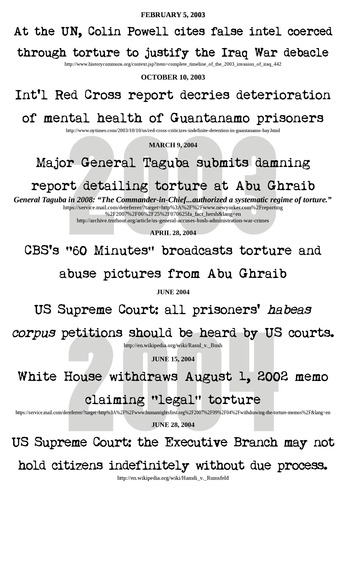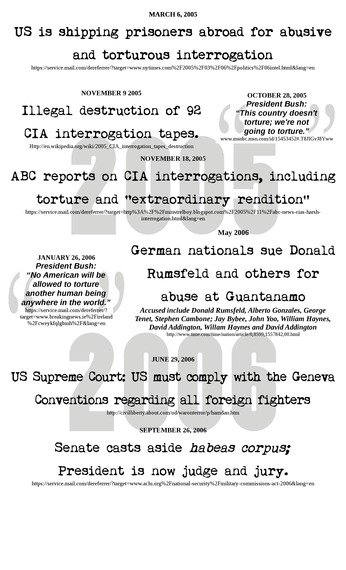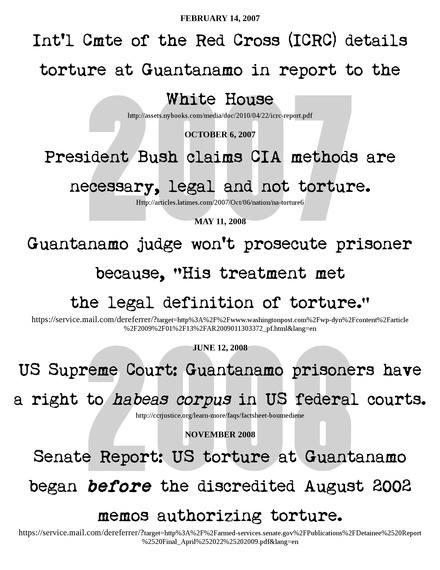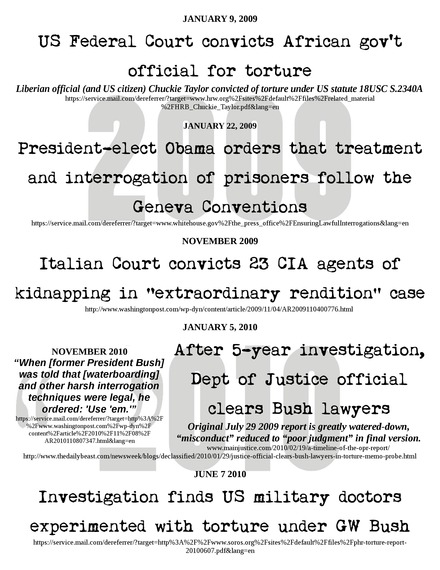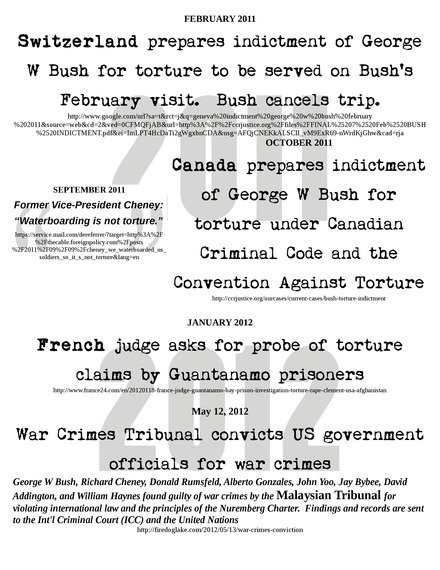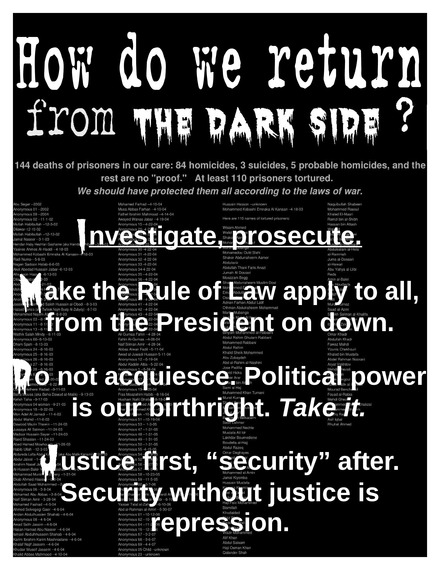 REAL LIFE. REAL NEWS. REAL VOICES.
Help us tell more of the stories that matter from voices that too often remain unheard.