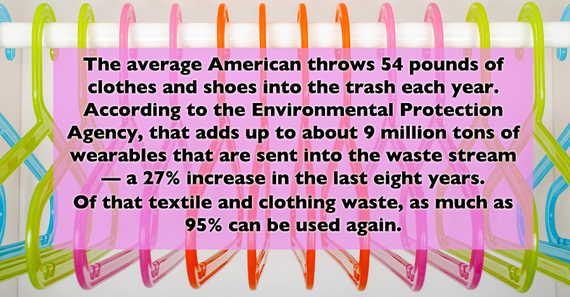 If you've ever heard someone say, "I can't wear that; everyone will remember it from my Facebook (or Instagram or TwitPic)" -- or perhaps it was you who fell victim to this tragedy -- you're not alone.

With social media's photo revolution and fashion quickies on the rise, more and more fashion items are sitting in closets, unused and collecting dust. But thanks to a few brave and benevolent retailers that have kick-started the new trend of clothing recycling, you can now redeem your tired and tattered threads for money and perks, and even save Mother Nature while you're at it. Here's how:
1. Recycle for Discounts at H&M
H&M's Garment Collection Program allows shoppers to recycle clothing in exchange for discounts on future purchases. For each bag of clothing brought into US stores, you'll receive 15 percent off one item. Each customer is limited to a maximum of two shopping bags per day. UK customers receive a £5 voucher redeemable for any future purchase of £30 or more. Accessories are not accepted; however, any type of clothing from any store or brand -- in any condition -- is welcome. Check out this store locator to find participating H&M stores near you.
2. Earn Dollars at Modavanti
Online retailer Modavanti -- recognized as the premier destination for sustainable fashion -- has also joined the cause by introducing its own recycling program, Modacycle. Potential participants must email Modavanti with "Modacycle" in the subject line. The company will then email step-by-step instructions on how to send in recyclable clothing. The shipping costs are incurred by the company and once the textiles are received, recyclers are rewarded with $20 of Modavanti Credits (with a limit of $60 in credits each month). The donated clothes get sent to designers and students at the Fashion Institute of Technology. Modavanti accepts dresses, jeans and tops, but is currently unable to take shoes or jewelry.
3. Shwop for Prizes at Marks & Spencer
M&S founded Shwopping in hopes of changing the world in a fun and fulfilling way. The concept encourages people to clean out their closets and bring in their old rags to any M&S store. The items are collected in a "Shwop Drop" box near the front of the store. From there, the clothing is taken to Oxfam, where it is either resold, sent to people in need in developing countries, or recycled. These efforts raise money to help end global poverty and also prevent unnecessary waste. M&S collects clothing from any brand, in all conditions -- even pieces with rips, tears or holes -- because if the item can't be used as is or redesigned, the fibers can be recycled to create new fabrics. M&S also collects jewelry, handbags, shoes and even bras, as these items are greatly needed in the developing world. On a regular basis, shwoppers get the chance to enter a weekly drawing for a £100 gift card. M&S has already collected more than 5,500 tons of clothing -- the equivalent of 20 jumbo jets!
Now that you know how to use your fashion sense for the greater good, join this monumental movement by thinking twice about throwing your old clothes in the trash. Treat your closet to a makeover and make a difference by keeping useful waste out of landfills.