Businesses generally come and go--for better or worse--to service the needs of consumers. While watching a beloved shop or home-away-from-home cafe close can be heartbreaking to many local residents, the new space in the market can set the stage for exciting innovations.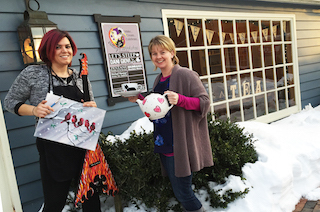 Case in point: Bekky's Village Workshop, home of Let's Steep, located in the heart of Peddler's Village. Since 1962, Peddler's Village has been home to sixty-five shops, three restaurants, and seventy-one hotel rooms. When Canterbury Tales--a quaint mom and pop bookstore which had been a long-admired local staple--closed its doors, it also displaced the authors who would do weekend book signings at the shop. This popular, eclectic group remained undaunted and starting forging connections around the area.
"It was an interesting stroke of luck when Bekky's cousin approached me, during a Peddler's Village event, about providing mediumship demonstrations and spirit medium readings." Author and Spirit Medium Karen Hluchan adds, "With the impending closure of Canterbury Tales, I thought this could be a great location not for just me, but for all of the local authors who enjoyed interacting with the public at Peddler's Village. After speaking with Christina, and meeting with the staff at Bekky's, I knew we had found great people to work with, as well as a wonderful and inviting home for special events."
Owner of Let's Steep, Bekky Morasco, and Dani Giovi, owner of DaniGiovi Arts which occupies the lower level of Bekky's Village Workshop, opened their doors, arms and hearts to the eclectic group.
When asked about her vision, Bekky said, "We're building an artisan community where people can come, share ideas, and learn from each other. We're hoping other artisans will also find a happy home with us." Dani believes, "If you can dream it, together we can make it a reality." Like the authors who wish to share their stories with the world, Dani wants to share her love of art with it as well.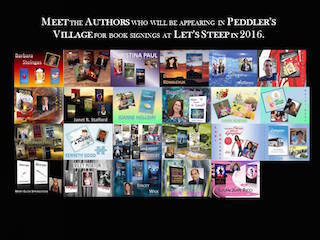 After the productive Thursday afternoon meeting, which included Let's Steep manager, Lauren Waldspurger, Christina hit the ground running, contacting all the authors, plus inviting several new ones to the venue, and scheduling everyone. Today, there are twenty-four authors involved in the signings--appearing almost every weekend of 2016, including Black Friday and Grand Illumination, which is Friday, November 18th.
"It has been an exhilarating and exhausting few weeks," Christina admits. "Over the past few years, the authors had all become friends, and it broke my heart thinking I'd never get to see them again, so Karen and I vowed we wouldn't let that happen. Finding Bekky's Village Workshop has been a true blessing. The owners and staff are simply amazing."
Every weekend between tomorrow and Christmas, authors will be in launching and signing books. Some weekends will include festivals--with everything from live music, wandering minstrels and clowns, to activities for kids like pony rides, face painting, and balloon animals. Plus, they set up an additional area with vendors and crafters. If you would like to see more, go any weekend or during one of the upcoming festival dates: Strawberry (May 21st-22nd), Paris (June 25th-26th), Blueberry (July 16th-17th), Peach (August 13th-14th), Scarecrow (September 17th-18th), OctoberFeast (October 15th-16th), and Apple (November 5th-6th).
Support HuffPost
The Stakes Have Never Been Higher
Related
Popular in the Community