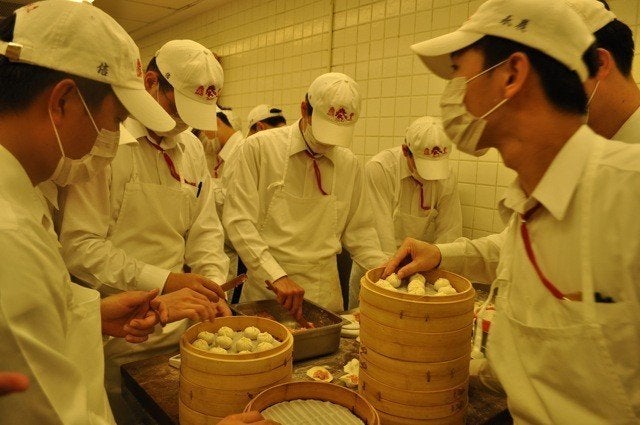 A lover of Asia and all of her bounty, I recently had the opportunity to visit the small island of Taiwan, once known as Formosa, the literal translation of which is "beautiful island." A varied land that holds fast to tradition while embracing democracy and change, the more I explored, the more I found myself delighted and intrigued by each layer, especially with respect to the many delicious tastes native to Taiwan's main cities: Taipei, Tainan and Taichung.
In August, the Taipei Culinary Exhibition took place at the Taipei International Convention Center and highlighted the many different kinds of food found throughout the country. With Chinese and Japanese influences throughout the centuries, it follows that there is rich food tradition in Taiwan and dishes like Chinese-inspired beef noodle soups sit comfortably next to Japanese teppanyaki-style cooking and sushi.
This year, Taiwan (formally known as the Republic of China) celebrated its centennial as a republic, dating back to the ROC's birth during the 1911 Xinhai Revolution. As 2011 comes to a close, it feels appropriate to call attention to not only Taiwan's political story but also her cuisine. Though there's a new delicacy to be discovered on every corner in every Taiwanese city, here are five must-try foodie experiences in three of them.
Taipei
Though it is easy to find excellent dumplings all around Taipei, there are few shops as celebrated, both nationally and internationally, as Din Tai Fung. With 66 joints around the world, it's no wonder this place creates such frenzy in its home city. Crowds clamor outside the restaurant's original location on Xinyi Road, waiting for their name to be called and their turn to climb the back stairs to one of four floors of cramped seating.
As you pass through the entrance, be sure to peek into the dumpling-making uber-chamber where over thirty busy Taiwanese cooks furiously work the time-honored dumplings into perfect shape. Feel free to count the folds on top of the house special pork soup dumpling, the xiao long bao; each has 18 meticulous creases, no more, no less. Wash down a sampling of the famous dumplings with another house special: Gold Medal Taiwanese beer.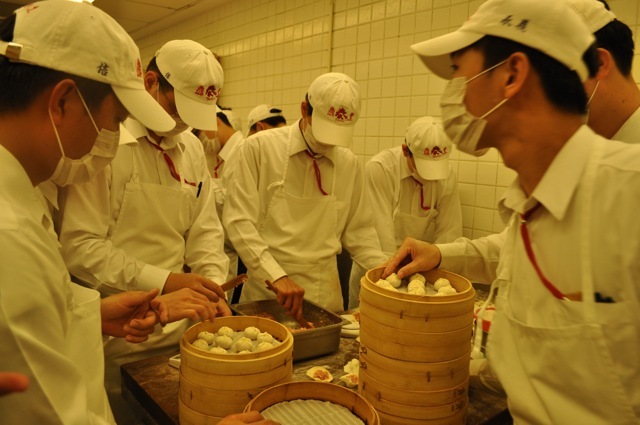 Though Taiwanese cuisine more often stresses Chinese flavor profiles, the Japanese occupation of 1895-1945 produced culinary traditions derived from Japanese technique. In the mountains above Taipei at Shi-Yang Cultural Restaurant, such inspired cooking can be found in a lush, multi-room teahouse that looks out on gardens filled with flowers, waterfalls and the natural beauty that sometimes gets lost in the hustle of Taipei's grid.
With only one menu offered and served kaseki-style over nine courses in private dining rooms, the experience of Shi-Yang is as important as the meal. Starting with oolong tea, progressing to hand-made tofu, abalone and assorted sushi rolls, the meal peaks with a lotus and chicken stew that takes seven hours to prepare. Worth the hour it takes to get to Shi-Yang from Taipei? Definitely. Reservations are absolutely essential.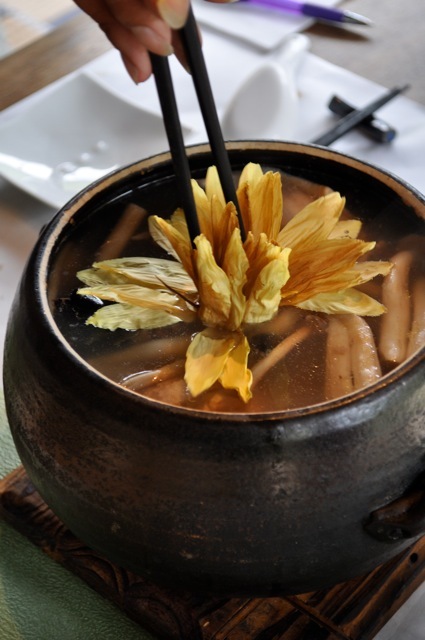 Taichung
One of Taiwan's most famous desserts is the suncake (tai yang bing), which originated over 100 years ago in the industrial city of Taichung. Mild in flavor, flaky in texture, these delicate snacks are usually shaped like the sun and can be made in flavors ranging from pineapple to coffee. An apt accompaniment to -- what else? -- tea, the deep red-colored, busy Sunbooth shop in central Tainan sells all varieties of the treat.
Row upon row of individually packaged suncakes line the walls while mixed boxes of cakes can be picked and purchased like donuts, the suncake's American equivalent. If you're feeling particularly crafty, above the madness of the ground-floor retail shop, flour, sugar and pork fat collide in cooking workshops where the history of the cake, as well as the recipe, are explained in greater detail.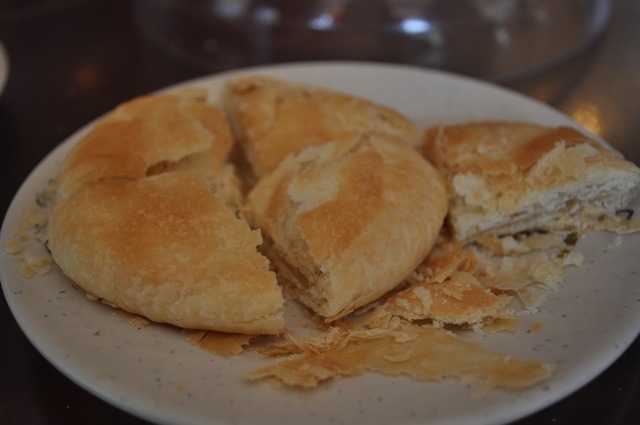 Tainan
The sound of a good slurp is considered music in Asia's many noodle bars, and at Du Hsiao Yueh in Tainan, a symphony of lip-smacking sounds float merrily on the din. Here, in one of the island's oldest noodle shops (opened in 1895), the art of making danzai noodles is a serious practice. Different than the popular beef noodle soups of Taipei, danzai noodles were originally made in the streets of Tainan and sold as a light snack rather than a hearty meal. Noodle venders would sit on short benches surrounded by various boiling pots and ingredient-filled containers as hungry Taiwanese lined up for small portions of this beloved staple.
Based in a shrimp broth, sweet yellow noodles are topped with a minced pork sauce -- the key ingredient -- for a light taste that sets this apart from richer noodle soups. With a small, gritty storefront location and a larger, polished full-service restaurant in central Tainan, Du Hsiao Yueh is the place to get your danzai noodle soup fix.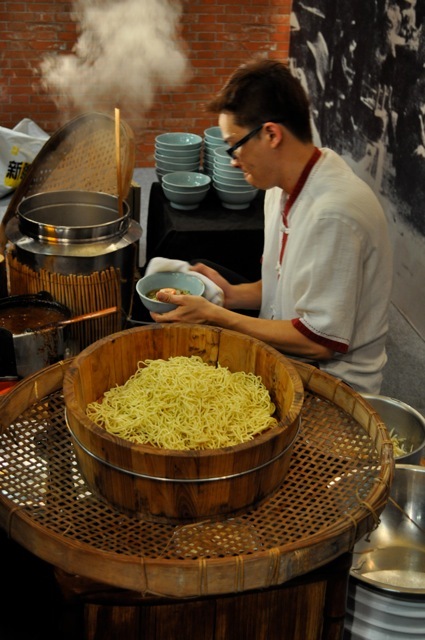 For a fine-dining experience set atop the city's highest building, head to the Shangri-La Hotel's Shanghai Pavilion. With a 360-degree view of the expansive cultural city of Tainan from the 38th floor, the formal dining room and Chinese-inspired menu of Australian Chef Ashley Lucas delights both locals and visitors. Don't be overwhelmed by the multi-page listings; just leave things up to your server after offering some general guidelines (fish, meat, spicy, salty).
From simple classics like chicken soup with bean curd and marinated chicken with sweet Shaoxing wine to the more complex fiery grouper with Szechuan chilies and seafood noodles with XO sauce, pay attention to the serious knife work highlighted in presentation. Each plate is a work of art, as much as a palate teaser. Budget travelers beware -- this is the kind of spot that you head to blow your last day of vacation spending on modern food that pays tribute to the influences of the past.