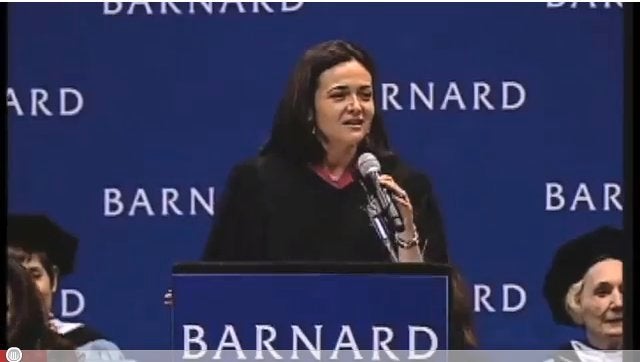 Not long ago, Facebook COO Sheryl Sandberg gave the commencement address at the all-female Barnard College. Her message to the young women was loud and clear: "Men run the world."
She then cited some bleak statistics: Only nine of the world's 190 major heads of states are women. Only 15 percent of women hold top positions in American corporations. Only 24 percent of full professors in college around the United States are women. Those figures, mind you, have not changed in a decade.
If anyone knows what it's like to be the lone female voice working in a sea of men, it is Sandberg. She was chief of staff for the Treasury Department and a senior executive at Google before landing at Facebook -- male-dominated organizations in male-dominated fields. She is intimately familiar with the differences between men and women.
"Men are more ambitious," she told the graduating students. "We will never close the achievement gap if we don't close the ambition gap."
And why is that gap so vast? Because "Women underestimate their performance," she said.
Sandberg is right on that front. Women are notorious for underestimating their abilities; I see it all the time with the women business owners I work with nationwide in the Make Mine a Million $ Business program. They also struggle with the idea of gaining recognition for their work.
As Anna Fels wrote in a 2004 article in the Harvard Business Review and in her book Necessary Dreams, ambition has two components: mastery acquired over a period of time and recognition for that mastery within a community. While women are totally capable of the mastery element, they struggle with the recognition piece. They don't like to call attention to themselves. They also have trouble with the language around ambition. Rather than use the word "ambition," they use euphemisms like "private journey," or "personal best." Ambition, after all, sounds so cutthroat and male. And who wants to be seen as competitive and aggressive... or a bitch?
Certainly, a large reason is that women don't have very many female leaders in politics or business. Hillary Clinton is one, for sure -- though she has certainly gotten her share of criticism over the years. Oprah Winfrey and Martha Stewart, clearly. And Arianna Huffington, who founded this web site and then sold it for $300 million to AOL.
But what other female role models are there in leadership positions? And of the women who are in top corporate positions, how many actually founded the company? Meg Whitman is ambitious, perhaps -- but she didn't start eBay, she just helmed someone else's vision. The same goes for former Hewlett-Packard CEO Carly Fiorina, and Avon CEO Andrea Jung.
With that in mind, I believe the issue is not that women aren't ambitious, it's that they're not ambitious enough. Why aim to run existing companies rather than start our own? Women need to stop waiting for things to happen to them and make things happen for themselves -- be innovators, take charge, and emerge from behind the scenes. In other words: Be their own boss. It's possible; I see it every day. Over the past five years, Count Me In has inspired thousands of women entrepreneurs through our Make Mine a Million $ Business program.
I think of Dawn Gluskin, the founder and CEO of SolTec Electronics, which sells high tech equipment like semi-conductors. Gluskin's company grew out of necessity: After giving birth to her daughter, the company she was working with wouldn't accommodate her need to work from home a few days a week. She started SolTec in 2009 in her living room as a solo entrepreneur and with a dream to prove everyone wrong who said she couldn't be a successful entrepreneur and mom. She's done that and more: By the end of 2010, annual revenues for SolTec -- one of the only women-owned businesses in this arena -- were $2.684 million. With her 12 employees, SolTec's sales are outpacing that of her old company. Dawn's next big venture? Opening an Aerospace division.
Then there's Valerie Lecoeur, a suburban mom who developed a growing consciousness around environmental issues and how they might effect her family. She launched Zoë b Organic in 2005 because she was having difficulty finding toxin-free toys and other products for her kids. Out of her living room, she started a company that develops and distributes BPA-free, sustainable, organic products for babies and kids. This summer, she launched the world's first biodegradable beach toys, and they're being sold globally. She's aiming to hit $20 million in sales revenues by 2020. Talk about ambition!
I know hundreds of women like Gluskin and LeCoure and you can read about some of them here. But I'd like to see more: More women with vision and energy and ideas who are not afraid to take the ball and run with it. Yes, I'd like to see many more women running million dollar companies. That's my ambition and that's why at Count Me In we are working every day to move one million women business owners to the $1 million dollars revenue threshold by 2020. Will you be among them?
Calling all HuffPost superfans!
Sign up for membership to become a founding member and help shape HuffPost's next chapter