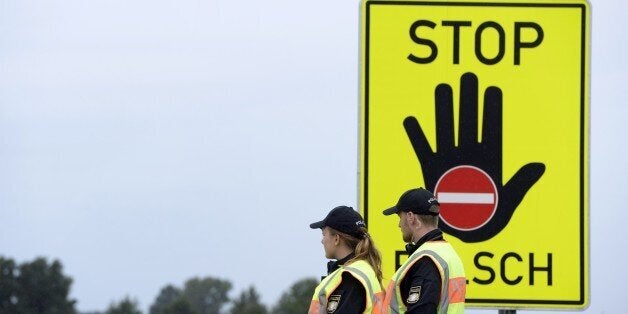 Imagine you had sold your house and valuable belongings to pay a dubious smuggler, whom you didn't even know personally. And now imagine you had risked your own life and that of your loved ones to cross the Mediterranean in the middle of the darkest night.
You would have defended yourself against brutal border patrol officers in Macedonia, endured the bleakness of Belgrade train station and had even escaped the deliberately induced misery in Budapest.
Honestly: Would you let a turnpike at the German-Austrian border keep you out? No one in the world would be that stupid.
But obviously the Federal Government seems to believe that it has found a means against the problems that have been building up in the European periphery for years. The reintroduction of border patrols in Germany's south won't be able to curb the stream of refugees. Especially, because it won't solve a single problem, which caused the stream of refugees in the first place.
Secretary of the Interior, Thomas de Maizière, who belongs to the Christian Democratic Union of Germany's National Association (CDU) in Saxony, which isn't exactly known for their visionary migration policies, is practicing voodoo politics for the right-wing conservatives in his party. He wants to demonstrate his willingness to act in the face of the climatic refugee crisis. However, he is playing with fire.
Consequently, Bernd Lucke, director of the AfD split off Alfa, demonstrated his contentment with this decision. He told HuffPost Germany: "This step was long overdue." Director of the Green Party, Simone Peters, argues against this sentiment. "New border patrols and a national Harakiri course are the complete opposite of an absolutely essential, humanitarian refugee policy in the EU," Peter told the Huffington Post.
However, this isn't the first time that a European nation declares the Schengen Agreement to be a maneuverable political mass. Denmark, for example, had led the way ingloriously. However, in European history, it is without precedent that a European core state is gambling with the accomplishments of European integration in this way.
It would be truly interesting to hear what former chancellor Helmut Kohl would have to say about the meanderings of his political heirs. But after a hip operation, the 85-year-old remains in a hospital in Heidelberg. From here, he has to witness how his political life's work is put on the line.
If open borders are only okay as long as they concern vacations without border controls and economic exports without barriers, the Schengen Agreement might become only a nice piece of paper, which, one fine day, will gather dust in the House of German History in Bonn.
The craziness of this decision can also be read in its entirety in de Maizière's plea to the Dublin Regulation. For weeks, it was political consensus in Berlin that in regards to the rush to the borders on Southern Germany, this agreement was nothing but waste paper -- if only due to the fact that Greece and Italy can't handle the registration of hundreds of thousands of refugees. Angela Merkel personally assured people that Syrian refugees -- if they had made it all the way to Germany -- wouldn't be sent away. All over the world, people celebrated her for her "humanity." There were several people who demanded she become a Nobel Peace Prize laureate.
And now all this is supposed to be yesterday's tattle that nobody will remember? Sunday evening, de Maizière pointed out that the Dublin Regulation was still in effect. "I demand that all European member states adhere to it from now on," said the Secretary of the Interior.
This shows how scared the CDU is of their voters. This big and deserving party is currently trying to solve problems in blind flight. They have neither anticipated the increasing number of refugees nor have they demonstrated that their leading politicians have a recipe at hand to solve the crisis.
If de Maizière was honest, he would have to say that he has know idea about what to do right now.
The current exigency has its roots in the past. The European Union has been looking on for way too long while the situation on the fringes of the community was escalating. In Berlin, the war in Syria was cast as a "forgotten conflict" for way too long. This is catching up now.
And maybe this was only the beginning. Does de Maizière want to close the borders with Poland if the situation in Ukraine escalates? There are twice as many people living there than in pre-war Syria. And the nation has been balancing on the verge of national bankruptcy for months.
And do we want to seal ourselves off even more in the near future, if the consequences of Angela Merkel's failure to act in climate policies become visible?
The answer to the current problems has to be that Germany finally lives up to its responsibility in foreign politics. Otherwise the world's problems will come to us. Which is exactly what is happening right now.
REAL LIFE. REAL NEWS. REAL VOICES.
Help us tell more of the stories that matter from voices that too often remain unheard.