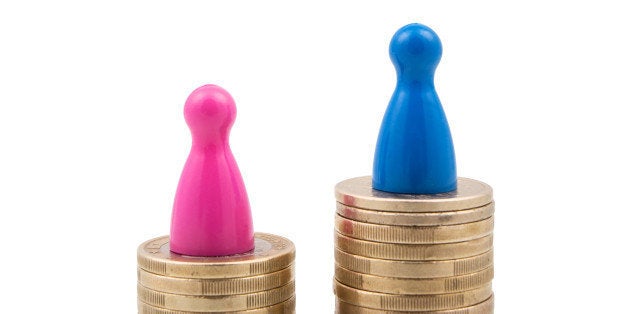 Today we recognize Equal Pay Day, a day that symbolically represents when a woman's wage finally catches up to what a man was paid in the previous year. Despite often being equally qualified, a man's pay outpaces a woman's by 79 cents for every dollar.
More than 50 years ago, President John F. Kennedy took a bold step to address this problem by signing the Equal Pay Act, which established the principle of equal pay for equal work for women in the workforce. At that time, women on average made 59 cents for every dollar earned by men. Since 1963, we've cut the pay gap almost in half--but that's where the good news ends. Though the gap has narrowed, the average American woman still earns $10,000 less than the average male each year, or almost half a million dollars less over the course of their careers. That also translates into lower Social Security and pension benefits and greater retirement insecurity. We've not made nearly enough progress.
Some skeptics claim that the gender pay gap is simply due to women's "choices" - occupation, family, or education level -- but that could not be further from the truth. Even when all factors known to affect pay are accounted for, women still earn significantly less than men immediately after college - and the gap only grows from there. For African American women and Latinas, the disparity is even larger. African American women earn only 60 cents and Latinas make just 55 cents for every dollar earned by white, non-Hispanic men.
Equal pay is not solely a women's issue - it's a family issue. Families increasingly rely on women's wages to help make ends meet, and with less take-home pay women have less for the everyday needs of their families - groceries, rent, child care, and doctors' visits.
Beyond the direct impact of hurting individual families, the gender wage gap also damages the economy as a whole. The wage gap costs women who are employed full time in the United States, as a group, nearly $500 billion every year. These lost wages mean families have less money to spend on goods and services that help drive economic growth. For example, based on calculations by the National Partnership for Women & Families, if the wage gap were eliminated, a working woman in the United States would have enough money for approximately: 83 more weeks of food for her family (1.6 years' worth); more than seven more months of mortgage and utilities payments; more than 11 more months of rent; or 4,635 additional gallons of gas.

Those are just some of the reasons that achieving equal pay for women has been one of our top priorities in Washington. They are why President Obama chose the Lilly Ledbetter Fair Pay Act, which restores a woman's right to challenge unfair pay in court, as the first bill he signed after being sworn in as our President.
In Congress, passing the Paycheck Fairness Act is equally important. While the Equal Pay Act has helped address these issues during its 53 years as law, it also included loopholes that have never been fixed. The Paycheck Fairness Act would close them and strengthen other provisions to more effectively close the wage gap. It would also prohibit employers from retaliating against workers for discussing their wages, recognize employers with good pay practices, and provide assistance to small businesses that need help adopting such practices.
If we do nothing, women won't see pay equity with men until 2058. This is simply unacceptable. We need a Congress that recognizes the gender pay gap as a grave issue demanding urgent action. Today, on Equal Pay Day 2016, we call upon all of our colleagues to support passage of the long-overdue Paycheck Fairness Act.
Popular in the Community