I have seen, heard, and read about many atrocities that stem from lack of access to health care in low- and middle-income countries. Out of all of them, I think the issue that has most upset me is the lack of access to pain control that plagues so many poor patients.
The statistics that map the global pain divide are mind-boggling, horrifying, nauseating. Indeed, they should make one feel sickened.
Pain medications, primarily medicinal opioids, have been proven to be cheap, effective, and feasible to administer even in the poorest countries. Yet, in all but the richest countries of our world, access is pitifully low.
The World Health Organization estimates that every year tens of millions of people -- including 5.5 million terminal cancer patients and one million end-stage HIV/AIDS patients -- suffer needlessly in severe pain because they do not have access to pain medications. One recent study found that more than four out of every five people on the planet live in countries with low to non-existent access to opioids for pain.
Over the past 15 years, consumption of opioids for pain control has more than doubled, yet high-income countries account almost exclusively for this increase. Indeed, high-income countries -- where willingness to give pain medication has dramatically changed over the past decades -- account for only 15 percent of the world's population but more than 94 percent of global morphine consumption.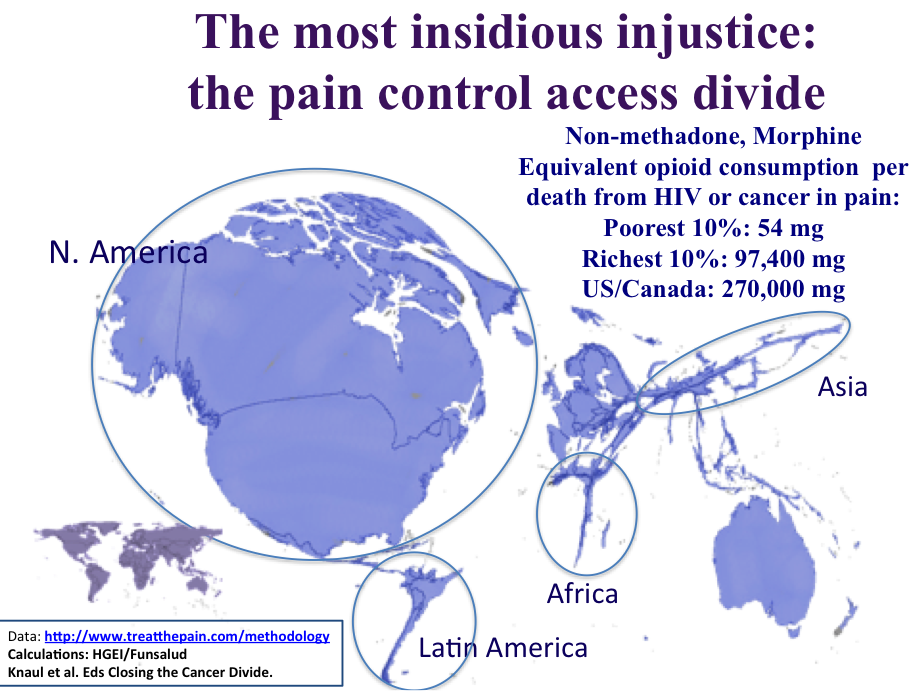 The difference in opioid consumption per death in pain from HIV/AIDS or cancer is close to 600-fold between the poorest 20 percent and the richest 20 percent of countries. The U.S. and Canada consume nearly 300,000 milligrams per pain-related death from these causes, compared to less than 1,300 mg in China, 720 mg in India, 2,350 mg in Mexico, 450 mg in Uganda and a pitiful 47 mg in Haiti. Sub-Saharan Africa where an estimated 1.3 million people die in pain each year, consumes only enough pain medications to treat 85,000 people.
Pain relief provides immeasurable gain. Yet, the true value of controlling pain -- or the inverse, the cost of lack of access to pain control -- is not measured. This is because pain relief does not cure patients or prevent death, and typically does not extend life or productivity. Further, pain is part of a dark side of life that we usually choose to ignore, mainly because of fear of what we could one day experience ourselves. Pain control has been ignored as a health priority outside wealthy countries and communities.
It has taken me more than four years -- the four years since I myself was diagnosed and treated for breast cancer and began to focus my research and advocacy on improving access to cancer care and control -- to understand, deep down, why this particular example of needless suffering and cruel injustice strikes me so deeply, why it took me so long to face it, and why I am so determined to play a part in closing the pain divide.
As I was reading, something in his moving account of cancer patients and families struggling to retain love and dignity in the face of excruciating pain and inescapable sorrow brought back a flood of memories of two months spent on the 17th Floor of Mount Sinai Hospital in Toronto almost 30 years ago. Here is my story of meeting the specter of pain at death and the many ways I relied on medication:

"On June 1, 1984, at approximately 4 in the morning, my father, Sigmund Knaul, died of stomach cancer. He was 60; I was 18.

Branded in Birkenau at age 15, my father spent five years in Nazi concentration camps, and he lost almost his entire family in the Holocaust. The cancer that killed him was related to the harsh treatment in the camps.

My father's cancer was fast-moving and deadly. We had less than four months between diagnosis and death. After an extensive surgery in February, he spent less than three weeks at home before severe bone pain in the hips -- metastases -- sent him to the emergency room. My father never left the hospital alive.

As happens when cancer cannot be controlled, each day brought new terrors. Bone metastases throughout his body. Lungs filling with fluid that somehow had to be drained. Loss of bodily functions.

Yet, he and I, as father and daughter, somehow flourished in that hospital room on the 17th floor. My adolescence had not been an easy time for us. But cancer gave us the opportunity to put past frictions aside and connect, often around the future we would not be able to share. We sometimes danced at night -- well, he sat on the bed, and I held him and we hummed to our own music as we talked. Access to sufficient pain relief made this possible.

In retrospect, it never occurred to us that taking him home to be cared for by his family and die in his own bed might be an option. He was in too much pain. And in those days at least, no one suggested how we might have been able to manage his care and his pain at home. My mother, my 15-year old brother, and I took shifts accompanying him in the hospital. I attended high school only sporadically during those weeks -- just enough to complete my final year. We eventually hired a night nurse.

The last week finally came. My father kept slipping back and forth between the present and the past, between the hospital and the Concentration Camps. He confided that seeing me and my brother kept him focused on where he was at death: in Toronto and not incarcerated by the Nazis. He realized that his children were a product of life after the Concentration Camps and our presence helped him to confront the reality of a death that was far less frightening than the torture of returning to Auschwitz.

From that moment on and for four horrible days and nights, I barely left his room. It was a conscious choice and something I will always be thankful that I was allowed to do. My mother and brother were there throughout. Our social worker, Renata -- who had become and would continue to be my dear friend until her death at home from cancer some 20 years later -- accompanied us daily.

It was clear that death was near and my father spoke to me about it, telling me he wanted to see his parents. He also spoke of seeing a light that he wanted to reach for.

The IV fell out on the Tuesday, and was difficult to get back in. We ordered that it not be replaced, thinking that that would be the end. Unfortunately, it was not. No one prepared us for the dryness of his mouth or the pain of having perhaps caused him more suffering. I doubted my actions, but I knew he wanted to die with dignity.

By the next day he could not speak. He spent most of his energy grabbing at the handle that hung over his bed and around which I had tied a hand towel. I think he was reaching for the light, but it may have just been a way of easing his labored breathing that I remember so well -- hours and hours of struggling as his lungs audibly filled with fluid and every breath desperately searched for a crevice to fill with air. I remember the horrible wheezing, the gasping for air, the wet breathing noise that went on and on. I could do nothing other than keep his head elevated to stop him from drowning.

I asked him if he was in pain. He tried to speak, but I could not understand. His lungs were nearly full of fluid and he could barely breathe. I put my hand in his and told him to squeeze my fingers if there was pain. He squeezed and released, telling me in the only way he could that he was in severe pain.

Therein began another struggle with the medical staff; there had already been several. I somehow understood or intuited that the medical residents were telling me that they could not give more medication because it could precipitate his death -- even if only by hours. When I insisted that the pain medication be increased, the residents told us that it would likely put him over the edge. After speaking with my mother and brother, we insisted again that my father be allowed more pain medication. The residents left the order on the chart -- in case of additional pain.

I was the one who gave him the extra medication, just following the regular injection of morphine that was no longer enough to quell the pain. To this day, my memory is of a small plastic cup filled with a dark brown liquid that I slowly helped him to take by mouth. Within hours, he was at peace and no longer struggled to breathe."
All of these memories flooded back to me as I read Atul Gawande's article. And, I finally realized what sparked and fuels my passion for closing the pain divide.
It was better for many reasons that it was I and not one of the nurses or doctors who administered that final dose of medicine, that final release from pain and the struggle to breathe. I did it with total peace of mind, knowing that he had expressed to me that he was in severe, uncontrolled pain.
Yet, what would I have done had we been living in one of the many, many countries where access to opioids is nearly impossible? Or, if I had been too poor to transport my father to a medical center where we could get the drugs? Or worse, if we had been sent home from the hospital, unable to afford drugs or adequate care because we had no health insurance? The thought is almost too painful for me to conceive. I likely would have had to resort to a pain relief tactic that was much more barbaric for me, for him, and for our family than giving a dose of medication.
Until now, I had not made the connection between our weeks of battling bone metastases and the pre-dawn hours of June 1 -- almost three decades ago -- and my outrage at the lack of global access to pain medication and to palliative and end-of-life care.
No one should die in the torture of pain when the drugs to stop that pain are available and so affordable. No family member or friend should be driven to other means of stopping unmanageable pain. Living pain-free -- especially but not only during our last period of life -- is a right that can be met even in the poorest of settings.
Denial of access to pain medication is a form of torture. Yet far too few are willing to acknowledge this atrocity. Even fewer have dedicated themselves to solving it.
The world is plagued by a pain divide. But the abyss could be closed if there were global will to do so. This is a cause around which all can rally and one that can be achieved at any level of income.