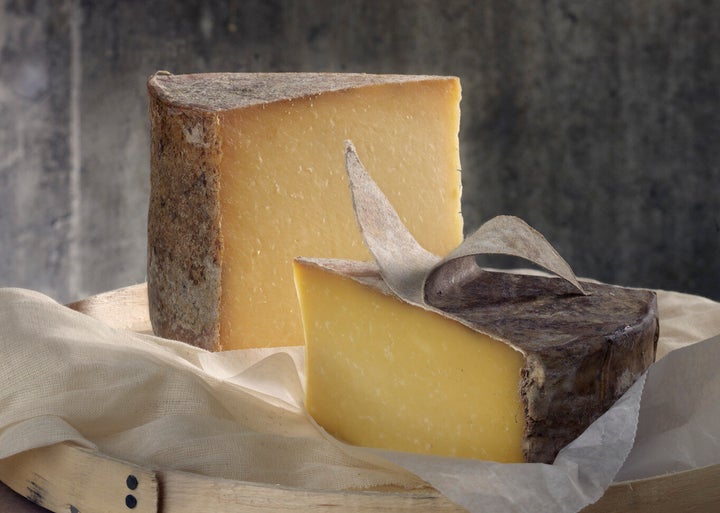 The big change among cheese enthusiasts in America during the past 10 years is an awareness that how well a cheese is aged matters more than how long, and nowhere is that more evident than in recent trends in cheddar.
Even though cheddar is an English cheese (there's a village in Somerset Country called Cheddar and it's production predates the Puritans by several centuries), people rightly associate cheddar as the principal American cheese due to its ubiquity in the U.S. It's found with equal ease in the highest-end boutique cheese shops and the simplest road side convenience markets.
For years, cheese shoppers assumed that age was what mattered most in a cheddar, with three year old, four year old and even 10 year old cheddars occupying a rarefied spot in the hierarchy. However, in the last few years, a different sort of cheddar has taken the market by storm. It's clothbound cheddar, and it has a much more complex flavor than the more conventionally produced examples.
Clothbinding is the traditional English method of making cheddar. It allows the cheese to interact with the air around it and it arrives at a far more sophisticated flavor than the conventional method which is to suffocate the aging cheese in plastic. Cloth binding is a more expensive approach; Kurt Daimler of Beechers estimates that each clothbound wheel loses 10 percent of its volume during the aging process due to the evaporation of moisture. But he's happy to make the trade off for more flavor. Beecher's, which has retail outlets in Manhattan and Seattle, produces several varieties of clothbound cheddar.
For years, fans of clothbound cheddar were limited to the classic English varieties, Keen's, Montgomery's, Westcombe and Quicke's. About 10 years ago, Fiscalini, a renowned creamery in Modesto California, made a clothbound cheddar that they called Bandaged Cheddar. While it was technically true that the process of cloth binding a cheddar is called bandaging, the name probably amounted to too much information.

The real game changer when it came to the new Americans was the Cabot Clothbound Cheddar. The cheese is a collaboration between Cabot, the esteemed Vermont dairy collective whose products are well known and distributed across the United States, and the upstart Cellars at Jasper Hill, a unique new endeavor by Andy and Mateo Kehler to ripen, age and distribute their cheeses and those of their neighbors.
Their innovation was to use a bit of alpine style cheese culture, which gave their cheeses a sweet overtone. The cheese won Best in Show at the 2006 American Cheese Society confab. The ACS awards amount to a veritable honor roll of the best new American cheeses. Since then, clothbound cheddars have proliferated. Carlos Souffront, the cheese buyer for Zingerman's the Ann Arbor based retailer that is one of the best outlets for cheese in the U.S. estimates that there are now more than two dozen clothbound cheddars being produced in the U.S., and he's hearing of more entering production all the time.
Clothbound cheddars can be enjoyed melted, but it's best to enjoy them on their own with a quality beverage. The complex, earthy flavor of clothbound cheddars necessitates a little tweaking to the list of their usual pairing partners. Instead of Bordeaux, a wine whose earthiness often makes it a traditional companion to cheddar, one may want to opt for a wine that is more forward and fruity; I have found northern Italian reds, especially Nebbiolo works well.
Most clothbound cheddars pair well with Scotch and other whiskeys, though one may want to steer clear of the ones that are heavier on the peat and smoke, since the cheese already has some of that base covered with its earthy flavors. These cheddars work especially well with beer (dirty little secret: Cheese and beer pair much more readily than cheese and wine); all but the hoppiest India Pale Ales will go with a clothbound cheese as will many lagers, stouts and porters.
I'm a big fan of both traditional imported clothbound cheddars like Montgomery's and Keen's as well as the Isle of Mull cheddar from Scotland, and the Lincolnshire Poacher, which isn't a cheddar per se, but could easily pass as one. The Cabot Clothbound Cheddar is well worth the search as is the Fiscalini Bandaged Cheddar, all varieties of the Beechers and the Bleu Mont cheddars from Wisconsin.
These cheeses aren't anywhere near as ubiquitous as their conventional counterparts. Culture Magazine, the quarterly glossy devoted to cheese, has a directory of reputable cheese retailers in the back of each issue and on their website at www.culturecheesemag.com Otherwise, a good shop will be more than happy to overnight you the cheese.
About the author: Martin Johnson runs The Joy of Cheese, a series of informal cheese tastings that take place at several New York City bars and the 92nd Street Y. He has worked in and around cheese for 27 years, and he spends his Saturdays on the counter of the Bedford Cheese Shop in Brooklyn. He blogs at www.thejoyofcheese.com.
Popular in the Community