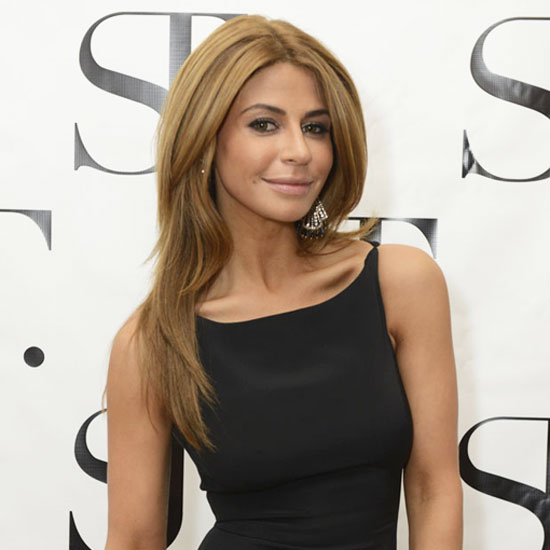 Downtown NYC has a hip new neighbor: European fashion brand SuperTrash, brainchild of Dutch designer, Olcay Gulsen. On the boutique's opening night, fashion insiders gathered in droves to celebrate the event thrown by Interview Magazine at the store's 29 Prince Street venue. Guests included SuperTrash fan Angela Simmons, 30 Rock actress Katrina Bolden, actress Alexandra Daddario and bloggers Natalie Suarez (Natalie Off Duty), Christina Caradona (Trop Rouge) and Kimberly Pesch (Eat. Sleep. Wear.). DJ May Kwon was on hand to keep the party going. I spoke for a bit with the woman of the hour, Olcay Gulsen, who was decked out in a bodycon LBD from her namesake collection and a lust worthy pair of stilettos that she had just designed in Portugal two weeks ago. Gulsen gave me the lowdown on the SuperTrash empire and how she felt about her line's new NYC digs.
Gulsen began SuperTrash, a line of contemporary women's clothing, shoes and accessories, back in 2004 after a lifelong dream of a career in fashion. Fast forward, after 12 successful SuperTrash stores throughout Europe, Gulsen set her sights on NYC for a stateside debut. "It's my dream come true today. I love the location and also the store. I love how it all happened!", Gulsen said. Along with the new store opening, SuperTrash also debuted their new Icon Collection inspired by the uber stylish, Bianca Jagger. "I'm just in love with her! I think Bianca has such an effortlessly cool style and has always stayed very true to hersel," Gulsen added. Included in this Bianca Jagger capsule collection is Jagger's trademark tuxedo suit, sheer lacy tops and statement necklaces. It's edgy with the perfect mix of femininity and sass, just like SuperTrash. Gulsen even sports the Jagger-inspired look for a life size portrait which hangs front and center in the boutique. Speaking of ambiance, the store is expertly curated with a polished, sophisticated flair. The venue is intimate, yet chock full of wardrobe staples and must-haves. That's the wonderful thing about SuperTrash. They have a little something to suit any women's personal style.
Some standouts from SuperTrash's Fall collection include sleek leather leggings, cozy Fall sweaters and a beautifully sequined collared blouse. I found myself completely obsessed with a snakeskin print jacket and pants that greeted me as I walked through the store. With such a broad range of accessories, shoppers can feel free to take their pick, whether it be a leather zip-detailed tote, cool motorcycle boots or perhaps a pair of wine-hued platforms. Off to the side of the store lies SuperTrash's new fragrance, Phenomenal; which by the way smells heavenly. In another area of the store you'll find the sexy Madame SuperTrash lingerie collection. As a party favor the guests received the brand's latest magazine for A/W 12. This quarterly glossy features tons of SuperTrash clothing, ethereal editorials and even an article exploring the history of three famous Jaggers: Bianca, Jade and Georgia-May. Talk about a page turner! A new store, collection and magazine? It's seems that there's little Olcay Gulsen cannot do. With SuperTrash's beautiful Nolita store and well designed clothes, they're well on their way to becoming a go-to destination for NYC's most stylish women.