Head over to the website for Los Angeles-based artist Kate Durbin's newest project, "Cloud Nine," and you'll be greeted by a few lustful mouths lined with dollar bills, flirtatiously positioned above a rather intrusive question: "What have you done for money?"
The question is aimed at female-identifying artists, all of whom are encouraged to submit their "confessions" anonymously to a designated email address. There, Durbin gives no hints as to what she'll do with said confessions, so The Huffington Post reached out to the artist to figure out exactly why she's soliciting women online, under the guise of a common cam girl name -- cloud9.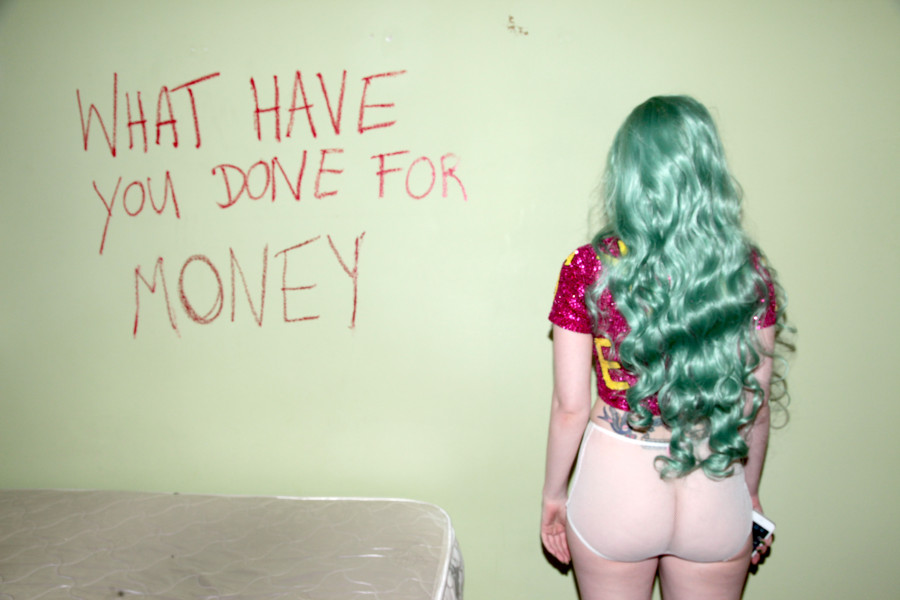 "The connection with the cam girl has to do with the fact that many artists I know do sex work in order to have enough time and money to be artists," Durbin explained. In an earlier interview with the pop culture blog Konbini, Durbin said that the responses she's received already have indeed ranged from sex work and sugar daddies to babysitting, PR jobs and parental and governmental assistance. She's heard about jobs from stints as assistants to pizza delivery, even reality television.
By prying into the lives of female artists, Durbin wants to highlight the difficulties creatives face -- particularly women -- in securing funds for their work, whether it's compensation for pieces made or financial support to travel and show their work. The fact that women artists earn less money than men is hardly a secret; for example, in 2012 alone, every artist in the top 100 auction sales was a man. Durbin digs deeper than that, though, confronting the fact that women outnumber men in art school (according to Gallery Tally expert Micol Hebron, women constitute between 65 and 75 percent of students in MFA programs), only to enter a world in which men make up 70 percent of gallery-represented artists.
Below, find out what Durbin had to say about art-school debt, her own financial history and exactly what she's doing with her collection of anonymous stories.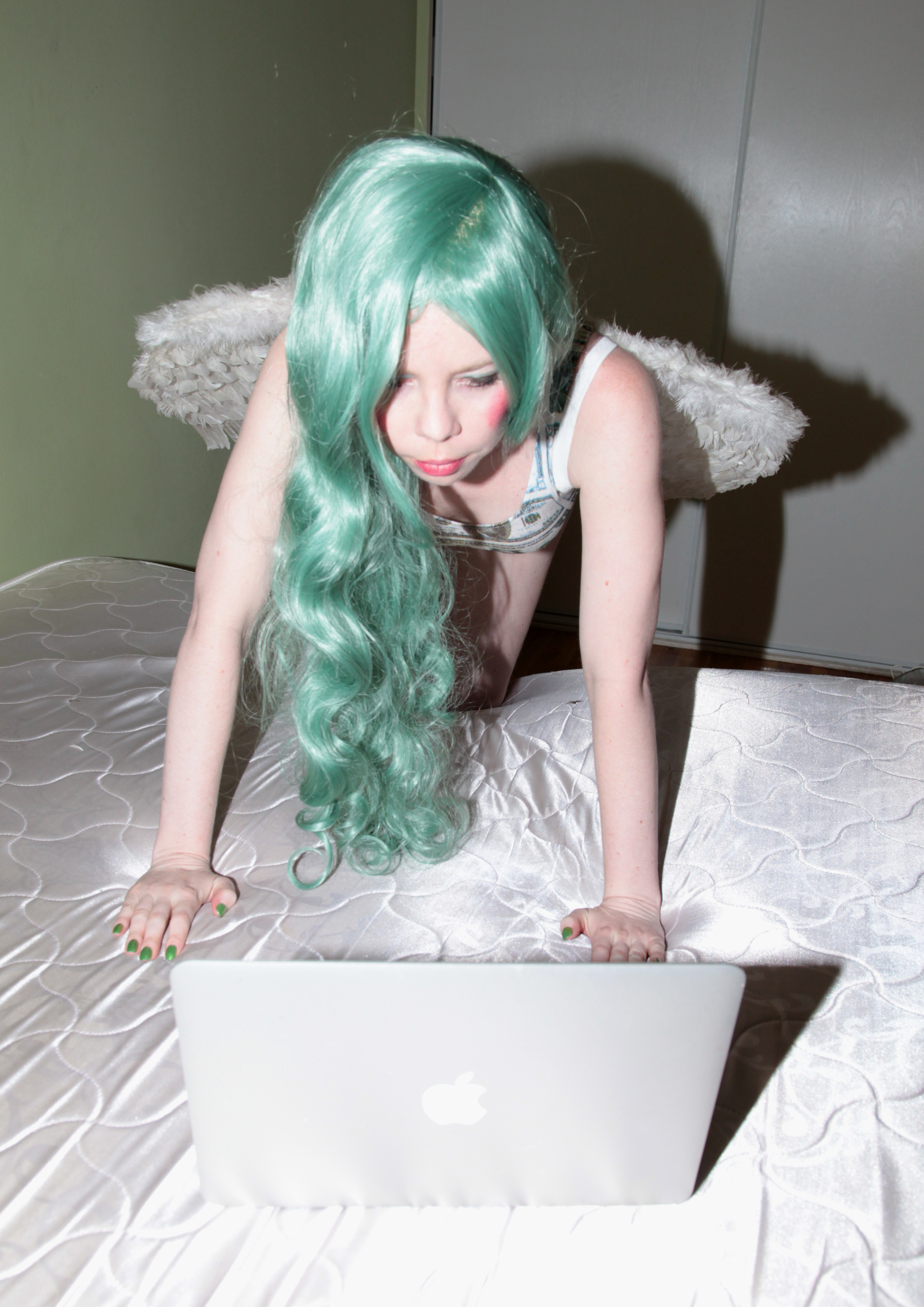 What was the inspiration for Cloud Nine?
I started noticing how often my artist girlfriends' conversations revolved around money and not what was inspiring us to make art.
I noticed how often they Skyped into conferences, because they had no institution or funding source to support their attendance. I noticed how often they didn't write because they had to work an 8-4 job just to pay rent and then work some more to pay off their student-loan debts. I noticed how often they defaulted on their loans because they didn't have money to pay them. I noticed how many of them had sugar daddies and felt like they had to hide it. I noticed how many of them had trust funds and felt like they had to hide it. I noticed all the adjuncts who were teaching six classes at three different schools and not making enough to live, and also not making art. I noticed all the paintings being flipped and selling for bank, and then I noticed my friends who were on food stamps and who couldn't afford dental work.
I started to notice everything in the world around me that had to do with art and money, and I paid attention to it, instead of ignoring it -- instead of believing in the fantasy that these were all "individual failings," that none of these people were "good enough" artists to make it. This is how "Cloud Nine" came to be.

How many stories have you gathered so far, and how did you go about reaching out to women?

I have 50-plus stories so far, and hope to gather more. The call is viral on Facebook, and Konbini's article helped. I've reached out to female-identifying artists who I know personally, and have asked them to share their stories and to spread the call. I'm specifically reaching into as many communities as I can, of varying socio-economic backgrounds. The project is DIY. I don't have a team reaching out for me. I'm doing this while simultaneously working other jobs.

What form will "Cloud Nine" take once you've compiled the stories?
I will be performing the piece live online via video stream on New Hive and also on one of the world's biggest sex camming sites simultaneously. I don't want to give the performance away, but I will be playing with the idea of "confession," performing as a cam girl/artist. The stories will be woven into the performance.

You mentioned to Konbini that talk of how artists make money was never discussed in school. Ideally, what would these discussions look like to you? Would you have benefited from a class geared toward the economics of being an artist?
The short answer is yes, but I think we have larger systemic problems that won't be alleviated by a class on the economics of being an artist (although that should just be mandatory within our current system). It should also be noted that not all artists create the type of work that can be bought and sold for money (take poets, for example), or want to work within the gallery system.

MFA programs themselves perpetuate debt, as well as credentialism: two economic disadvantages to artists. Yes, some programs pay full tuition, and those are the ones people should be attending. The fact that it's sort of a given for artists to get MFAs -- and, increasingly, PhDs -- is a sign of the bureaucratization of our era. And of course, many people get MFAs in order to go on to teach, yet most teaching work is now adjunct labor. Adjuncts are not paid a living wage and not given any job security. The majority of adjuncts are women. Can you see how the odds are stacking higher and higher against female-identifying artists (and, let's not forget, artists of color, queer artists, trans artists)? Can you see how increasingly it is only artists who had money to begin with who can succeed in such a system?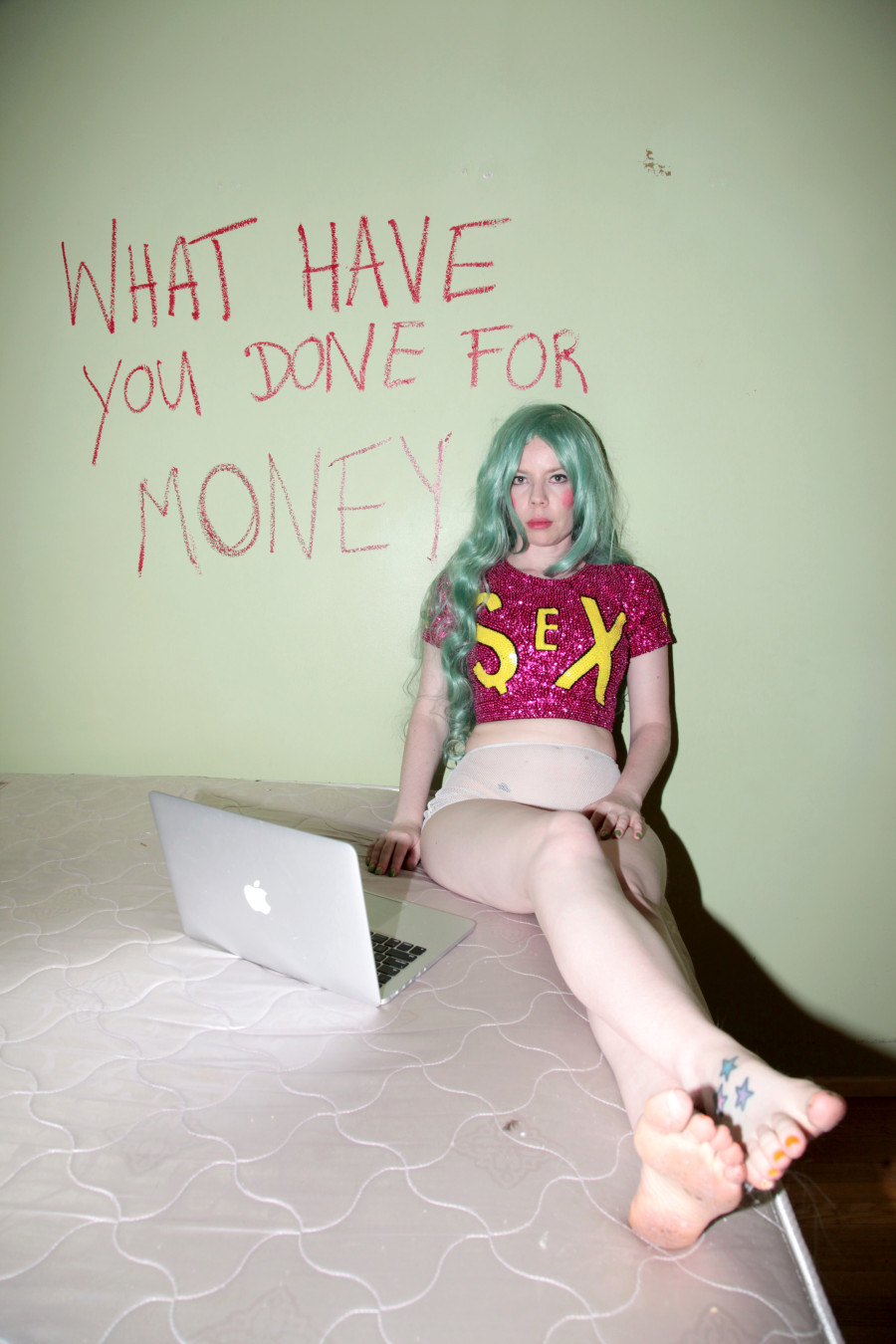 People have long said that artists should "know what they are getting into" when they become artists and suffer. Now people are starting to say that to college teachers. It's a way to shame people from speaking out against systemic abuse -- and neglect is a form of abuse. We exist currently in a system that does not support human beings with basic resources to use their gifts in this world. We exist within a system where art is not valued, which makes sense, because human beings are not valued in this system either. But is this the world we want? If not, we need to overcome our shame and fear and speak out about the realities of our lives as artists.
That is the first step. Then, to dream of something better. Yoko Ono says, "A dream you dream alone is just a dream, but a dream we dream together is reality." I personally would love to see something like universal basic income put into place as a step toward alleviating this problem. It also serves to alleviate the increasing income equality and unemployment that is resulting as technology and robots take over human jobs over the next few decades. So this is not just about artists -- artists here are the canaries in a coal mine, in a sense. Yet of course it would be beautiful to live in a world filled with art, instead of people producing things or doing jobs they don't care about just to eat and die.

Obvious question: what have you done for money?
What haven't I done?

I plan to share my full job history during the performance, but I will give you a partial rundown now of some of the jobs I've had. I started working when I was 12, running my own babysitting business in two neighborhoods. I worked almost every day -- my parents homeschooled me, and as a result I could work all the time. Through high school I worked in fast food, at Krispy Kreme, and in college at a Jamba Juice knock-off shop and then at a mom-and-pop health food store. After college I worked a series of miserable administrative jobs, from data entry to [being an] administrative assistant to writing the intros for religious radio shows.

For the past seven years, since I got out of grad school, I have worked as an adjunct professor both in person and online. I often worked more than full time but did not have health insurance or a living wage. Next year will be the first year I have a full-time teaching job. I love teaching, but it is very hard to make a living teaching college.

There is more to my economic history that is difficult for me to talk about, all of which I will confess during the performance.

Do you have anything else you want to add to people who either want to take part in the project or see it when it's completed?

I would love to hear your stories if you want to share them with me. All of your identifying information will be removed, so it's totally anonymous. Please send your story to cloudnineconfess@gmail.com.
Tune in to the "Cloud Nine" performance on May 28 on New Hive at 7 p.m. PST/10 p.m. EST. Images by Tien Tienngern.
Related
Before You Go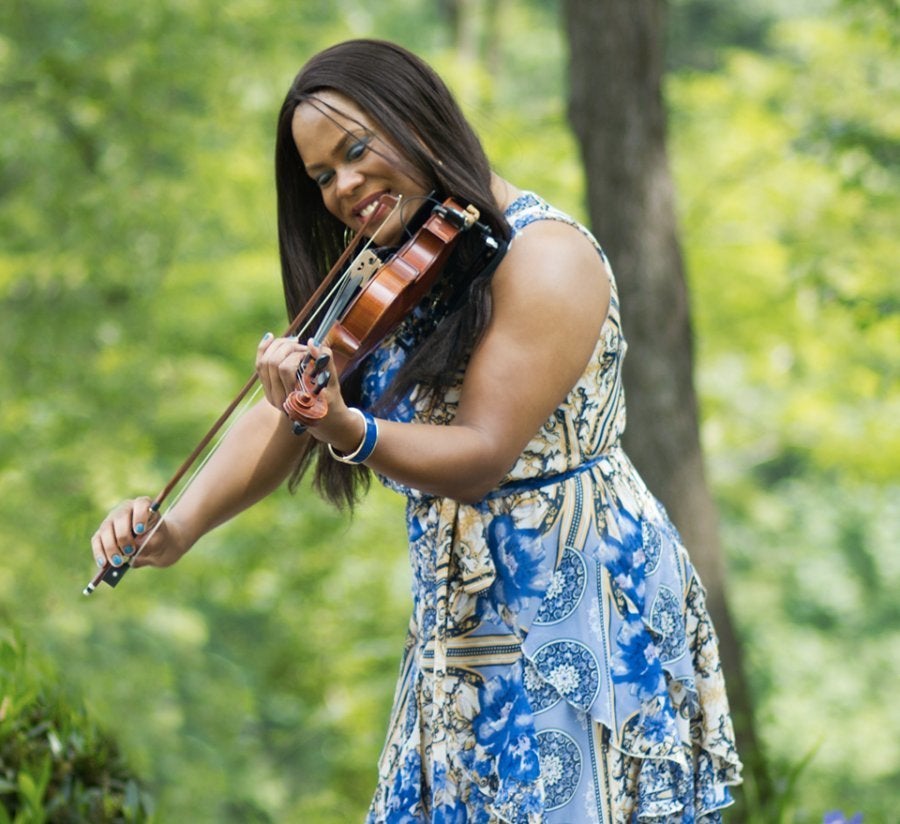 Trans Artists Changing The Landscape
Popular in the Community