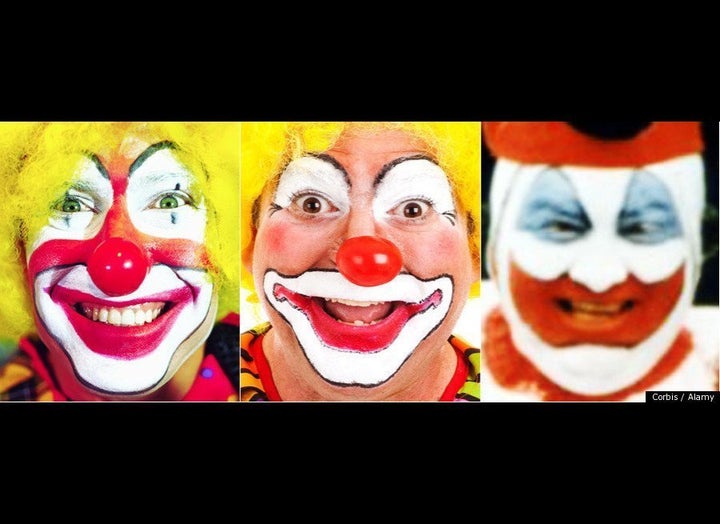 Behind the greasepaint, who is the Bozo folding balloons for the children in your neighborhood? Is there something sinister behind that unnaturally forced smile?
Those are the questions behind an activist's controversial fight to implement laws that would require clowns to undergo criminal background checks and obtain licenses before they can perform.
Thanks to horror movies and a few notorious crime stories, plenty of people are scared of clowns. But there is a real danger in allowing hired strangers to have close access to children with minimal review of their backgrounds, Linda Beaudoin, a former clown and child abuse activist, told AOL Weird News.
"I'm leading the way on a multinational effort to have children's entertainers licensed," she said. "It should be a law."
For years, the Brampton, Ontario, resident has worked to bring attention to the issue, documenting the arrests and convictions of clowns and children's entertainers, like mall Santas, on her website, SurvivorsSpeakOut.com.
Beaudoin has paid especially close attention to the case of Randy Miller, a Napanee, Ontario, clown who pleaded guilty to possession of child pornography after investigators found 60,000 illicit images on his computer. Beaudoin plans to be in the courtroom today for Miller's sentencing.
"I'm trying to do whatever I can to let people know of the urgency of this matter," said Beaudoin, who has collected petitions and contacted politicians around Canada and the United States in hopes of enacting legislation requiring background checks and licensing. "It is definitely something that needs to be looked at and taken care of."
Many businessmen rail against industry regulation, but some clowns see value in vetting their ranks.
"I absolutely think it should be mandated anywhere for anyone that is entertaining children," said "Big Al" Pelski, president of the Toby the Clown Foundation, a clown school in Lake Placid, Fla., that has graduated 1,500 clowns since 1993.
"All of our clowns that go through our clown school have to get fingerprinted and background checked -- we've been doing this for many years now," said Pelski.
So far, no applicants for clown classes at the Toby the Clown Foundation have been rejected due to past criminal histories, according to Pelski.
"We've had a few that had some other small offenses, but as long as it isn't the 'p word,' we're good."
In many cities and towns around the country, clowns must undergo background checks before performing gigs for schools, hospitals, homeless shelters or other venues with strict rules about visitors and workers.
Thanks to these regulations, the highest tier of professional clowns and children's entertainers are often investigated by their employers.
"Putting it into a broader context, any organization that works regularly with children pretty much already requires a background check," said Kim Winslow, a creative consultant for the Big Apple Circus who has performed at children's hospitals for the past 25 years using the name "Dr. Van Loon."
Serious clowns -- not "big rainbow-haired, messy make-up wearing amateur clowns," according to Winslow -- are often accustomed to undergoing additional scrutiny before gigs.
But the same can't necessarily be said for amateur clowns hired over the internet or from the back pages of newspapers.
"It's easy for our organization to require those kinds of things because we're a big organization with a lot at stake. I don't know how it would work for somebody who was just working freelance from their home," he said.
Regulating any industry is difficult. But in a cottage industry like clowning, where so many participants work with no oversight and are only accountable to the mommies and daddies who hire them, largely from classified ads or Craigslist, it could be nearly impossible.
Paoli Lacy, director of San Francisco's Clown Conservatory, sees no issue with clowns undergoing background checks when they perform at certain venues.
But Lacy, whose organization is the only full-time professional training program for circus and theatrical clowns in the United States, considers a blanket law for all clowns to be overbearing.
"You are the entertainer, you are not the babysitter," said Lacy, a retired clown who herself has been fingerprinted and vetted with a criminal background check before a gig at a facility for children with emotional difficulties.
"If you think about clowns as artists, it doesn't make sense. If you think about clowns as people who occupy your kids for a while, it makes sense. But I think you need to be responsible for your own children.
"Do babysitters get licensed? I think that would make more sense."
So far, there are no municipalities in the United States or Canada that require clowns and children's entertainers to obtain licenses, according to Beaudoin.
Though she claims politicians in her hometown and Toronto seem receptive, such legislation appears to be a long way off.
At its roots, Beaudoin's impassioned fight for clown regulation is a personal battle.
She told The Star that her dedication to the issue stems from abuse she suffered as a child.
Beaudoin only began pursuing licensing for clowns after her own experience performing as clown between 1995 and 2000, when she spent many weekends working under the name "Silly" and other monikers.
During that period, none of her clients required her to undergo background check before welcoming her into their homes.
"The priority is the safety of children," said Beaudoin, who is also lobbying the government to broaden the definition of child pornography and establish a Memorial Day for victims and survivors of child abuse, among other issues. "Child abuse prevention is everybody's responsibility."
To see the importance of such legislation, Beaudoin says opponents need look no further than the trial of Miller, the recent arrest of a clown in Fullertown, Calif., who is accused of kidnapping and raping a 12-year-old girl or most famously, the notorious case of John Wayne Gacy.
Gacy, a Chicago serial killer who raped and murdered 33 boys and men in the 1970s, is known for performing as a clown in parades and at children's birthday parties.
"If [Gacy] wanted to get a license, he wouldn't have gotten one because he had a previous conviction for child abuse," said Beaudoin.
Though Gacy's clowning wasn't directly linked to his crimes, his history as a children's entertainer cast a shadow over the industry. While stories like Gacy's are undeniably horrific, they are few and far between -- and anything but representative of the overwhelming majority of children's entertainers.
Still, they perpetuate a stereotype of clowns as sexual predators, according to Michael Cox, executive vice president of Clowns of America, International, a nonprofit that helps clowns join local clubs called "alleys."
"We go by the clown code -- we have seven clown commandments," said Cox.
"We've got a lot of good clowns. We've got a lot of honest clowns. We've got clowns that mean well and do well. But there's just a handful that don't and make a bad name for the rest of us."

REAL LIFE. REAL NEWS. REAL VOICES.
Help us tell more of the stories that matter from voices that too often remain unheard.