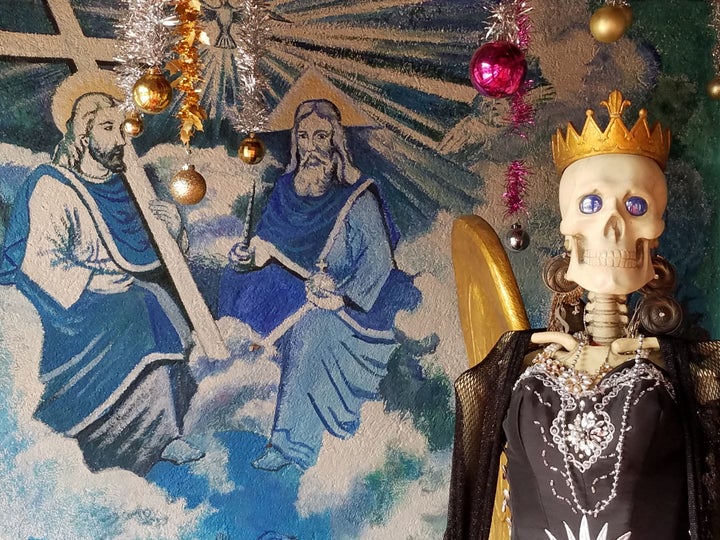 Guest contributor Professor David Carrasco is a Mexican American historian of religions and holds the Neil L. Rudenstine Chair in the Study of Latin America at the Harvard Divinity School and a joint appointment in the Department of Anthropology.
CNN recently featured the Santa Muerte in an episode of its "spiritual adventure series." Santa Muerte—literally "Saint Death"— is many things to different people: she is a cry for help, champion of the outsider, a promise of protection, a justifier of harm, a sacred fashion show and a fearful icon of human destiny. Yet CNN's Believer is a sensationalist, misleading portrayal of Mexican religiosity. It contributes further to the shameful political and media insults about Mexico and Mexicans.
The television network asked the Harvard Divinity School do a pre-release showing of the "Santa Muerte" episode with a panel of professors who could do a question and answer session with television host Reza Aslan. As an historian of religions (I am not a Catholic) who has researched Mexican religions for 30 years, I was asked to organize and chair this event. I became alarmed when I read the advance script with CNN's trivial and erroneous description of the Santa Muerte devotions in Mexico sent to me in advance. I had to wonder whether they had reached out to Religious Studies professor, Andrew Chesnut whose Devoted to Death: Santa Muerte, the Skeleton Saint pioneered in covering this rapidly expanding new religious movement.
When I previewed the show my fears were increased that Mexicans and their deep rivers of devotion to family and saints were trivialized and seriously misrepresented. There were some impressive filming techniques in the episode and we gain cinematic access to people, neighborhoods and settings where Santa Muerte has a powerful presence. The Santa Muerte mass that closes the episode is moving and gives the viewer a brief taste of what devotions are like in Mexico. What undermined this for me was the periodic clowning of the narrator in the presence of Mexicans struggling mightily with limited resources and desperate religiosity.
The episode is also sensational and ahistorical. I told CNN that the show's claim that Santa Muerte is a "new religion" and the biggest one in Mexico is simply not true. A 'religion' is an institution, with a creation story, rites of passage, a formal set of leaders, a sacred history and more. A religious movement is not the same as a religion. Santa Muerte has its roots at least as far back as 17th century Spain and simpler versions in Mexican colonial history. The show's attempt to relate it to Aztec religion misstates and underplays the influences. More importantly, every day a child is born in Mexico there are far more potential devotees to the Virgin of Guadalupe and other saints than to Santa Muerte.
I told CNN that I knew Reza Aslan's writing and TV appearances, found value in what he had previously done and had hoped to find some "common ground" in this episode. I wrote the network, "But I cannot support the showing of this film at HDS or even its dissemination at the present time in the US." I added that the show's inaccuracies and exaggerations could "contribute further to the public victimization of Mexican people in Mexico and the US," extending further the Trump administration's insults. And I added, "Though this is not your intention, in fact the response of many viewers will be, 'Build that wall'."
I tried to help CNN understand that anyone tuning in on Dec 11 and 12 to the millions of people at the shrines of Guadalupe in Mexico City and around the country sees another, larger, deeper, more robust view of religion in Mexico. I asked "Why you decided not to show that juxtaposition –in part to make the point that this religious movement is a movement on the rise is beyond me."
In the end, this film is more about Reza's form of religious tourism than about giving us insights into a segment of Mexican society in which conditions of poverty, crime, and even moral judgments lead a minority to turn away from the other saints and into the robes of Santa Muerte. Especially troubling is the film's attempt to link the Ayotzinapa massacre, in which 43 students were killed, to the reasons for the rise of Santa Muerte. This attempt comes across as manipulative and cold-hearted with no sense that either Reza or CNN cares about those students, their families or the investigation.
This series shows us the perils of ill-informed journalism of religion. Outsiders may be entertained watching a show that they don't realize is insulting the people who are the true "hosts" of the show—in this case the Mexicans who are being caricatured by CNN. Meanwhile the episode ignores what is key about saints in Mexico— their powers to make miracles. As the historian William B. Taylor shows in his Theater of a Thousand Wonders: A History of Miraculous Images and Shrines in New Spain, miracles are when a burst of divine presence into human life takes place—showing people that God is with them to help them, bless them, protect them, judge them and heal them. But where is there a "miracle" in this show?
Towards the end of the program, someone mentions miracles but the viewers are never informed of the true social causes of the rivers of desperation that lead to Santa Muerte. Those causes, internal to Mexico, go way beyond the lack of trust in government and law enforcement. It is ironic that some of the desperation felt by these Mexican people comes from Mexico's historical relationship with the very country that produces this series. Reza Aslan walking through Tepito with a statue of Santa Muerte and not getting punched out may be the true miracle of the show.
My message to CNN concluded: "If I were to speak in public" at an event at Harvard I would say "… that CNN should not go forward with this episode." Why? Because it clowns around the desperation and creativity of these Mexicans. US audiences are still waiting for a well informed, rigorous and timely journalism on Mexican and Mexican American religious history, rivers of devotion and spirituality.
Related
Popular in the Community