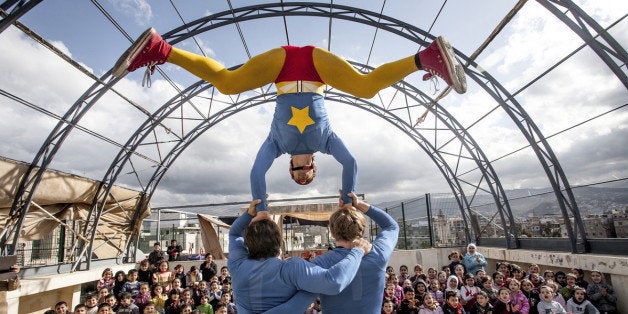 Clowns, acrobats, aerial artists and refugee camps. One of these things is not like the other. But nonprofit Clowns Without Borders is looking to upend that line of thinking. From conflict zones to natural disasters, the organization brings the theatrics of the circus to the most unexpected places.
Tim Cunningham, Director of Clowns Without Borders' U.S. chapter and a clown himself, talked to The Huffington Post about the organization and what it really means to "bring in the clowns."
Q: WHAT IS THE MISSION OF CLOWNS WITHOUT BORDERS?
The mission of clowns without borders is pretty simple. We work to share joy and laughter in zones of conflict and crisis around the world. We only go where we're invited. We send professional artists to provide free clown performances and also workshops in the circus arts. That's our main mission and our side mission is that we also work to advocate for the communities that we meet and work with when we come back to our home countries.
Q: WHY DO KIDS IN CRISIS NEED CLOWNING?
I think in the humanitarian world — and even beyond the humanitarian world — children are the first group in any population to lose their rights. When there's a disaster, when there's a war, when there's an economic crisis: kids lose their rights and they lose their voice. I think children lose the ability and the right to be a child and the clown brings that back to them. The clown gives them permission to be a child again and you can't rely on lawmakers or legislators or policy makers to permit those rights but a clown… a clown brings the policy of play.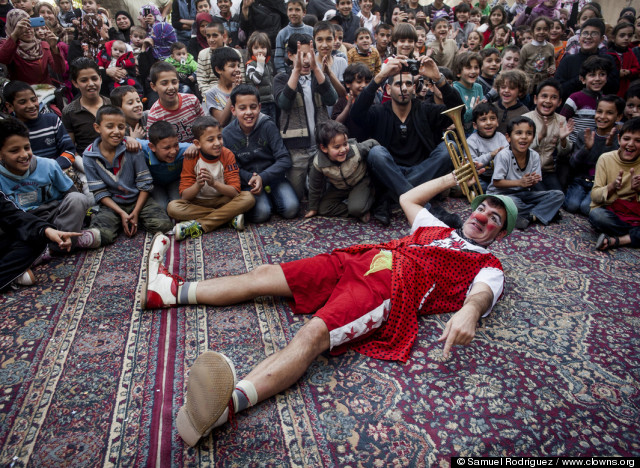 Credit: Samuel Rodríguez for Payasos Sin Fronteras
Q: SO HOW WOULD YOU DEFINE CLOWNING?
I think clowning is physical comedy. It is not always a red nose, it is not always make-up. A clown is an eccentric character or a group of eccentric characters living in the world and trying just to function in the world that we know. And what is funny is that no matter how hard they try, they keep failing and then they bounce back up. So a clown is the epitome of resilience and the resiliency for clowns is funny — and when we show that resiliency that is also a way to model how to be resilient in extremely absurd situations, whether they're tragic absurd or comedic absurd.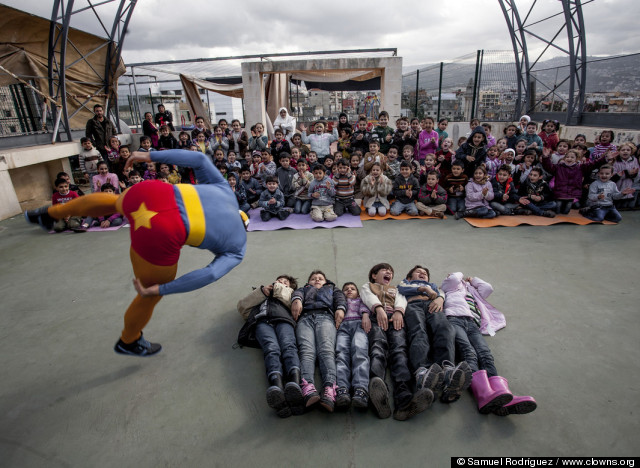 Credit: Samuel Rodríguez for Payasos Sin Fronteras
Q: HOW DOES CLOWNS WITHOUT BORDERS DETERMINE WHERE TO GO AND WHEN TO GO THERE?
The policy is to only go where we're invited and we try to be as available as possible to go where and when we're invited. We have no regulations that say you can't go here or you can go here. We'll go into war zones, crisis zones—so long as we know that it's relatively safe and we're wanted there. There is a lot of thinking in the humanitarian world that as soon as you can start bringing in psycho-social support -- as well as food, as well as medicine, as well as basic relief -- you're going to have lower prevalence of PTSD.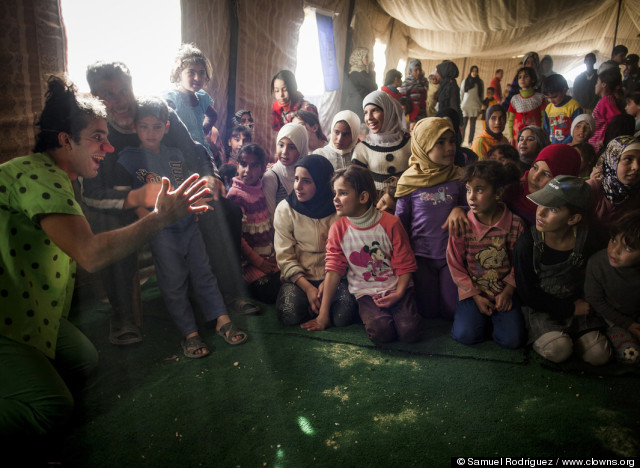 Credit: Samuel Rodríguez for Payasos Sin Fronteras
All of our artists are volunteers. No one gets paid anything for what they do. And yet we only work with professional artists, you have to have performance experience, performance credentials. The funding that we do have covers the cost of travel, airfare, insurance, medical support — but everybody comes in knowing that they will make no profit from the work that they do. We're also a pretty small organization. Last year our working budget was 43,000 dollars. We did 12 projects, 11 of those were international and our audience totals were about 40,000 kids. So, 40,000 smiles for 43,000 dollars — I think that's a pretty good turn around. That said, over 90% of our funding is all individual donors. Our average donation this year so far is about $80. Our biggest individual donors giving a couple thousand dollars. It's small, it's really grass roots and I think that also gives us a lot of freedom in not having to follow anyone's politics. We're free of politics, we're free of religion — we're not associated with any sort of dogma. Other than laughter — laughter is our dogma.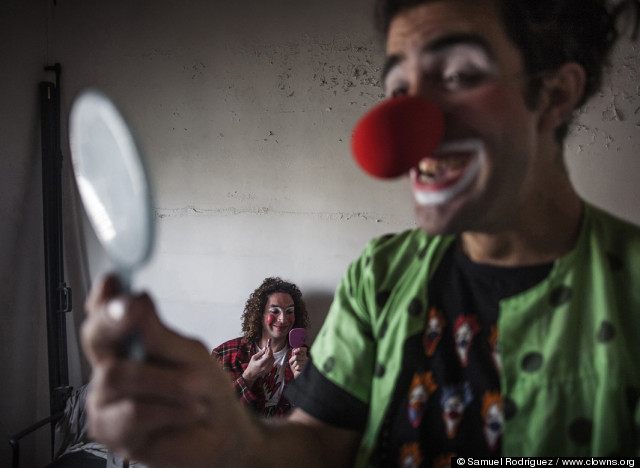 Credit: Samuel Rodríguez for Payasos Sin Fronteras
Q: SO YOU'VE GOT JUGGLING, MAGIC, ACROBATICS — WHAT ELSE GOES INTO A BIT?
Tumbling, slapstick comedy, chase scenes, audience collaboration, dancing. Last year we did a trip to Haiti where we actually were able to bring a portable trapeze rig down so we had an aerialist who would fly above the heads of the kids. It was beautiful to see some of those images — so we really do work with whatever our artists bring to the table.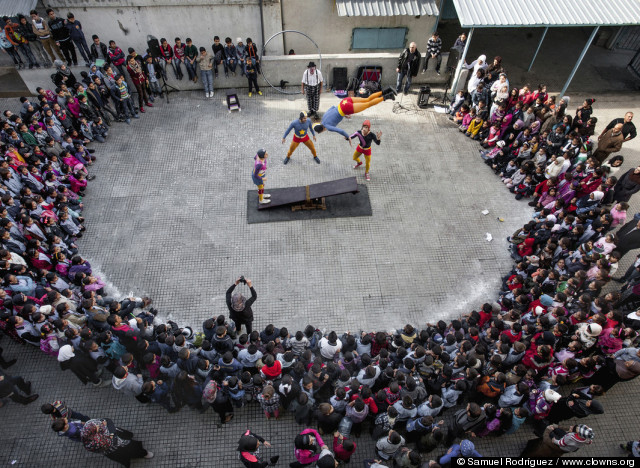 Credit: Samuel Rodríguez for Payasos Sin Fronteras
Q: OF THE PERFORMANCES THAT YOU HAVE BEEN INVOLVED IN, WHICH WAS THE MOST MEMORABLE?
There was a moment in my first or second trip to Haiti, 2006 or 2007; we were working in a very rural community that had access to nothing. A lot of the kids were really malnourished — chronic malnourishment is just a way of life for Haiti, a lot of kids not living beyond the age of 5. I was walking away from the show and I felt this weight on my back, like somebody had just thrown this rice sack on me or something. So I realized it was one of my favorite kids that I had gotten to know in the community who had snuck up on me, run up and jumped on my back and before I could do anything he had climbed up and was standing on my shoulders, which is a move we do at the end of all of our shows. So I was talking to him and I started running around and he was laughing and we looked up at the moon which was just this bright, beautiful full moon and I told him, "We're going to climb up to the moon" and he looked at the moon and he kind of slapped me in the head and started laughing and he said "No, no, no, no, no Tim — we're gonna climb up and then we're gonna eat the moon." And he was laughing and I was laughing and then he ran off but it struck me. I mean, this kid is really malnourished. He was 12 years old at the time but he looked like he was 8 just from lack of nutrition. But I realized that despite whatever situation you happen to be born into, there's a chance to be playful, there's a chance to be funny, there's a chance to make a joke. Imagination, no matter how sick or poor or hungry you are, your imagination can always be on fire and churning and creating new ideas and new games and new play.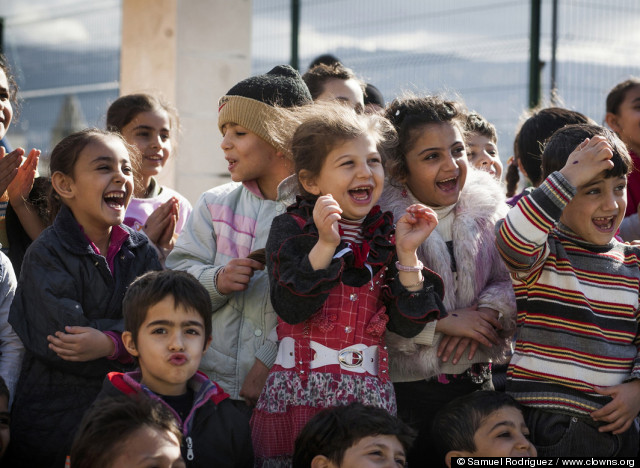 Credit: Samuel Rodríguez for Payasos Sin Fronteras
Q: SO CLOWNS WITHOUT BORDERS HELPS KIDS IN DESPERATE SITUATIONS USE THEIR IMAGINATION.
Yeah. But I want to go back to that idea for a second because we don't give imagination. We share imagination, we catalyze imagination and allow the kids that we work with the chance to let their minds just explode with whatever creative thing they want to do. And maybe, for a moment, not worry about the situation that they're in and simply be kids.
Learn more about Clowns Without Borders and how you can support their work here.