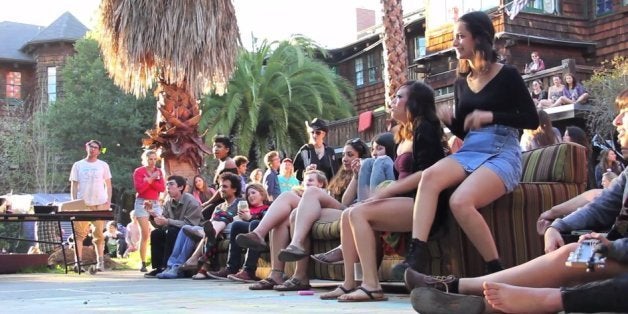 Members of the North America's largest housing cooperative are mourning the loss of their home at the University of California, Berkeley after its overseeing board voted to convert it into an academic-themed, substance-free residence, kicking out all but one of its 150 residents -- a move some fear only silences open discussion about drug abuse instead of providing real solutions.
Housing cooperatives -- low-cost, democratically run housing in which all residents take on different labor positions to run the house -- are popular at UC Berkeley and at universities around the country. Cloyne Court is the largest in the continent.
Following a discussion lasting from Thursday at 7 p.m. until 5:30 a.m. the next morning, the Berkeley Student Cooperative (BSC) Board of Directors, a nonprofit that governs 20 cooperative residences on or near campus, voted to dismantle Cloyne Court as its denizens, or "Clones," have known it since its 1904 founding.
The 903-449 vote was prompted by a lawsuit recently filed by the mother of former Clone John Gibson, who in 2010 sustained serious brain injuries resulting from a drug overdose on the premises. While the suit was settled out of court last month by the board's insurance company, the incident cast a shadow over the residence, pressing the BSC to crack down on the co-op now battling perceptions as a den of drug abuse. That reputation, board president Michelle Nacouzi explained, had to be fixed, or else the entire co-op system would face financial peril.
"We are at risk of unaffordably high insurance rates or of being uninsurable," she said in the BSC' proposal for changes to Cloyne. "We need to make a direct response to this settlement to show our efforts to prevent further incidences and liability. A change needs to happen now," she said, citing previous similar incidents at co-ops that led to the drastic insurance rate increases of up to 25 percent in two years.
Cloyne residents say they recognize the seriousness of Gibson's overdose but have taken issue with being painted as an environment conducive to drug abuse.
"I was shocked to read accounts in the news of the horrible things that have happened here in the past because the Cloyne I know is not the Cloyne that once was," Clone Garth Fisher wrote in a testimonial for the co-op. "The culture of this place has evolved since those times due to the hard work and persistence of the membership, as old Clones learned from their mistakes and passed on their knowledge, and as the BSC enacted intelligent (gradual) measures that still allowed Cloyne to thrive as a stronghold of cooperative values."
Clone Mikey Williams also testified, "To kill the current Cloyne culture is to inflict unnecessary harm on a beautiful creature while ignoring the actual issue: substance abuse and mental illness."
Cloyne president Marcell Zimanyi pointed to a "dangerous and impractical" clause in Cloyne's new charter that would kick out any resident found violating the substance-free policy.
"It would create a dangerous culture of silence, in my opinion, and could be harmful to members of the house from a mental health perspective," Zimanyi told The Huffington Post, noting that Gibson's overdose was a shock to Cloyne that opened the lines of communication about drug abuse and created a more supportive community.
"The conversation was shifted in the lawsuit from an individual overdosing to a culture influencing this individual to use drugs, that it was the environment that caused him to overdose," Zimanyi continued. "I think the individual should also be held liable for their actions … but I believe a lot of change has happened in the past four years. Cloyne is a very different place."
Zimanyi's sentiments were reflected in many of Cloyne's rejected counterproposals, which called for substance abuse resources instead of asking students to self-select and self-regulate their drug and alcohol use.
Despite the headaches Cloyne poses to the BSC system, the residence greatly contributes to the organization's financial stability. In an agreement with UC Berkeley, Cloyne pays the school just $1 a year to exist on the property. According to Zimanyi, the large co-op brings in enough rent from its residents to offset the cost for all co-ops off campus, so the fate of all other co-ops partly hinges on the success of the reworked Cloyne.
Zimanyi told HuffPost that in the face of this defeat, the Cloyne community is not sure what path it will take forward, if any. Members are still coming to terms with accepting the future they've lost.
"I saw old Clones return with children or friends and say 'I built that!' or 'I painted that!' or 'I remember this one time when...' and I knew that some day that would be me," Clone Katie Holmes wrote in a testimonial. "With every brushstroke that I made upon Cloyne's walls, I cemented myself into its legacy. Although I will soon leave, and someday someone else will paint a mural on top of mine, every white wall ... does not purge 'drug culture' … it purges a culture of respect, responsibility, creativity, and love."
CORRECTION: An earlier version of this story misspelled Marcell Zimanyi's name. It has been updated to reflect the correct spelling.

Calling all HuffPost superfans!
Sign up for membership to become a founding member and help shape HuffPost's next chapter