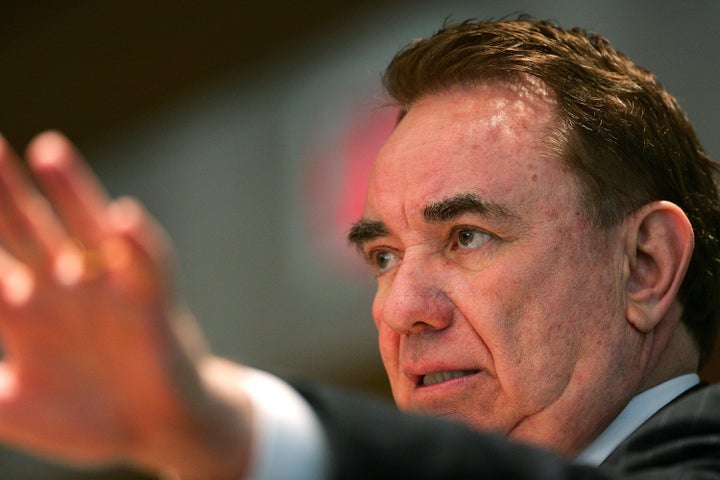 The political arm of the fiscally conservative Club for Growth is airing its first TV ad in the U.S. Senate race in Wisconsin, going after GOP frontrunners Eric Hovde and Tommy Thompson for supporting tax increases.
Club for Growth is backing former congressman Mark Neumann in the four-way primary. Thompson, a former Wisconsin governor, has long been the frontrunner and enjoys strong name recognition among state residents. But in recent weeks, businessman Hovde has been surging, with recent polls showing him catching up to Thompson.
"Just who is worse was admittedly a close call for us," said Club President Chris Chocola. "On one hand, Tommy Thompson raised taxes repeatedly. On the other hand, Eric Hovde called for higher taxes and supported Jim Doyle. You could have a good argument about whether Thompson or Hovde is worse on taxes, but what's clear is that Wisconsin taxpayers deserve better."
The winner of the Aug. 14 primary will face Rep. Tammy Baldwin (D-Wis.). Polls show a close race between Baldwin and either Thompson or Hovde. Count Chocola among those who would rather see her face off against Neumann.
Club for Growth has been spending heavily in primary races to support candidates who are more fiscally conservative, with its biggest win in the Senate race in Indiana, where Richard Mourdock defeated Sen. Richard Lugar (R-Ind.).
On Friday, Hovde received the endorsement of the Tea Party group FreedomWorks PAC.
"We sent multiple emails to our over 22,000 members in Wisconsin, and after reading hundreds of responses, two major themes emerged. Just like in 2010, our activists want to send new blood to Washington -- not the recycled politicians of a bygone era," said executive director Max Pappas. "Secondly, FreedomWorks PAC activists overwhelmingly want Eric Hovde to be their next senator. They believe Hovde is the outsider they need -- a fighter who understands the economy, who will go to the Senate and work to get government out of the way."
Calling all HuffPost superfans!
Sign up for membership to become a founding member and help shape HuffPost's next chapter