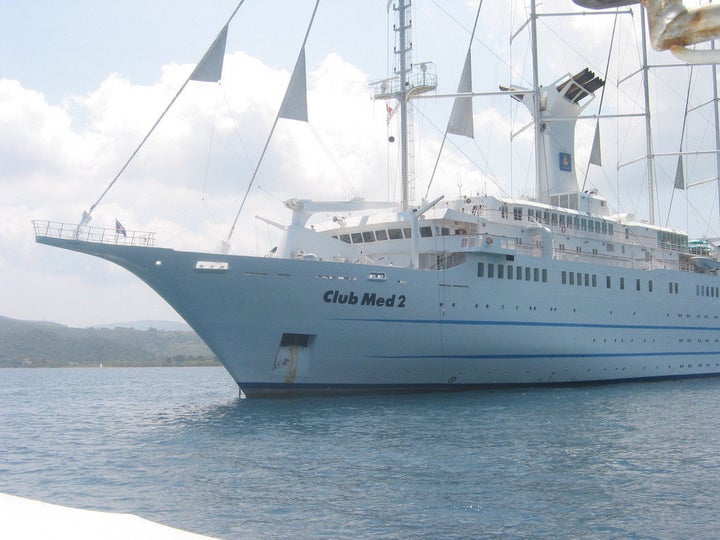 The Club Med 2 is a popular floating resort. The waters are crowded with sea-worthy vessels, so to make planning easier, we've done all the prep work for a cruise vacation. As part of a Huffington Post Travel series on cruise ships, here is a tip sheet offering all the key information one could ever need to know about the Club Med 2.
European Destinations
The
sails to European destinations, including ports in the Mediterranean, Adriatic and Aegean seas. It also makes transatlantic voyages in the spring and fall.
Grand Ship
The Club Med 2 is a five-masted, computer-controlled sailing ship. One of the largest sailing cruise ships in the world, it carries up to 386 passengers with a 214-member crew.
Sporty Features
The Club Med 2 boasts a water-sports deck and a nautical hall for sports enthusiasts. Guests can take advantage of snorkeling, waterskiing and wakeboarding instruction, go windsurfing or swim in one of the ship's two pools.
Accommodations
The 186 cabins on the Club Med 2 have been completely redesigned for the highest level of comfort, including breathtaking views of the ocean. The suites range in size from 193 square feet to 420 square feet.
Cost
A one-person, seven-night cruise aboard the Club Med 2 costs $1,894 for an all-inclusive vacation experience in Australia. The cost for two people to take this trip is $3,788. The cost for an all-inclusive nine-day voyage costs $7,662.
Excursions
The Treasures of the Aegean Sea excursion takes travelers port to port through the beautiful islands of this region. Starting in Istanbul, Turkey, it makes stops in a variety of Greek cities, offering tours and sporting opportunities. According to CruiseCritic.com, the only main complaint of a Club Med 2 cruise
.
Dining Experience
Club Med 2 offers a variety of cuisines, including Mediterranean and Caribbean food. There are two restaurants: Big Blue and Deauville. Liquors and exotic wines are served in both restaurants. A buffet is also available to guests, as is room service.
Maiden Voyage
The Club Med 2 was launched in 1992 in Le Havre, France. As a part of Club Med, the ship has had a reputation to uphold from day one. With its luxury accommodations, high-energy activities and interesting ports to visit, Club Med 2 does not disappoint.
In The News
Our research revealed no notable news stories or safety concerns regarding the Club Med 2.
Inside views of the Club Med 2.
What's your favorite Club Med cruise memory?