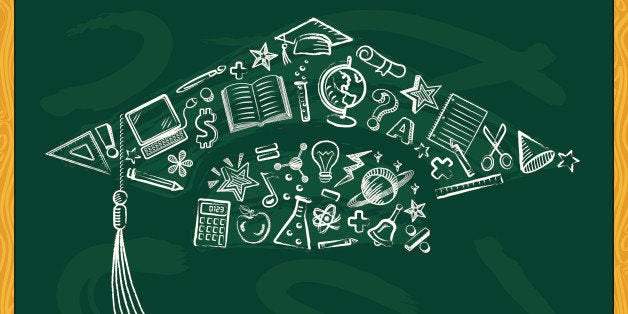 This is a teen-written article from our friends at Youth Communication, a nonprofit organization that helps marginalized youth develop their full potential through reading and writing.
It was mid-October of my senior year, and it was the first time I'd been called into my guidance counselor's office.
"Do you plan on going to college?" he asked.
"Of course!" I answered excitedly.
"Have you applied yet?" I was shocked that he thought I'd done it on my own. I replied "no," hoping he'd get the message that I needed help.
"Well, what are you waiting for? Applications are due around December."
"What…where do I go for this?" I asked.
"Just pick a school and go to their website and apply. If you need help, the college adviser's always available."
And that was it. The conversation I'd been waiting for since the first day of high school, over in five minutes.
"Just sign this before you go," he said, handing me a pink sheet. It was a letter of confirmation stating that he'd done his job and talked to me about college. Before I even left the room his face was buried in a pile of papers. I felt as if I was just another name on the list he could now cross out. He didn't even notice that I never signed on my way out.
I think that was when I started to give up on the college application process. Everyone I needed to help me was too busy. No one was serious about my future, and I thought that meant I didn't have to be, either.
Not Serious About the Future
For years, I had dreamed of attending an Ivy League university. I wanted to believe I was capable of so much, but I thought no one else felt the same. I was afraid of failure, of seeming vulnerable or weak. I was afraid of rejection.
So I threw the Columbia University application to the side (Columbia was my top choice school). Then, just a week before it was due, I started to panic and decided to fill it out after all.
When I finally looked closely at the application, I had to hold back the tears. Although my grades were decent, I had responses for less than half the things the application asked for. My school hadn't prepared me for this.
I was shocked to see that the application was so big on community service, asking for letters of recommendation from people other than high school teachers, and questioning the applicants about world events. Had I known, I would have gotten way more involved in community and school organizations, interned during high school for real businesses, and at least once in a while picked up the newspaper or watched the news for reasons other than my horoscope or the weather forecast.
I couldn't complete the application, so I felt that as far as college and my future were concerned, I was screwed.
Although most of the application was blank, I still took it to my college adviser. Once she saw what school I was trying to apply to, she immediately turned me away. I was upset at the time, but now I understand why. Columbia is a school for students who are prepared and serious about their education and future. How serious could I have been, coming to her a week before the deadline with a half-empty application?
My dream of attending an Ivy League college was what motivated me to work so hard in school, even when things were falling apart at home. Being accepted would show the world that I had made it in spite of all the obstacles. Now it was all over.
I was upset, and I had to blame someone. I chose to blame my high school. What was the point of having guidance counselors and college advisers? The adults in my school had taught me very little about college and absolutely nothing about the application process.
Before the meeting with my counselor, the only information coming from my school about college was provided during a few boring lectures from a handful of teachers and a once-in-a-blue-moon college assembly given by the college adviser. They didn't really think that was going to cut it, did they?
I needed to know exactly what colleges would be asking for and how to pace myself and stay on track so that I could provide them with what they wanted. No one ever broke all of that down for me.
Reprinted with permission from Youth Communication.
REAL LIFE. REAL NEWS. REAL VOICES.
Help us tell more of the stories that matter from voices that too often remain unheard.