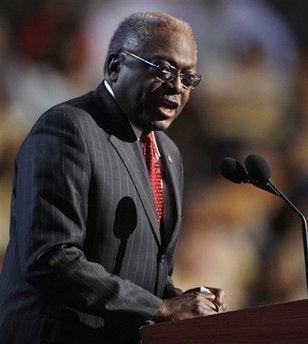 James Clyburn took to the House floor on Tuesday to denounce a fellow member of Congress for making excuses for the terrorist attack on the IRS building in Texas.
The South Carolina Democrat reacted furiously to comments made by Rep. Steve King (R-Iowa), who declined to denounce last week's attack and expressed empathy with pilot Joe Stack.
"It's sad the incident in Texas happened, but by the same token, it's an agency that is unnecessary and when the day comes when that is over and we abolish the IRS, it's going to be a happy day for America," King said.
"I don't know if his grievances were legitimate," he went on. "I can tell you I've been audited by the IRS and I've had the sense of, 'Why is the IRS in my kitchen? Why do they have their thumb in the middle of my back?'"
It was too much for Clyburn, the House majority whip. "The fact of the matter is that the gentleman that lost his life in that building, Vernon Hunter, is from -- was from Orangeburg, South Carolina, that I proudly represent in this body," said Clyburn. "He spent two tours in Vietnam and was about the business of carrying out his duties and responsibilities to this great country of ours. If anybody is a hero, it is this victim. And I find it appalling that a member of this body would call his death a noble happening."
REAL LIFE. REAL NEWS. REAL VOICES.
Help us tell more of the stories that matter from voices that too often remain unheard.