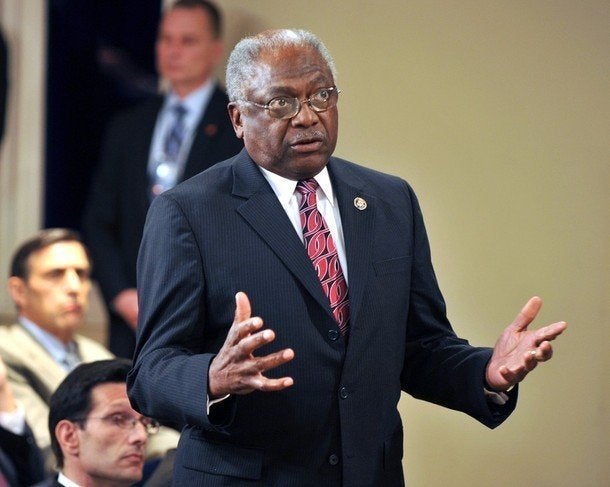 The third-ranking Democrat in the House of Representatives on Thursday compared the disruptive protesters at recent health care town halls to people who unleashed dogs and spat on civil rights demonstrators during the 1960s.
In an interview with the Huffington Post, Rep. James Clyburn, (D-S.C.), said that there was "absolutely" an analogy to be drawn between the horrid experience that he went through as a civil rights leader and the boisterous conservatives who have disrupted health care forums.
"I have seen this kind of hate before. I have seen this discussion before," he said. "I have seen snarling dogs going after people who were trying to peacefully assemble. I have seen the eyes of people who were being spat upon."
"This is all about activity trying to deny the establishment of a civil right. And I do believe that health care for all is -- a civil right," the House Majority Whip argued. "And I think that is why you see this kind of activity. This is an attempt on the part of some to deny the establishment of a civil right."
Clyburn, a veteran of the civil rights movement, said he was particularly appalled by the use of the Swastika symbol at some of these town hall events. Noting that one had been painted on the office of Rep. David Scott (D-Ga.), an African-American, Clyburn insisted that was proof enough that some of the protests were racially motivated.
"There is no question in my mind," he said.
The South Carolina lawmaker's remarks are the most provocative push-back to the town hall protesters to come from the Democratic Party. They seem likely to prompt a wave of debate about the purpose and intentions of the protesters as well as the accuracy of the analogy. They almost assuredly will cause angry recriminations from the conservative community.
Earlier this week, Rep. John Dingell (D-Mich.) told "The Ed Show" that the last time he had confronted such charged protests, it was during the days of "Ku Klux Klan folks and white supremacists and folks in white sheets." National Review Online accused Dingell of playing the race card. Pat Toomey, the Republican candidate for Senate in Pennsylvania, accused him of "wildly insulting ordinary, honest, decent, hard-working American people."
In Clyburn's eyes, however, the Republican Party deserves the criticism for its "deafening silence" in the wake of the increasingly vitriolic demonstrations. Predicting that the protesters would ultimately turn off voters, he nevertheless called on GOP leadership to condemn the bad actors.
"How many times have I heard [House Minority Leader] John Boehner asking some member of the Democratic Caucus to disassociate himself or herself from Nancy Pelosi's position," said Clyburn. "Yet there is nothing but silence from him with all of these disturbing activities taking place. And my lord, [House Minority Whip] Eric Cantor, the number two guy over there, is Jewish. I mean the [Anti-Defamation League] immediately came out and talked about how horrible it was for this swastika to be painted and said we need to investigate and find out who did it. And to have a Jewish member of the Republican leadership not say a word about that that is just beyond me. I don't understand that. And I'm bothered by that."
Popular in the Community