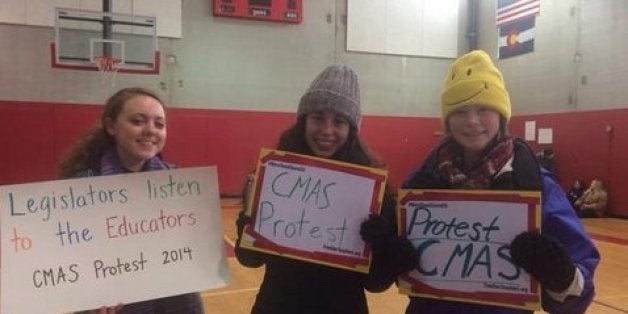 Hundreds of seniors at a Colorado high school refused to take a statewide test Thursday and protested outside, criticizing standardized testing and collecting food and school supplies for charity.
Only nine of Fairview High School's 530 seniors took the Colorado Measures of Academic Success, according to the Boulder Valley School District. Instead, they gathered in cold weather in a nearby field.
"We understand the purpose of this test and how it was formed, we understand the state needs feedback in it's social students and science education system," Jennifer Jun, a Fairview senior who helped organize the protest, told The Huffington Post. "We're not in accordance with the way they're testing us."
Scroll below for photos of the protest.
This is the first year seniors in Colorado have been required to take the statewide exams, which gauge students' knowledge of social studies and science. The tests aren't used to determine grades.
Boulder Valley School District superintendent Bruce Messinger told The Huffington Post that about 15 percent of seniors in his district's high schools took the test. "I think I can say with some confidence there is concern -- the amount of testing and time away from teaching and learning is a shared concern among our teaching staff, principals and community," said Messinger.
At Fairview High School, protestors endured frigid weather outside while the two-hour test was administered. Students began planning the protest about three weeks ago, when they learned seniors would be tested.
"So what's the problem with the new standardized testing? There are a few issues," said students in a YouTube video they posted about the protest. "First, we don't think it's a good idea to test students in the fall of their senior year ... Second, the CMAS testing doesn't align with our high school curriculum. For instance, economics plays a major role on the social studies test even though economics isn't a required course for high school students."
"When people look at this event, a lot of people think this was rallied by the teachers and parents living vicariously through the students and that's 100 percent not true," said Jun. "We are young adults, yes, but at the same time we believe at this point we can stand up for ourselves and critically think about what we need for our education."
Joyce Zurkowski, executive director of assessments for the Colorado Department of Education, told The Huffington Post she disagrees with student complaints that the tests ask about subjects their classes may not cover. She said the state gives school districts some autonomy in designing curriculum, but there are minimum requirements that should be taught.
"If students are indicating that they haven't had content that is on the assessment, that means they haven't had content that is specified in the standards," said Zurkowski. She acknowledged "there definitely was pockets of students who did not test today."
In a statement to HuffPost, Colorado Education Commissioner Robert Hammond said, "I know it's been challenging and I hear the concerns raised about the quantity and timing of tests. I understand the frustration. I am fully committed to evaluating how the testing goes and working with districts and policymakers to identify ways to improve."
Below are pictures of the the students at Fairview High School who protested the testing: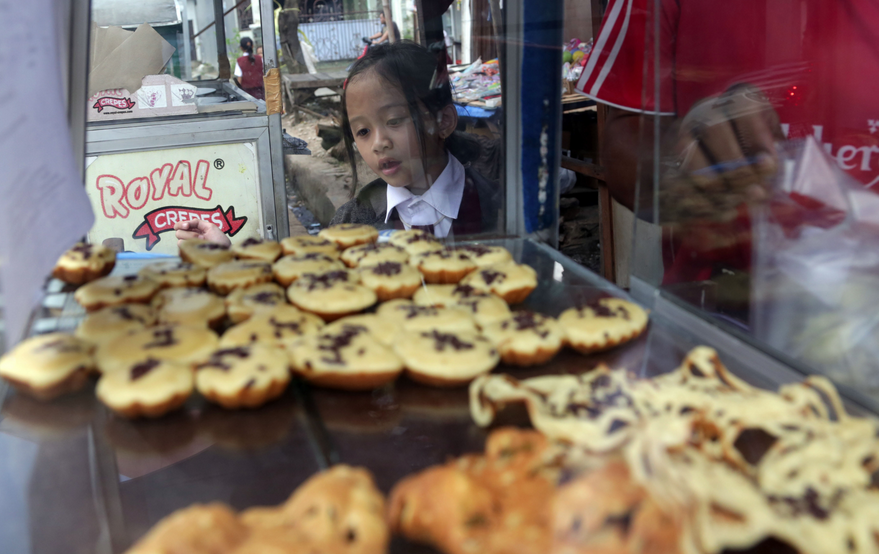 School Lunches From Around The World
Popular in the Community