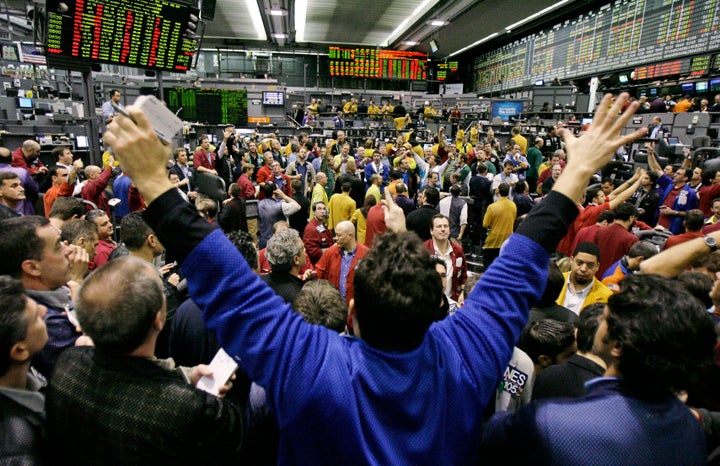 With NATO tumult competing on the airwaves with the very last performances of American Idol finalists, we're in the midst of big-time drama. And it's about to get even bigger. As we speak, thousands of "average" Chicago taxpayers are putting on their protest shoes and gearing up for an incredible season finale.
It features young children, seniors, people living with disabilities and struggling families going up against the city's corporate powerhouse. There's over a billion dollars at stake, and, more importantly, lives and futures hanging in the balance.
What's the show? A day of protest taking aim at the richest -- and the greediest -- corporate "citizen" in town: the Chicago Mercantile Exchange. Officially, it's the "CME Group," the parent company that owns the Merc and the Chicago Board of Trade and isn't satisfied with the nearly $2 billion it made in profits last year alone.
You may already know (especially if you've read any of my recent blogs on the topic) that CME Group is one of the four most powerful corporate masters of the universe, and that its $77 million per year state tax break is devastating families across our state. And you would also be aware that working families have been speaking out about the financial exchange's penchant for corporate welfare for quite some time (and even managed to get the CME to give up $15 million in TIF funding earlier this year).
On May 23 at 3:30 p.m., CME Group will be holding its annual shareholder meeting in downtown Chicago. Normally, this meeting is as uneventful and sparsely attended as it gets (check out this video of last year's meeting) and this is exactly how the company wants it. CME Group has made it clear that it has absolutely no interest in input from -- or for that matter, the welfare of -- the people of Illinois and Chicago.
However, the millions of dollars per year the company is siphoning out of the Illinois state budget makes us, the working people of Chicago and Illinois, its majority shareholders. And for the first time, members of the 99 percent will be attending the meeting to let CME Group, its Chairman, Terry Duffy, and its board know just how devastating its business decisions are to our communities -- and to demand that they give the money back.
The budget cuts Illinois is facing impact virtually all 99 percent families in our state, from child care and home care providers and the children, seniors and people with disabilities they care for, to retirees dependent upon pensions and prescription coverage, low and middle income families who rely on Medicaid for medical care, veterans, and teachers, nurses, public safety officers and other hardworking professionals across the state who need a fully-funded state budget in order to be able to do their jobs.
That's why struggling taxpayers will protest the CME Group shareholder meeting with an entire day of action focusing on the disastrous impact of budget cuts on our communities and demanding the CME Group relinquish its claim to a tax loophole that will take over $1 billion of our tax dollars out of the state budget over the next decade.
As official shareholders attend the CME Group annual meeting, a thousand-member March to the Merc will set out from Thompson Center Plaza in support of the all of the state's unofficial shareholders who will suffer as a result of the CME's massive budget cuts. After the meeting has concluded, protestors will reconvene at the Thompson Center, where thousands will hold a People's Shareholder Meeting where citizens of Illinois will be able to vote on whether or not the CME should give up its tax breaks.
CME Group has earned billions of dollars in profits and has spent millions of dollars compensating its executives and board members over the last several years. As a business, it is far from needy, and as an iconic Chicago company it has abandoned any attempt to be a good corporate neighbor to communities across the city and state.
The time has come to hold CME Group accountable for its business decision that will so callously strip the state budget of millions and which in turn will cause millions of hardworking people in our state to suffer. On May 23, thousands will be filling the streets of Chicago -- and the CME Group boardroom -- to do just that.
Calling all HuffPost superfans!
Sign up for membership to become a founding member and help shape HuffPost's next chapter