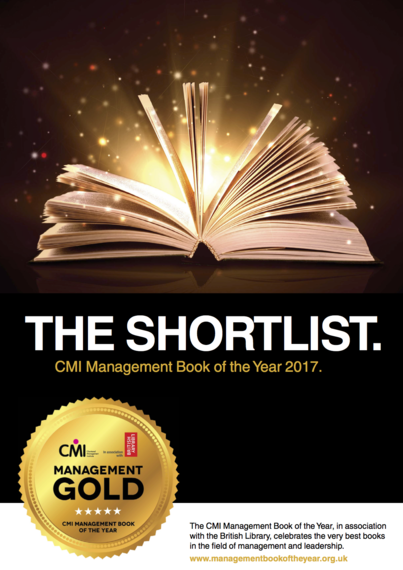 This year's best management books explore the importance of management trust and ethics through a lens of leadership, technology and change
Trust and ethics, diversity and productivity are key themes running through this year's 25 best management and leadership books short listed for the 2017 Management Book of the Year.
Announced by the Chartered Management Institute (CMI) and The British Library - and supported by Henley Business School - 2017 Management Book of the Year features titles that are breathing new life into management and leadership thinking.
More than 150 books were entered this year into the competition's five categories: Management Futures; Innovation and Entrepreneurship;
Practical Manager; the Commuter's Read; and Management and Leadership Textbook.
Among those shortlisted is John Blakey's The Trusted Executive, which looks at trust-building strategies, and Richard and Daniel Susskind's The Future of the Professions, which examines how emerging technologies will bring fundamental changes to the way we work.
Trust and uncertainty have been timely themes with the ongoing scrutiny of top executives' pay and aftermath of the EU Referendum result. Books such as Big Change, Best Path by Warren Parry look at how best to manage and embrace change, while Cecile Bingham's Employment Relations examines organisational justice and recommends how to build diverse and inclusive workplaces.
Petra Wilton, CMI's director of strategy, commented: "Thousands of books on how to become a better manager and leader are published every year.
Our shortlist directs everyone from first-time managers to senior business leaders to those books that will make a definite difference to how they think and act as management and leadership professionals. For those passionate about their career, the progressive and practical lessons within these books are essential reads."
The five category winners and an overall winner will be announced at an awards evening at the British Library on 6 February 2017 - with the winning author taking home a £5,000 prize. Last year's overall winner was Frugal Innovation by Navi Radjou and Jaideep Prabhu, published by Profile.
Navi and Jaideep said: "Winning the 2016 Management Book of the Year award was a huge achievement and we were delighted to see our work recognised in making such a difference to managers. The volatile economy created uncertainty for many so we were glad to offer practical advice to managers and leaders to drive business forward."
Phil Spence, Chief Operating Officer at the British Library and a Companion of the CMI, said:
"The British Library is honoured and thrilled to be hosting the CMI Management Book of the Year awards again. Not only are we the UK's national research Library with a world-class collection of management studies resource, but also we have a long and successful relationship with CMI and are delighted to be supporting them in their mission to develop management and leadership."
For the full shortlist online, please visit: yearbook.managers.org.uk
Data-driven organization design: sustaining the competitive edge through organizational analytics Rupert Morrison, Kogan Page
Big change, best path: successfully managing organizational change with wisdom, analytics and insight Warren Parry. Kogan Page
Superforecasting: the art and science of prediction
Philip Tetlock and Dan Gardner. Penguin Random House
Connected leadership: how to build a more agile, customer-driven business
Simon Hayward, Pearson
The future of the professions: how technology will transform the work of human experts. Richard Susskind and Daniel Susskind. Oxford University Press
Innovation and Entrepreneurship
Play bigger: how rebels and innovators create new categories and dominate markets
Al Ramadan, Dave Peterson, Christopher Lockhead and Kevin Maney, Little, Brown Book Group
Originals: how non-conformists change the world
Adam Grant. Ebury Publishing
The innovation workout: the 10 steps that will build your creativity and innovation skills.
Lucy Gower. Pearson
Building a culture of innovation: a practical framework for placing innovation at the core of your business. Cris Beswick, Derek Bishop and Jo Geraghty. Kogan Page
From science to startup: the inside track of technology entrepreneurship.
Anil Sethi. Springer.
How to manage: the definitive guide to effective management.
Jo Owen. Pearson
Inclusive talent management: how business can thrive in an age of diversity.
Stephen Frost and Danny Kalman. Kogan Page
FAST: 4 principles every business needs to achieve success and drive results
Gordon Tredgold. Next Century Publishing
The negotiation book: your definitive guide to successful negotiating
Steve Gates. Wiley
What you really need to lead: the power of thinking and acting like an owner.
Robert Steven Kaplan. Harvard Business Review Press
Great answers to tough questions at work
Michael Dodd. Wiley
It takes more than casual Fridays and free coffee: building a business culture that works for everyone. Diane K Adams Palsgrave. Macmillan
We have a deal: how to negotiate with intelligence, flexibility and power.
Natalie Reynolds. Icon Books
The trusted executive: nine leadership habits that inspire results, relationships and reputation. John Blakey. Kogan Page
How to be REALLY productive: achieving clarity and getting results in a world where work never ends. Grace Marshall. Pearson
Management and Leadership Textbook
Leadership paradoxes: rethinking leadership for an uncertain world.
Richard Bolden, Morgen Witzel and Nigel Linacre (eds) .Taylor & Francis
A guide to professional doctorates in business and management
Lisa Anderson, Jeff Gold, Jim Stewart and Richard Thorpe. SAGE Publications
Employability: making the most of your career development
John Neugebauer and Jane Evans-Brain. SAGE Publications
The origins of ethical failures: lessons for leaders.
Dennis Gentilin. Rutledge
Employment relations: fairness and trust in the workplace.
Cecilie Bingham. SAGE Publications
About the competition
The Management Book of the Year competition, which is now in its seventh year, was created to uncover the best books on management and leadership, and help raise the profile of the great management writing published in the UK.
The winners of the five categories and the overall winner - who will scoop a £5,000 prize - will be announced at an awards evening at the British Library on 7 February 2017.
A full listing of the shortlisted books and more details on the expert judging panel are available via the competition website yearbook.managers.org.uk. Follow the hashtag #managementgold on Twitter to get tips, advice and information on the books in this year's competition.
Last year's overall winner was Frugal Innovation by Navi Radjou and Jaideep Prabhu, published by Profile (Economist Books). Previous overall and category winners include Steven D'Souza, Diana Renner, Richard Newton, Christopher Bones, Henry Mintzberg, Clayton M. Christensen and Philip Kotler.
CMI - the Chartered Management Institute - is the only chartered professional body for management and leadership, dedicated to improving managers' skills and growing the number of qualified managers.
Our professional management qualifications span GCSE to PhD equivalent levels, including the unique Chartered Manager award which increases earnings potential and improves workplace performance.
We provide employers and individual managers with access to the latest management thinking and with practical online support which helps them embrace change, create high performing teams and keep ahead of the curve.
With a member community of 136,000 managers and leaders, we promote high standards of ethical practice through our Professional Code of Conduct, and help managers build their expertise through online networks, regional events and mentoring opportunities.
Visit
for more information.
The British Library is the national library of the United Kingdom and one of the world's greatest research libraries. It provides world class information services to the academic, business, research and scientific communities and offers unparalleled access to the world's largest and most comprehensive research collection. The Library's collection has developed over 250 years and exceeds 150 million separate items representing every age of written civilisation and includes books, journals, manuscripts, maps, stamps, music, patents, photographs, newspapers and sound recordings in all written and spoken languages. Up to 10 million people visit the British Library website every year where they can view up to 4 million digitised collection items and over 40 million pages.
Henley Business School is one of the oldest business schools in the UK, having been established in 1945. Henley is in the 1% of all business schools worldwide to hold triple-accredited status from the leading UK, European and US accrediting bodies - AMBA, EQUIS and AACSB. It is known for empowering individuals to become great professionals and outstanding business leaders who think with clarity and act with confidence and conviction. Its distinctive approach is proven to deliver results for individuals and businesses alike.
REAL LIFE. REAL NEWS. REAL VOICES.
Help us tell more of the stories that matter from voices that too often remain unheard.