Writing from a country (Germany) where a fee for bags at checkout is standard and accepted without even the slightest snarl (though don't expect them to pack it for you), I was surprised to see Seattle voters recently rejected a measly 20-cent bag fee. And this from a city that is supposed to be the greenest in the U.S., according to the Natural Resources Defense Council?
The fee was to be attached to every paper or plastic bag received in supermarkets, drug stores and convenience stores, the Associated Press reports, but was stopped short by a referendum--conveniently funded by the the plastics industry--that put the question to voters who then turned it down.
It turns out, bag fees, since they first launched in San Francisco, are meeting much resistance across the U.S.:
In California, bag manufacturers successfully sued cities that banned plastic bags.

Several states from Colorado to Texas to Virginia debated bag bans or fees this year, but no statewide ban or fee has been enacted. Washington, D.C., passed a 5-cent fee on paper or plastic bags, and the Outer Banks region in North Carolina banned plastic bags this year. But New York City dropped a proposed 5-cent bag fee in June, and Philadelphia rejected a plastic bag ban.
Naturally, the most lobbying against plastic bag fees comes from the plastics industry.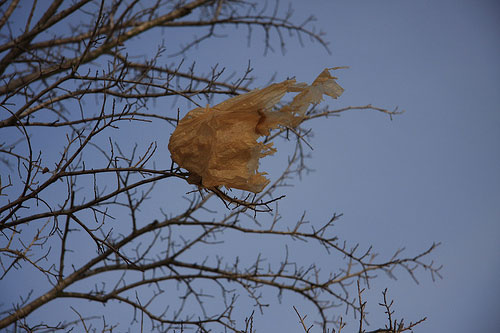 Photo courtesy of Flickr
Frankly, Seattle, a plastic bag fee is a no-brainer, and it is proven to work. The cost is low enough to be a nominal dent in your wallet, and the fee can simply and easily be avoided with a few reusable bags. The arguments against it--the cost, the "wrong approach," fear of misused funds--just seem flimsy.
There are some things Europe just does better, and sometimes this has to do with perceived "rights." Americans believe they have a right to a free bag. Here, when it comes to the environment--be it car emissions, closing the center of a city to traffic, or plastic bags--the laws are just passed. Because these small changes are for the greater good.