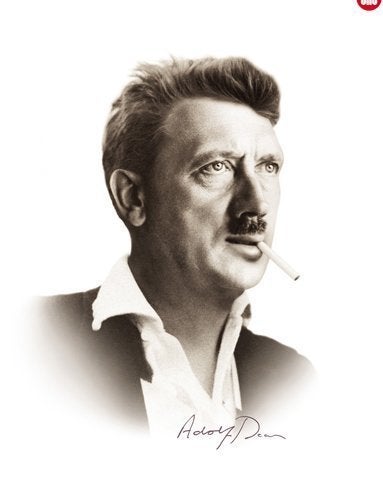 South Africa's CNA Stores decided having just one celebrity's image on their latest ad was just not enough. Instead, as AdFreak reports, they decided to meld the faces of Adolph HItler and James Dean into a disturbing image that graces some of their new ad materials
If you can believe it, CNA's Hitler-Dean ad is actually just the first in a series. Also, in the campaign are ads that combine the faces of John Lennon and Albert Einstein (John Einstein); Prince Charles and Buddy Holly (Prince Holly); Queen Elizabeth II and Mother Teresa (Queen Teresa); and Bill Gates and Elvis Presley.
Finally, there's our personal favorite, a mash-up of Elvis Presley and Bill Gates (Bill Presley).
The ad is sure to generate its share of outrage - and it's actually not the first Hitler-Dean spot. AdFreak put it this way: "Advertolog credits the work to ad agency Jupiter Drawing Room (Jhb), which should be getting outraged calls any minute, if past reaction to Hitler-themed ads is any indication."
AdFreak has a gallery of all of the portraits here.
What do you think? Is the Hitler-James Dean ad offensive? VOTE below.