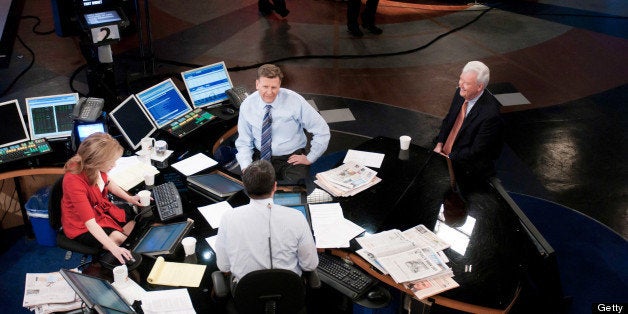 Joe Kernen, co-host of CNBC's Squawk Box, recently lashed out on Twitter at concerned CNBC viewers and individuals who called on him to accurately report the facts and economic risks of climate change. Kernen's comments are indicative of a larger climate coverage problem at CNBC. Just recently, the network refused to air President Obama's climate change speech — a surprising choice for a business news and financial network given that Obama's remarks dramatically shifted financial markets. One potential explanation for this blunder? Many of CNBC's on-air personalities are avid climate deniers — currently, the most vocal being Joe Kernen.

On July 8, Kernen even vented his frustrations on-air in an exchange with Shell Oil's former USA CEO, John Hofmeister:
"You haven't read my Twitter feed, I'll tell you that much [...] there's a lot of things happening the enviro-socialists are-man, it is a cult. It is a bona fide cult."
These climate denial rants augment a Media Matters report that found "more than half of CNBC's climate change coverage was misleading." With climate change costing global GDP $1.2 trillion annually, Kernen's remarks represent a conflict for CNBC between accurate business forecasting and personal ideology. Subsequently, Forecast the Facts and Environmental Action launched a petition targeting CNBC's CEO and President Mark Hoffman demanding he "tell Joe Kernen and [CNBC's] other on-air personalities and guests to stop denying climate science and start reporting the facts on the economic risks of fossil-fueled climate change." The petition has already gathered over 25,000 signatures since its launch and helped spur on Kernen's tweets.
Related
Popular in the Community