Earlier this week, California State Assemblywoman Bonnie Lowenthal (D-Long Beach) filed legislation to update the California state code. Her goal was straightforward: to remove outdated and offensive language ordering the state Department of Mental Health to find the "causes and cures of homosexuality."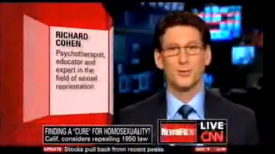 In 2002, Richard Cohen was permanently expelled from the American Counseling Association for multiple ethics violations. Both he and his theories have been uniformly discredited over the last decade. Despite the scientific consensus, CNN chose to list Cohen as an expert in the field of "sexual reorientation"--a field which does not exist in the mainstream of acceptable medical and psychological practices.
By labeling him an expert, the news network gave Cohen a platform and credibility, going so far as to call him a "psychotherapist" and "educator." (Cohen currently practices as an unlicensed coach and sells non-accredited "Councilor Training Certification" to aspiring "ex-gay" therapists on his web site). Moreover, Cohen has been linked to draconian anti-gay legislation in Uganda that would make being gay a crime punishable by death. CNN also failed to mention this rather clear bias in its coverage.
In an important way, discussion over this archaic California law brings into focus where we are as a nation. Nobody with credibility would advance a theory that the current California Code serves any good purpose. But then we look at how the media--here, CNN--elects to cover a non-controversy and give cover to discredited talking heads, effectively breathing new life into a hurtful issue that defames gay people and, without mention of the dangerous nature of the "treatments" that Cohen referenced, can put lesbian, gay, bisexual and transgender people in harm's way.
There is no controversy here for CNN to cover. The intolerance at the root of this law is clear, as are its fallacious assumptions. The real problem is the unconscious habit of news outlets in giving a platform and credibility to arguments about lesbian, gay, bisexual and transgender people that don't hold water anymore. And it's a habit that frankly doesn't serve anyone--except those who traffic in this kind of intolerance.
There is no place on a mainstream network for such poor journalism. After GLAAD spoke with producers of Newsroom this week, who admitted that the network received significant outcry from viewers over the inclusion of Richard Cohen in their segment, CNN provided the following statement:
By bringing this story to the fore, we engage various advocates from all sides. This story does not end here and CNN will continue to explore other views and positions.
CNN has aired a number of fair and accurate stories about the LGBT community. It is clear that a great many journalists at CNN take that responsibility very seriously. But these two recent narratives are just like that old California law: misinformed, offensive, and still on the books for no good reason.
-------------------------