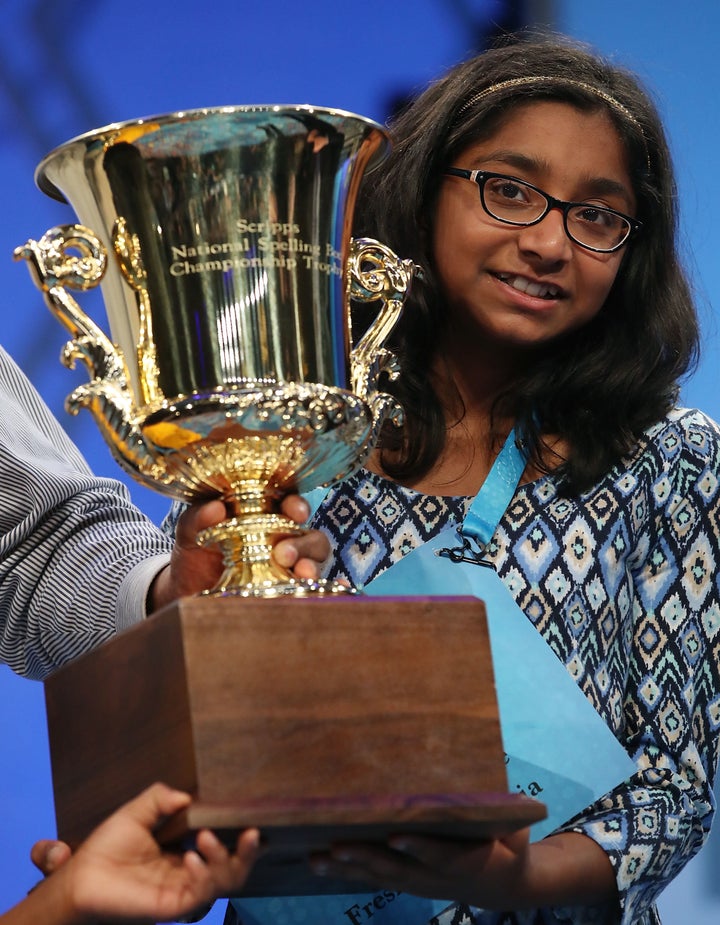 Many people are giving CNN some heat this morning after two anchors asked a national spelling bee champion to spell "covfefe" and then went too far with a racist joke aimed at the twelve year old of South Asian descent.
That's not the shocking part of this interview, however. What was shocking was co-anchor Alisyn Camerota's blatant display of white privilege vis-a-vis a twelve year old AMERICAN girl of Asian descent.
After asking Vinay to spell "covfefe", Camerota then goes on to give some origin of the word "covfefe" and says this to Vinay:
But it is a nonsense word but we're not sure that it's root is in Sanskrit which is probably what you're used to using.
I've got some choice alphabets for you, Alisyn:
First of all, newsflash to the CNN anchor— nobody really speaks Sanskrit anymore. It's like telling an Italian "it's not like Latin, that you're probably used to speaking."
But, considering that we have very low intellectual expectations for CNN news anchors nowadays, I'll let this one slide.
Racist jokes further perpetuate racial privilege.
It's especially not acceptable to make racist jokes when you are the blonde-haired anchor of a national news network and you are interviewing a girl who could be the same age as your daughter.
Luckily, Camerota's co-anchor Cuomo tactfully diverted the situation and congratulated Vinay for her success.
It's easy for the joke teller to say "relax, it was just a joke." But that's what's ultimately wrong with the situation— that you simply can't understand what's offensive to another if it doesn't relate to you.
It's the theory of naive realism— the idea that because we perceive it so, it must be. This self-centered viewpoint over racist jokes essentially takes away from the other person's feelings and sensitivities.
In short— by saying "relax" or "lighten up", you are desensitizing yourself and perhaps others around you to the offense caused by the joke. These behaviors can have the effect of desensitizing full communities against the minority.
National news anchors need to be more tactful
What's perhaps the most shocking in this blatent display of racial arrogance is the fact that Camerota is a national news anchor. Of course, the bar is really low nowadays for what we expect out of mainstream national news anchors. For women, the bar is even lower— show a toothy grin and toss your hair. Gone are the days of Christiane Amanpour and Soledad O'Brien. Now, if you look good in front of the camera and can speak clearly, you're in. Bonus points if you're a D cup or higher.
But at a bare minimum, national news anchors should exhibit tact on air. After all, a news anchor's job is not just to speak, but to address difficult issues and deflect difficult questions.
I commend Cuomo for displaying brilliant tact. But again, Camerota's joke bleeds of white privilege— "I'm white and blonde and can say whatever I want and nobody can do anything about it."
Shame on you, CNN. You aren't FOX News and you've tried to build your reputation around some semblance of centralism and diversity. You host brilliant shows addressing diversity of race and religion. You have brilliant hosts like Anderson Cooper, W. Kamau Bell, and Reza Aslan.
Yet, if you allow anchors like Camerota to continue airing racially insensitive gaffes like this, you'll inevitably lose credibility. The effort you put towards embracing diversity and inclusion will be lost.
Related
Popular in the Community