CNN has yanked episodes of Anthony Bourdain's "Parts Unknown" that feature Asia Argento from its streaming service following allegations that she sexually assaulted a 17-year-old actor.
"In light of the recent news reports about Asia Argento, CNN will discontinue airing past episodes of Parts Unknown that included her, until further notice," a spokeswoman for the network told HuffPost in a statement Sunday.
The Italian actress first met Bourdain in 2016 on the set of "Parts Unknown," his critically acclaimed food and travel TV show. She had been dating him when he died by suicide in June.
She has appeared in two episodes of the show, which ran for 11 seasons before Bourdain's death. She directed a third episode that took place in Hong Kong during season 11.
Those three episodes have been removed from CNN Go, the network's streaming service, BuzzFeed News first reported on Saturday. The CNN spokeswoman declined to comment on when the episodes were pulled.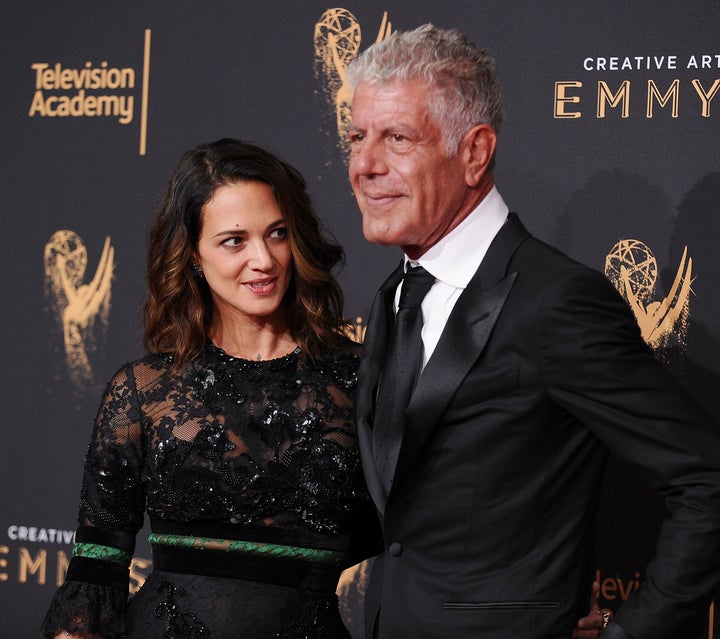 Last month, The New York Times reported Argento had agreed to pay $380,000 to actor Jimmy Bennett after he accused her of sexually assaulting him in 2013 when he was 17 and she was 37.
Argento has denied having sex with Bennett, claiming the payment was to help him with "severe economic problems." She said Bourdain had handled the payment.
"I have never had any sexual relationship with Bennett," Argento said in an Aug. 21 statement. "Anthony insisted the matter be handled privately and this was also what Bennett wanted."
But a photo and text messages obtained by TMZ appear to contradict Argento's claims. The photo purportedly shows Argento and Bennett lying in bed shirtless with their foreheads pressed together.
"I had sex with him it felt weird. I didn't know he was a minor until the shakedown letter," she allegedly wrote in one text.
The Los Angeles County Sheriff's Department last month that it was investigating the possible assault.
Argento helped ignite the Me Too movement in October after publicly accusing disgraced film producer Harvey Weinstein of sexually assaulting her. Actress Rose McGowan, another prominent Me Too activist, distanced herself from Argento last week.
"Asia you were my friend," McGown wrote in a statement. "I loved you. You've spent and risked a lot to stand with the MeToo movement. I really hope you find your way through this process to rehabilitation and betterment."
"Do the right thing," she continued. "Be honest. Be fair. Let justice stay its course. Be the person you wish Harvey could have been."
Popular in the Community