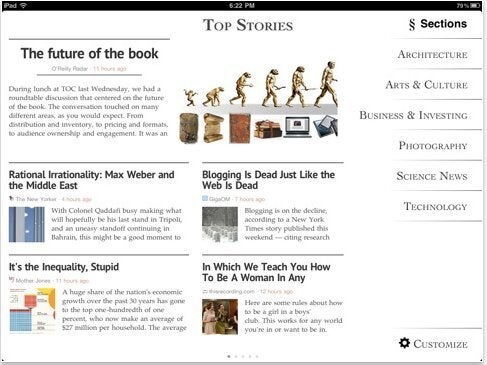 CNN announced Tuesday that it has purchased Zite, the eight-person startup behind a personalized news reader iPad app of the same name.
While CNN said in a press release that it will keep Zite as a "separate, stand-alone business" that will improve its app and develop new products, KC Estenson, general manager of CNN Digital, told The Huffington Post that CNN might eventually integrate Zite's personalization technology, which promises to "automatically [learn] what you like," to deliver online audiences with content more customized to their interests.
"The technology that sits behind Zite is very powerful and you could imagine that coming over to to CNN's core products to help make what CNN publishes more personalized and customized for each user," Estenson said. "That's a bet we want to make: sites and services that provide general interest news will need to become more personalized."
Zite currently showcases articles from thousands of different sources based on an algorithm that takes into account Twitter history and reader behavior, among many other factors.
Yet following news of the acquisition, numerous Twitter users expressed concerns that Zite would be taken over by CNN content.
"I hope that my favorite dynamic news source won't turn into a monolith," tweeted @ewaccess.
Zite CEO Mark Johnson said that his app would remain "source agnostic" and would not favor certain media companies' content. Estenson stressed that CNN "didn't buy [Zite] to alter it," adding, "We bought it to make it better and stronger and give these guys more resources to get the app in the hands of more people."
Johnson, who will remain CEO of Zite and report directly to Estenson, said he plans to tap into CNN resources to grow Zite's user base, range of products and staff.
"In terms of product, we're going to continue to improve the iPad app, which is our flagship product. We've got more ideas than fingers to type code right now," Johnson said. "We're excited to move the product forward and move on to other devices."
"Hiring is a big priority," he added. "Expect us at least to double."
CNN did not disclose the terms of the sale, though All Things D's Kara Swisher reported that Zite was sold for "$20 million to $25 million." Zite is currently available for free on Apple's iPad, but no iPhone or Android app has yet been released. CNN declined to specify how many users Zite currently has.
Related
Popular in the Community