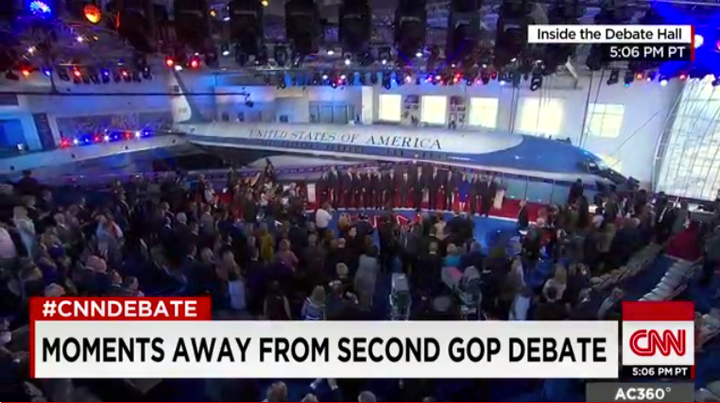 It looks like CNN has outdone itself. 
The Republican presidential debate Wednesday drew an estimated average of 22.6 million viewers, according to ratings agency Nielsen, making it the most-watched program in CNN's 35-year history. CNN's previous record was a 1993 "Larry King Live" episode featuring Al Gore and Ross Perot, which garnered 16.8 million viewers.
CNN, for its part, estimated the debate's viewership at 22.9 million. While Nielsen's number represents an estimated average for the full broadcast from 8 to 11:15 p.m., CNN only counted the time the candidates were on stage.
The network also saw impressive numbers online, with an estimated 921,000 concurrent viewers on the site halfway through the debate. CNN streamed the debate online for free.
Because there's no way to determine how many viewers might have been streaming the debate online while also watching it on television, CNN can't add the streaming and TV viewers together to get an accurate total.
While the event did bring in record-breaking ratings for CNN, the debate did not top the Fox News GOP debate, which brought in an estimated 24 million viewers last month.
CNN president Jeff Zucker said Wednesday that the network had "no expectation" of beating Fox's ratings.
CORRECTION: A previous version of this story said 22.9 million viewers watched the debate, as measured by Nielsen. That number is from CNN. Nielsen estimated 22.6 million viewers.
Calling all HuffPost superfans!
Sign up for membership to become a founding member and help shape HuffPost's next chapter