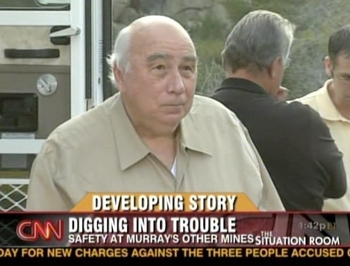 This afternoon on The Situation Room, CNN ran one of their "Keeping Them Honest" segments about Crandall Canyon mine owner Robert Murray , examining the safety record of Murray Energy's 19 other mining operations. Murray correctly claimed that the safety record of Crandall Canyon was "almost outstanding, much better than the national average" — though tragically, that was obviously prior to the collapse that trapped 6 miners 18 days ago and launched a risky recovery mission that took the lives of three rescuers one week ago tonight. CNN looked into Murray's other mining operations, though, and found some shocking statistics: Of Murray's 19 mines, 7 were underground and 4 of them had accident rates above the national average. CNN specifically cited Murray's Illinois Galatia mine, which CNN reports has racked up 3,485 safety citations in the last 2.5 years, and has had an above-average rate of injury every year since Murray bought it. Murray's Galatia mine has racked up 968 safety citations in 2007, almost a quarter of which are considered "significant and substantial." Murray challenges many of the citations — but has also paid approximately $700,000 in fines from 2005-2006. Great information to have — but wow, is it ever late.
Specifically, it's a whopping thirteen days later than the Salt Lake Tribune, which examined the Galatia mine on August 10th, citing similar statistics ("at least 2,787 violations and more than $2.4 million in proposed fines from the Mine Safety and Health Administration over a two-year span") and raising the same skeptical eyebrow about what kind of culpability Murray might actually have had in the Crandall Canyon disaster. As Arianna has pointed out in her coverage, CNN took a full 12 days to even question the safety record of that mine (Chyron: "Safety of Rescue Operation Debated." Really. You don't say). And yesterday, Katharine Zaleski reported that CNN's Kyra Philips used her airtime with Murray to offer him sympathy instead of challenge him on his safety record (and then there was this hardball zinger: "How are you holding up?"). Again, that's almost two weeks since the Salt Lake Tribune delved into Murray Energy's checkered past — and over a week since HuffPost's Max Follmer looked at that checkered past in light of Murray's political connections. Follmer also raised disturbing questions about the larger administration of mining safety in this country, examining the troubling record of Bush mine safety czar Richard Stickler, whose priorities have seemed more in line with the industry honchos than the miners themselves.
Calling all HuffPost superfans!
Sign up for membership to become a founding member and help shape HuffPost's next chapter