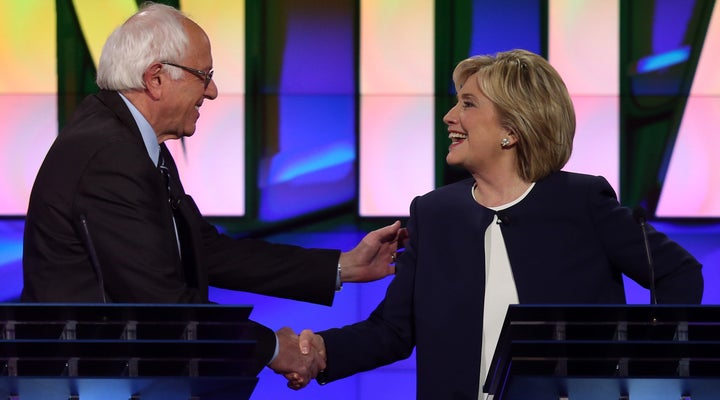 LAS VEGAS -- The first debate of the 2016 Democratic presidential primary will be defined by two moments: When the topic turned to Sen. Bernie Sanders' (I-Vt.) chief vulnerability, Hillary Clinton jumped at the opportunity to draw a sharp contrast. When the roles were reversed, Sanders threw her a lifeline.
Those two exchanges -- the first on gun control and the second on Clinton's use of a private email account as secretary of state -- exemplified not just the different political DNA of each candidate, it underscored the brewing intensity of a Democratic primary that few thought would be competitive.
Clinton's overall performance will be remembered as the more forceful one, in part because the early questions played to her strengths. A back-and-forth on why Sanders didn't consider himself a capitalist led to her defending robust regulations, with him touting Denmark.
But the truly defining segment dealt with guns, perhaps Sanders' biggest vulnerability in the Democratic primary. Clinton previewed her attack a few weeks ago when, among the series of proposals she unveiled after the Oregon mass shooting, she called for ending legal immunity for gun manufacturers -- something Sanders voted for as a congressman. And once the topic surfaced at the debate, she pounced.
"For this immunity provision, I voted against it," Clinton said. "I was in the Senate at the same time. It wasn't that complicated to me. It was pretty straightforward to me that he was going to give immunity to the only industry in America."
The exchange defied conventional wisdom, which held that Clinton would avoid punching down at her rivals, wary that doing so would engender sympathy for them and make her seem desperate. But the shot from Clinton landed effectively. If anything, it invited others to pile on. After Sanders explained that he came from a rural state with virtually no gun control, had a D- rating from the NRA and didn't believe that "all the shouting in the world" would get gun control passed, former Gov. Martin O'Malley (D-Md.) accused him of "pandering to" the gun lobby.
After the debate ended, Sanders' campaign manager, Jeff Weaver, accused the other candidates of "all beating up on him."
Sanders, whose campaign let it be known prior to the debate that he had done little prep work, certainly seemed shaken. As the conversation shifted to foreign policy and what to do about the quagmire of the Syrian civil war, he appeared as if he hadn't been following the exchange.
He soon found his footing, however. And he came back when the topic turned to Clinton's emails. Clinton characterized the House Select Committee on Benghazi as "basically an arm of the Republican National Committee," calling its investigations into her use of a private account a "partisan" drive to take down her poll numbers. Sanders then offered a criticism of the press that left even Clinton sympathizers cheering.
"Let me say something that may not be great politics. But I think the secretary is right," Sanders said. "And that is the American people are sick and tired of hearing about your damn emails. ... Enough of the emails. Let's talk about the real issues facing America."
A friendly handshake followed.
After the debate, Clinton campaign chairman John Podesta called Sanders "gracious" for his remarks. And the Sanders campaign pointed to it as the most memorable moment of the night. Even before the debate ended, the Sanders campaign sent out a fundraising email on the exchange.
"He had a lot of good moments, but that one-liner that he did around, we're sick and tired of the email discussion -- I think that was a zinger that really popped," said Arturo Carmona, who heads Sanders' Latino outreach.
As predicted, Tuesday's Democratic debate was not a firework-filled forum like the GOP has held, dominated as they've been by a bombastic businessman, a mercurial neurosurgeon and rush of conservative fervor. The five candidates on Tuesday's stage were all long-serving politicians, whose average age is just under 65 years.
But to call the debate a boring affair would be to ignore the important insights gleaned from the candidates.
Clinton's political instincts proved both an asset and a liability. She was forced to fend off critics who accused her of expediency for opposing the Keystone XL pipeline and the Trans-Pacific Partnership trade deal. But she also was far more comfortable on the stage after enduring more than 20 such forums during the 2008 campaign. President Barack Obama's former top aide, Dan Pfeiffer, noted on Twitter that political observers should not have underestimated Clinton's strength in debates.
She repeatedly drew contrasts with Republicans (which gave her the veneer of already being a general election candidate), emphasized the historic nature of her candidacy and turned potential problem areas into advantages. When the topic turned to her 2002 vote to authorize the war with Iraq, she reminded the audience that Obama supported her judgement enough to send her to Foggy Bottom.
Sanders, meanwhile, did no apparent damage to his ascendant campaign once the exchange over gun policy ended. He stuck largely to his bread-and-butter issues of wealth inequality, climate change and campaign finance, but also attempted to expand his appeal by directly addressing the concerns of the Black Lives Matter movement, aggressively criticizing mass incarceration and emphasizing youth unemployment in minority communities.
"I think he handled that Black Lives Matter question on the stage in an outstanding way," Weaver told reporters.
O'Malley, as is his custom, followed much of the conversation by noting that everything the candidates pledged to do, he had already done as governor in Maryland. And after the debate, he was upbeat over laying out his record in front of a national audience.
"As I look at tonight, this was the opening kickoff. This was not the two-minute warning. ... And for the first time tonight, people see they have a choice," O'Malley said. "People see there are alternatives out there to the two frontrunners, and I believe this campaign is really just beginning in earnest."
As for the other two candidates on stage -- former Rhode Island Gov. Lincoln Chafee (D) and former Sen. Jim Webb (D-Va.) -- they remain largely quizzical figures in a not-so-crowded race. After calling himself "a block of granite when it comes to the issues," Chafee's defining moment was explaining that he shouldn't be held accountable for a bank deregulation vote he made in Congress because it was one of the first he cast.
Webb, meanwhile, argued against the Iran nuclear deal and for moderation on gun control and affirmative action -- a policy portfolio that is simply incongruous with the modern Democratic Party. But he also spent his time expressing disappointment about not getting enough air time -- so much so that much of the air time he received was spent talking about not getting air time.
Finally, looming over the debate was a person not in it. The super PAC Draft Biden aired ads on CNN before the debate, encouraging Vice President Joe Biden to run. Biden, however, was far from the debate stage in Washington. And with one debate down, the chorus of Democrats calling for him to make a decision soon is growing.
"He has been through a terrible tragedy with the loss of his son. We are all friends with him. But this race is now moving towards the first votes in Iowa," said Podesta. "We had the first debate tonight. We will have more coming forward and if he decides he wants to run for president we will welcome him into the race. We are going to run our race. But I think it is a moment where it is probably time for a decision."
For the latest updates on tonight's debate, visit our liveblog.
Popular in the Community