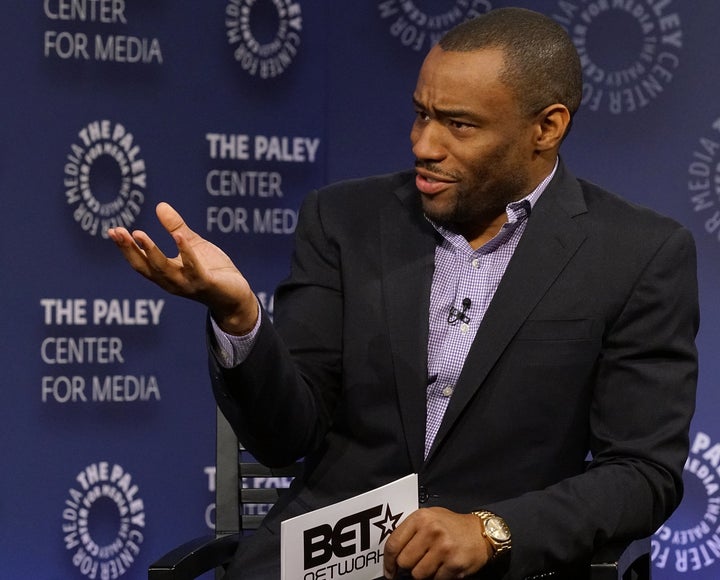 Author Marc Lamont Hill on Thursday was dropped from CNN, where he worked as a contributor, following a speech at the United Nations calling on Israel to support the human rights of Palestinians.
HuffPost confirmed the move with a spokeswoman for the network, who said, "Marc Lamont Hill is no longer under contract with CNN."
Hill spoke Wednesday at a New York meeting of the U.N.'s Committee on the Exercise of the Inalienable Rights of the Palestinian People, held ahead of the International Day of Solidarity With the Palestinian People.
There he encouraged nations to protest Israel until there is "a free Palestine from the river to the sea." The phrase "from the river to the sea" has been used by Hamas, which opposes the Israeli state, and was thought by some to be an attack on the Jewish people. (The phrase refers to the Jordan River and the Mediterranean Sea, covering land that is now Israel.)
"My reference to 'river to the sea' was not a call to destroy anything or anyone. It was a call for justice, both in Israel and in the West Bank/Gaza," he wrote. "The speech very clearly and specifically said those things. No amount of debate will change what I actually said or what I meant."
Hill is a former host on the now-defunct HuffPost Live and is currently a regular columnist for HuffPost's Opinion section. He also serves as a professor of media studies at Temple University.
The Anti-Defamation League disagreed with Hill's assessment of the phrase, stating in a tweet that "those calling for 'from the river to the sea' are calling for an end to the State of Israel."
"It's a shame that once again, this annual Palestinian event at the UN does not promote pathways to a future of peace & instead promotes divisiveness and hate," the ADL said.
In his speech, Hill outlined his support for a one-state solution to the conflict between Israel and Palestine that would include full rights for Palestinians, critiquing the Israeli government's current policies.
"This is not an anti-Semitic position," Hill said Thursday over Twitter.
"Unfortunately, we are in a moment where any critique of the Israeli government is called anti-Semitic," he continued. "Any call for Palestinian freedom is seen as an attempt to diminish Israel freedom. This does not have to be, nor should it be, the case."
The U.N. High Commissioner on Human Rights, Zeid Ra'ad Al Hussein, voiced his deep concerns over abuses perpetrated against the Palestinians in July. He called the humanitarian crisis "entirely man-made and entirely preventable," and stated that violence only served to compound the problem.
Popular in the Community