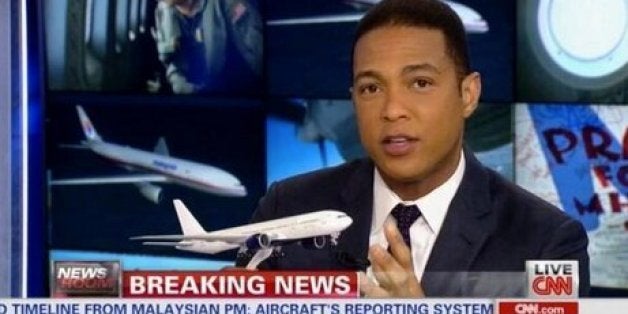 NEW YORK –- CNN has provided wall-to-wall coverage of missing Malaysia Airlines Flight 370, a strategy that's attracted scrutiny from media critics but has also led to a ratings surge.
Network executives usually like to talk when ratings are up. And indeed, CNN executives both touted the network's ongoing coverage and rebutted critics in interviews Monday with The New York Times. But they only did so anonymously, with one "senior CNN executive" offering several self-serving quotes without accountability:
"It is a tremendous story that is completely in our wheelhouse," said a senior CNN executive, who asked not to be identified defining the network's strategy for its coverage.
"It's an incredible mystery full of human drama, with an international element," the senior CNN executive said. "Anything international plays into our hands because we have more reporters to deploy all over the world."
"One way to define ourselves is to go all-in on stories of human drama," the executive said.
It's one thing to grant anonymity to a network executive for information that higher-ups and the public relations team wouldn't want to see in print. But the quotes simply serve the network's interests by emphasizing how CNN –- as opposed to, perhaps, more partisan cable networks like MSNBC and Fox News -- has significant international newsgathering resources to cover an unfolding story full of "human drama."
In the article, Times television reporter Bill Carter noted some recent criticism of CNN's non-stop coverage, including comedian Bill Maher tweeting that founder Ted Turner "wishes he was dead so he cld roll over in his grave."
Former CNN host Howard Kurtz also criticized his former network's "all-plane, all-the-time" coverage on his Sunday Fox News program.
CNN took the opportunity to rebut critics, but again, only did so anonymously.
Carter wrote that CNN executives dismiss critics as "professional media watchers" and suggested that "the average viewer may see only a few minutes of the coverage a day."
Carter continued: "Several CNN executives noted that conversations around water coolers and at dinner parties all over the country had been dominated by the story of Flight 370 and possible explanations for its disappearance."
Times Public Editor Margaret Sullivan wrote critically last fall about reporters' willingness to grant anonymity, and suggested they push harder for sources to speak on the record.
The Huffington Post has contacted Times Media Editor Peter Lattman to ask about allowing CNN to defend its coverage anonymously, and will update this story when he responds.
Popular in the Community