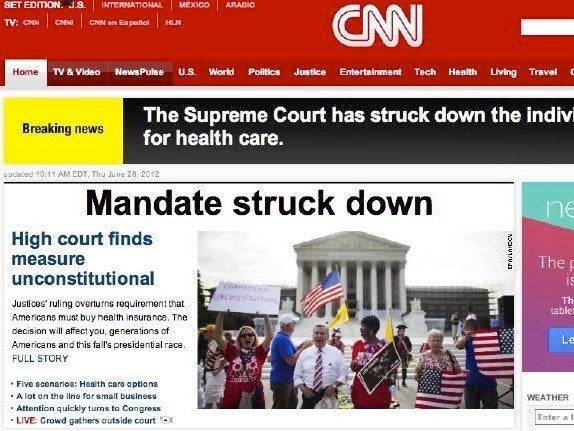 A memo to CNN staff on Thursday night promised an investigation into the network's erroneous reporting of the Supreme Court's historic health care ruling.
CNN was deeply embarrassed on Thursday after it initially told viewers that the individual mandate central to President Obama's health care legislation was struck down. In fact, the court ruled that the provision could be upheld as a tax. The network wasn't the only one to make the mistake — Fox News initially reported and The Huffington Post tweeted the same thing.
Later, CNN senior vice president and Washington bureau chief Sam Feist told staff that the network is "looking into exactly what happened." He said in a statement, "Today we failed to adhere to our own standard, namely it's better to be right than to be first. We take mistakes seriously, especially mistakes on such important stories."
Meredith Artley, vice president and managing editor of CNN Digital, also addressed the snafu in another memo earlier that day. "There are a lot of tweets, posts and pieces out there about our mistake. And more will come. Stay strong," she told staff. "We are not the story. The story is the story."
CNN was roundly criticized for its coverage (which it also made online and in breaking news alerts), while BuzzFeed reported staffers' revolt over the error. "Maybe this will shake the company into understanding that CNN has not been the 'most trusted name in news' for a very long time," one staffer told the site's Michael Hastings.
I wanted to send a quick note about our reporting of the Supreme Court decision this morning.

As you all know by now, our initial reporting of the decision turned out to be wrong. Despite the best of intentions, we told our viewers and our online readers that the individual mandate in the Affordable Care Act had been struck down when, in fact, it had not.

Today we failed to adhere to our own standard, namely it's better to be right than to be first. We take mistakes seriously, especially mistakes on such important stories. We are looking into exactly what happened and we will learn from it.

When we realized what happened, we owned up to the mistake, corrected on air, corrected on line, and corrected in social media. Our organization has also been entirely transparent about what happened and why. I wanted to make sure that you have seen CNN's statement which is linked here: http://on.cnn.com/ODkjjT

While this may be of little solace, it is worth noting that our coverage after 10:20am was very strong. We covered the decision, the impact on the country, the impact on the presidential campaign, and the fallout. We covered it with our top reporters and analysts, with doctors, political leaders, attorneys, and most important – with ordinary citizens.

And we covered today's Contempt of Congress proceedings exceedingly well.

Today was a historic day in Washington. We have much to be proud of but also some important lessons to reflect on.

Thanks for everything you do.

Sam
Before You Go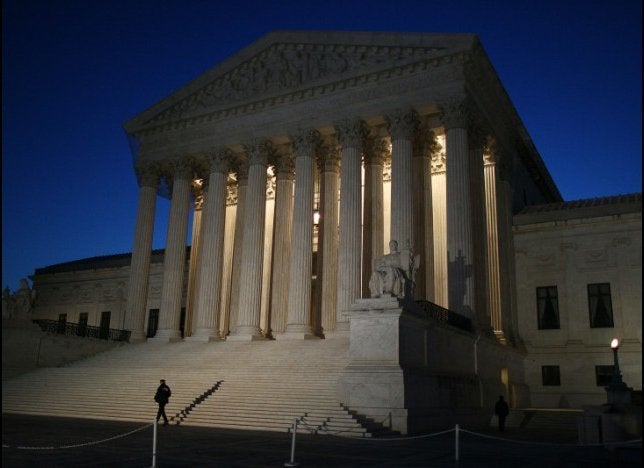 Political Reaction To Health Care Ruling
Popular in the Community