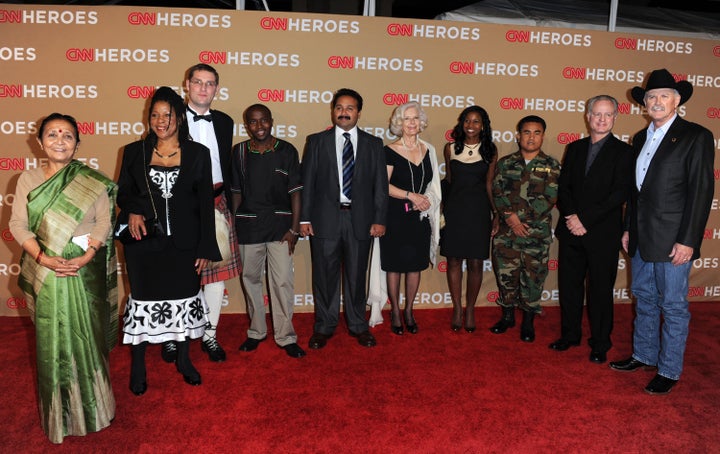 After 11 weeks of voting, readers named Robin Lim -- who has delivered more than 4,000 babies for free in Indonesia -- as the 2011 CNN Hero of the Year, the network announced Sunday.
They each shared their stories of triumph on Sunday night, at the awards show hosted by Anderson Cooper, and walked away with $50,000 to put toward building their charities.
Lim, known as "Mother Robin" among locals, took away the $250,000 grand prize for her work with Yayasan Bumi Sehat (Healthy Mother Earth Foundation). The foundation offers free prenatal care, birthing services and medical aid in Indonesia, where mothers face a high mortality rate because they often can't afford proper care, CNN reports.
"Today, on our earth, 981 mothers in the prime of their life will die," Lim said after receiving her award. "All of us can help change that. We can save lives together, mothers and babies. Every mother counts and healthcare is a human right."
Prenatal care is a particularly critical need in Indonesia where the average family earns about $8 a day and a complication-free delivery costs $70, according to CNN. Women oftentimes are forced to give up their babies for adoption because they can't pay the hospital fees.
"Every mother should be healthy and strong. Every birth could be healthy and strong," Lim said. "Our world isn't there yet."
A slew of stars, including Christy Turlington Burns who has visited Lim's clinic, joined in celebrating the lifesaving work of the nominees. Kid Rock performed "Care" and Miley Cyrus sang her triple-platinum hit "The Climb."
"I do believe we can build world peace -- one baby, one mother at a time," Lim said during the ceremony. "I found my life's purpose really is love. If I wasn't living for love, every minute of every day, what is the point?"
Want to help? Through Dec. 31, you can give to these 10 causes via Google checkout and 100 percent of the contribution will go directly to the nonprofit. Donate here.
Popular in the Community