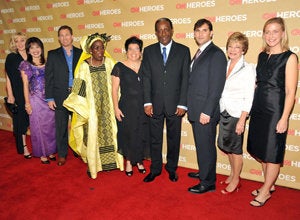 Saturday evening, on the stage where Academy Awards are given out and the American Idol winner is crowned, CNN bestowed one of its highest honors on 10 extraordinary people at the CNN Heroes ceremony, which is broadcast tonight on CNN.
The move to the legendary Kodak Theater in Los Angeles, inspired by the debate CNN hosted there between Senators Hillary Clinton and Barack Obama in January, coupled with the unprecedented audience response — 4,000 Hero nominations from 75 countries, and over 1 million votes were cast online for Hero of the Year — have made the event, in just its second year, already an annual institution.
CNN awarded $25,000 to each of its ten heroes — who range from advocates for the homeless and incarcerated to those who work on behalf of children in Cambodia and Senegal and the handicapped in Mexico — in order to help further their work (see their stories below). And one hero, Liz McCartney, who helps Hurricane Katrina survivors move back into their homes through her nonprofit St. Bernard Project, won $100,000 for her project after being voted Hero of the Year.
Celebrities including Salma Hayek, Cameron Diaz, Jessica Biel, Forrest Whittaker, Lucy Liu, and Terrence Howard — who cried during rehearsal but held it together for the show — were on hand to introduce and help host Anderson Cooper honor the heroes, and Alicia Keys, John Legend, and surprise guest Christina Aguilera all performed at the event.
Sue Bunda, Executive Vice President of Content Development and Strategy for CNN Worldwide, said the celebrity involvement is one of the most moving aspects of the program.
"When our Heroes are presented their award by these big celebrities, in such a warm way, it's very moving, and it's very humbling for everybody involved," she told Huffington Post in a phone interview.
One of the most memorable celebrity-Hero interactions came when Salma Hayek introduced David Puckett, who was honored for bringing ongoing prosthetic and orthotic care to the handicapped and physically challenged in Southeastern Mexico. Stunned by Hayek's introduction and overwhelmed by his double kiss from her, Puckett forgot his speech. Watch:
Puckett told Huffington Post he was "blown away that such a highly respected Hollywood star like Salma Hayek," who is from a region in Mexico near those where Puckett does his work, would be introducing him. And because Hayek is Mexican and Puckett is very familiar with Mexican culture following over 60 trips to the country, he opted for the Latin greeting of a kiss on the cheek. He explains how he forgot his speech:
Walking across the stage was like the longest walk in the world to me, seeing this absolutely drop-dead gorgeous starlet at the end of the walk, waiting for me after giving me that really wonderful introduction. And I walked up there and gave her a little kiss on the cheek, and she gave me another kiss on the other cheek, and that kind of sent me into oblivion. I think I was just floating. So I kind of turn around, and I'm somewhere between heaven and earth, and I turn around to the microphone and I don't know, I just wasn't thinking! I had my speech prepared in my mind and of course the teleprompter was going, but I just turned around and said what was on my mind. And of course the crowd just roared laughing at me.
Puckett said that all ten of the heroes approached the event with a degree of intimidation but that the celebrities involved were so gracious that they felt comfortable throughout.
"I know we all went there — coming from our small towns, and our humble lifestyles,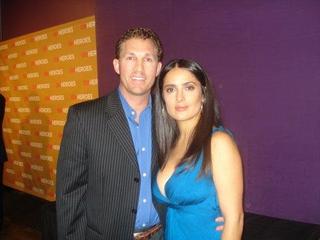 and the mission work that we're working around the world — with the mindset that it was going to be intimidating, that these are high-profile movie stars, this is going to be a huge CNN event," he said. "To a degree, we were all petrified. Yet, people like Salma and Cameron Diaz and so many people that were up there were just helping us to feel more comfortable and that was really, really sweet on their part."
And although Puckett wholly enjoyed his meeting with Hayek, he reiterated that helping those in need is what makes him happiest.
"It gives me no greater joy and reward than to be able to provide an artificial limb to somebody and to see them stand up for the first time, to walk again for the first time in their lives with artificial limbs, or to hold a cup of water in their hands or raise their two arms to heaven and thank God for the gift of restoration," he said.
CNN Heroes airs tonight, Thanksgiving evening, at 9PM ET/PT on CNN, a move Bunda says was meant "to give thanks and honor people who make a real difference in the world."
Below view CNN heroes and the celebrities who honor them backstage at the event in Los Angeles this past Saturday:
A list of the CNN heroes:
Tad Agoglia, Houston, Texas: Agoglia's First Response Team provides immediate help to areas hit by natural disasters. In a little over a year, he and his crew have helped thousands of victims at more than 15 sites across the United States, free of charge.
Yohannes Gebregeorgis, Addis Ababa, Ethiopia: Moved by the lack of children's books and literacy in his native Ethiopia, Gebregeorgis established Ethiopia Reads, bringing free public libraries and literacy programs to thousands of Ethiopian children.
Carolyn LeCroy, Norfolk, Virginia: After serving time in prison, LeCroy started the Messages Project to help children stay connected with their incarcerated parents. She and volunteer camera crews have taped roughly 3,000 messages from inmates to their children.
Anne Mahlum, Philadelphia, Pennsylvania: On her daily morning jogs, Mahlum used to run past homeless men. Today, she's helping to transform lives by running with them, and others as part of her Back On My Feet program.
Liz McCartney, St. Bernard Parish, Louisiana: McCartney moved to New Orleans to dedicate herself to helping Hurricane Katrina survivors move back into their homes. Her nonprofit, St. Bernard Project, has rebuilt the homes of more than 120 families for free.
Phymean Noun, Toronto, Ontario: Growing up in Cambodia, Noun struggled to complete high school. Today, she offers hundreds of Cambodian children who work in Phnom Penh's trash dump a way out through free schooling and job training.
David Puckett, Savannah, Georgia: Puckett started PIPO Missions to bring ongoing prosthetic and orthotic care to those in need. Since November 2000, he has helped more than 420 people in southeastern Mexico, free of charge.
Maria Ruiz, El Paso, Texas: Several times a week, Ruiz crosses the border into Juarez, Mexico, bringing food, clothing and toys to hundreds of impoverished children and their families.
Marie Da Silva, Los Angeles, California: Having lost 14 family members to AIDS, the nanny funds a school in her native Malawi, where half a million children have been orphaned by the disease.
Viola Vaughn, Kaolack, Senegal: The Detroit, Michigan, native moved to Senegal to retire. Instead, a group of failing schoolchildren asked her to help them pass their classes. Today, her 10,000 Girls program is helping hundreds of girls succeed in school and run their own businesses


Popular in the Community