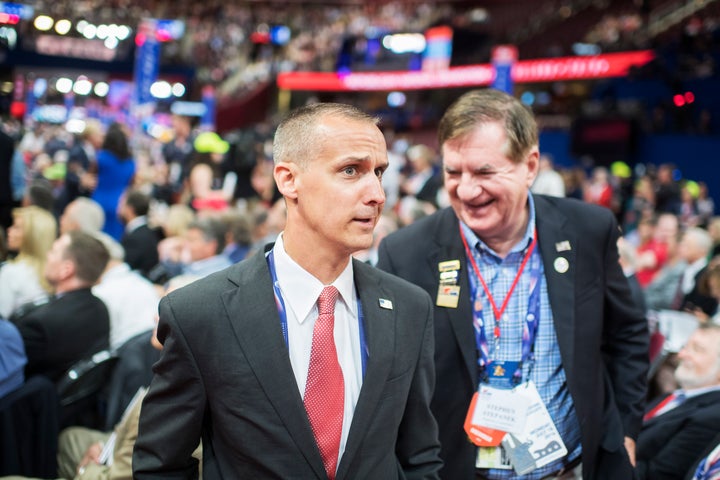 NEW YORK -- As Donald Trump's campaign manager, Corey Lewandowski demonstrated unusual hostility toward the media. Now he's joining them.
There's long been a revolving door between politics and media, with former senior operatives quickly finding new homes as TV commentators. Yet Lewandowski's hiring by CNN is striking not only because his commentary may be constrained by a nondisclosure agreement, but also given his especially abrasive dealings with journalists from various news organizations, including CNN.
In November, Lewandowski said CNN reporter Noah Gray would be "f**king blacklisted" for leaving the designated "press pen" to cover a protest at a Trump rally.
"Inside the pen, or I will pull your credentials," Lewandowski told Gray. "Media goes in the pen."
CNN was never blacklisted, and Gray continued covering the campaign in a professional manner.
BuzzFeed reported in March that Lewandowski "physically pushed" Gray as he tried asking Trump a question at a press conference in West Palm Beach, Florida. That same month, Lewandowski grabbed reporter Michelle Fields, who then worked for Breitbart News, at a press conference in Jupiter, Florida, as she tried to ask Trump a question. Fields is now covering the presidential campaign for HuffPost.
A CNN spokesperson confirmed Lewandowski's hiring, which was first reported by Politico. He is expected to make his first appearance Thursday night on "Erin Burnett OutFront."
Since Lewandowski gave a nearly 30-minute interview Monday on CNN, there's been speculation he'd land a cable news contract this election season. At CNN, he'll join Jeffrey Lord and Kayleigh McEnany as paid commentators routinely booked to spin on Trump's behalf.
It's likely Lewandowski signed a nondisclosure agreement that could severely hamper his ability to speak freely even off the payroll, as CNN's Wolf Blitzer and Jeff Zeleny discussed Monday.
The Associated Press reported Tuesday that Trump "requires nearly everyone to sign legally binding nondisclosure agreements prohibiting them from releasing any confidential or disparaging information" about him, his family, and businesses.
"Trump demands control over what his staff can say — even if they're fired — and speaking out can mean getting sued," wrote the AP's Julie Pace and Chad Day.
But during an MSNBC interview on Monday, Lewandowski repeatedly deflected questions about whether he'd signed a nondisclosure agreement. "That's internal politics that nobody cares about," he said in response to one question. When pressed again, Lewandowski said his situation with Trump was "unique," adding, "I can't tell you about what other people do."
"But I can tell you this," he continued. "I will do everything I can to make sure Donald Trump is elected the next president of the United States."
Related
Popular in the Community