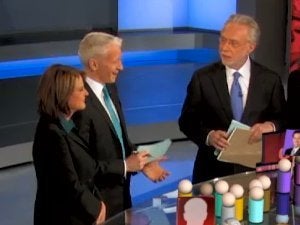 It wouldn't be an election night without some CGI gadgetry from CNN, but one of the network's latest innovations prompted a very skeptical reaction from Anderson Cooper during the coverage of Tuesday's Iowa caucus.
CNN has become famous (or infamous) for hauling out a bevy of touchscreens, magic walls, computer simulations and -- in its most notorious move -- even holograms of its own reporters. On Tuesday night, Wolf Blitzer proudly unveiled the network's newest way to explain how a caucus actually works: a group of small, faceless CGI blobs that Cooper called "Weebles" in a reference to the egg-shaped children's toys.
Cooper seemed two seconds away from rolling his eyes at any moment. As Blitzer finished up his tour of the blobs and their movements, he said, "If you miss any of this you can see it later on 'The Daily Show' with Jon Stewart when he ruthlessly mocks you."
"Pretty cool, don't you think?" Blitzer said.
"Uh...yes!" Cooper said hesitatingly. "I hope the Weebles are going to show up throughout the evening."
WATCH:
Calling all HuffPost superfans!
Sign up for membership to become a founding member and help shape HuffPost's next chapter