A Republican candidate for an Illinois seat in Congress on Thursday openly denied the Holocaust and said, "You jews media, you've gone absolutely nuts," during an appearance on CNN's "New Day."
Arthur Jones, the self-described former leader of the American Nazi Party, called the Holocaust a "scam" and an "extortion racket" as "New Day" host Alisyn Camerota challenged him. Jones, the sole Republican in the race for Illinois' 3rd Congressional District, is set to capture the party's nomination in the March primary election.
Camerota aired footage of an unhinged Jones speech at a neo-Nazi event, then posed a blunt question.
"Mr. Jones, It is shocking to hear how vocally and unapologetically racist you are. Are you a Nazi?"
Jones said he doesn't call himself a Nazi because he has not formally been involved with Nazi organizations for the last "15, 20 years."
"I call myself an American patriot and statesman," he said.
Jones is challenging Rep. Daniel Lipinski (D), and has been denounced by the Illinois Republican Party and National Republican Congressional Committee.
"You've been part of anti-Semitic groups since the 1970s," Camerota told him. "You're part of the White People's Party. You dress in Nazi garb, you celebrate Hitler's birthday.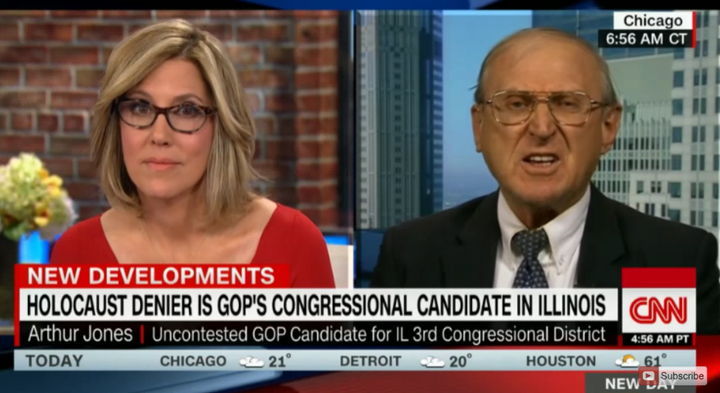 Camerota went on to say that Jones' website ― which includes a section that calls Holocaust survivors peddlers of "propaganda" ― is "filled with the most vile, rancid rhetoric I think I've ever read."
"It's not vile and rancid, it's the truth," Jones replied.
"There's nothing on that website that's not true," he continued. "You jews media, you've gone absolutely nuts. You think that Adolf Hitler's revived from the grave or something. It's one man, myself, that's standing for the truth."
Jones continued his rant, calling the Holocaust "poppycock," a "scam," and an "extortion racket" as Camerota read cold, hard facts about the Nazi genocide.
The argument went on for several minutes before Camerota tied it up with a prediction about Jones' political future.
"You have a long track record of losing," she told him. "You lose virtually everything that you run for. You've run for Congress and you've lost, for mayor, for alderman. And we're not in the business of predicting the news, but I can say that you will lose this race. You couldn't win dog catcher."
"Chances are, you'll go down in flames," she said.
Many people on social media remarked about Camerota's handling of Jones:
Related
Before You Go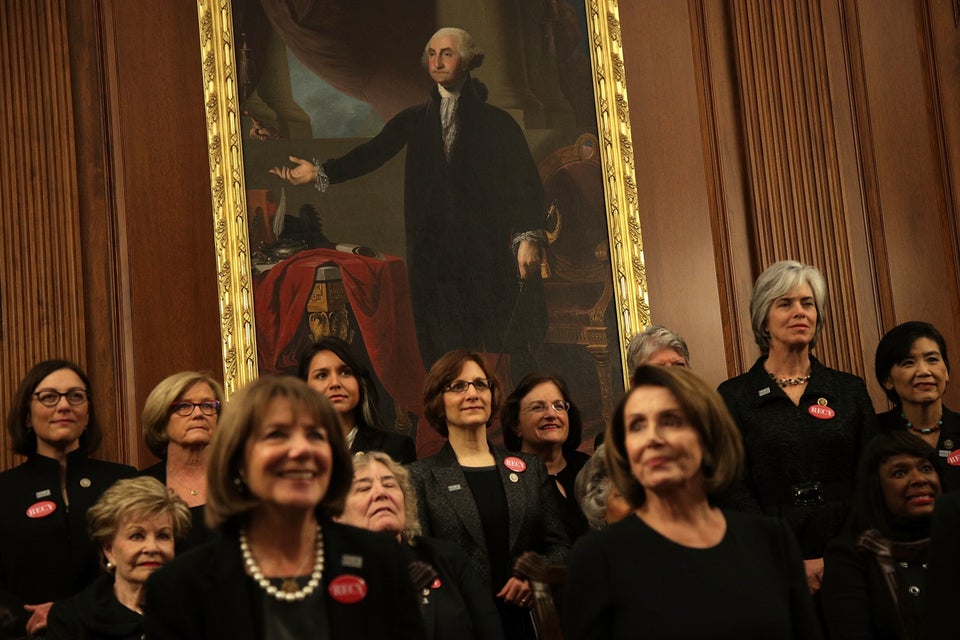 Members Of Congress Wear Black For State Of The Union In Solidarity
Popular in the Community