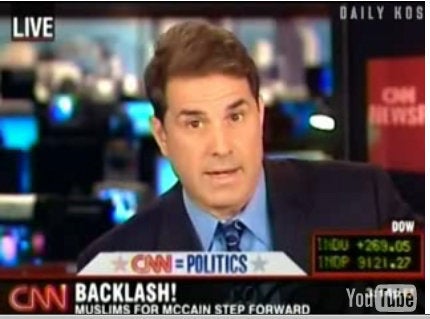 CNN host Rick Sanchez said he was "mystified" by a last minute decision by the McCain campaign to pull a Muslim grassroots organizer from appearing on his show.
The aide, Daniel Zubairi, had been scheduled to appear on Sanchez's mid-day program after he was caught on video talking down an anti-Muslim protester outside a McCain rally in Woodbridge, Virginia. But, even after telling the network that an interview was "good to go," the McCain shop pulled Zubairi at the last minute, leaving Sanchez in limbo on live TV.
"Wouldn't you think they would have wanted him to come on?" the CNN host would later tell the Huffington Post. "What the guy did was courageous. I called him heroic. I'm mystified why they wouldn't embrace him for his actions. Maybe they didn't like the story, but I'll tell you. I thought it was presented it in a very transparent way, if anything I kind of gushed philosophically about how impressive and real his reaction was to the protester's hateful message. It seemed to show some of the best of McCain supporters, didn't it?"
The American News Project captured Zubairi this past weekend intervening when a racist McCain supporter got into a heated exchange with rally attendees over the anti-Muslim literature and message that he was promoting. We don't "endorse that behavior" said Zubairi. The tiff ended with the man walking away from the rally with his pamphlets and bumper stickers in hand.
Noting how the incident went against the prevailing narrative of McCain crowds festering with hateful, occasionally racist speech, Sanchez booked Zubairi for his show. But minutes before the interview was to take place, the McCain campaign wouldn't let him go on air.
"I had instructed our guys before the show to find this guy, vet him and get him to talk," said Sanchez. " I was briefed by one of our producers and told we were good to go. Then just as I went to introduce him, it all changed. I may know more tomorrow. I guess that's a long way of saying I don't know why."
Popular in the Community