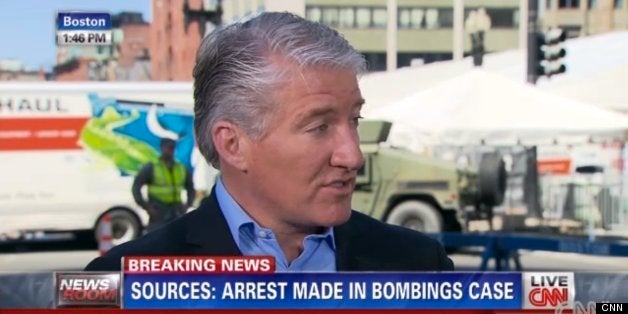 On Wednesday afternoon, CNN's John King walked back his earlier report that "an arrest" had been made in the Boston marathon bombing, wrapping up a chaotic hour of conflicting reports on networks and news sites over whether an arrest had been made.
King explained on air that a federal law enforcement source told him that "significant progress has been made, but no arrest. Anyone who says an arrest is ahead of themselves."
"I went back to the Boston law enforcement sources who said we got him, I said, Got him? Identification on arrest? " King continued. "The source says can't talk to you right now, says there is significant blowback at the leaks. Says there will be more information later today."
King's explanation suggests he took the source saying they "got him" to mean a suspect was arrested. However, the source may have been indicating that a suspect had only been ID'd.
A CNN spokesperson responded to questions about the network's earlier reporting in a statement to The Huffington Post and indicated there were several sources involved with the decision to report an arrest had already taken place.
"CNN had three credible sources on both local and federal levels," the spokesperson said. "Based on this information we reported our findings. As soon as our sources came to us with new information we adjusted our reporting."
CNN certainly wasn't alone in reporting there had been an arrest or a suspect was in custody.
The Associated Press had reported that a suspect was in custody based on a single source who continued to stand by the information even after the FBI said no arrest had been made. News organizations typically seek two or more sources before reporting on such a sensitive situation.
King also went on a limb to report earlier that the potential suspect is a "dark-skinned" male , a description that drew criticism from PBS's Gwen Ifill and others.
This post was updated after publication and changed to reflect the Boston Globe reported a suspect in custody but not arrested.