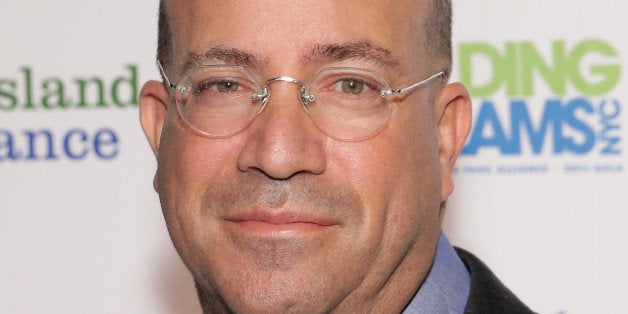 NEW YORK -- CNN President Jeff Zucker said Thursday that he'd be happy to talk to soon-to-be free agent Jon Stewart about joining the network, though he isn't holding his breath that "The Daily Show" host would come aboard.
"I'm a huge admirer of what Jon Stewart does," Zucker said in response to a question from The Huffington Post. "We'd love to have him at CNN. I don't think it's in the cards, so I hope you won't mischaracterize that. But if you're asking me, would there ever be room for it? Yes, the answer is yes. Do I think it's likely to happen? I don't really think so, but we'd love to have that conversation."
Zucker said that while working at NBC, he once tried to hire Stewart, who announced plans Tuesday to leave his Comedy Central show after 16 years. Stewart famously mocked CNN's "Crossfire" in 2004, which helped knock the show's earlier incarnation off the air, and has taken jabs at the cable news network through the years.
During a lunch with reporters to discuss Bill Weir's upcoming show, "The Wonder List," Zucker's former employer couldn't be ignored as the CNN chief acknowledged it had been "a remarkable week in television news, in television journalism, and in popular culture."
Zucker would not comment specifically on NBC News' decision Tuesday to suspend "NBC Nightly News" anchor Brian Williams for lying about being in a helicopter hit by an RPG -- or whether he expected the veteran journalist to return to the desk. But Zucker said that it's been "incredibly sad and disappointing to see what's happened to Brian."
"He was a colleague of mine, a friend for many, many years, obviously," Zucker said. "So I feel very badly for him on a very human level. Unfortunately, this has obscured some really fantastic work that Brian did. What is clear is that he made some incredibly serious mistakes, and I feel really badly that that's obscured what was otherwise a really fine career."
Zucker also commented briefly on the other major media story of the week -- the tragic death Wednesday of legendary CBS News journalist Bob Simon. He said there was "nobody better" at storytelling in television news than Simon, who was killed in a car accident in Manhattan.
"It's a tremendous tragedy and I find it just incomprehensible that he would survive everything that he survived around the world and then go, so sadly, that way," he said.