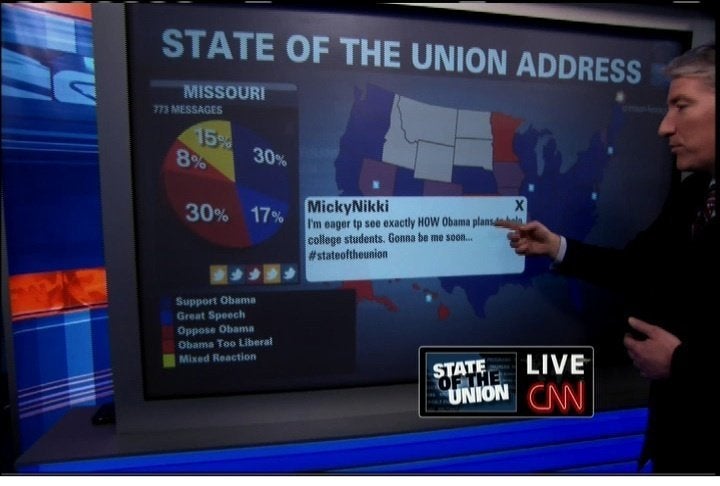 The moment from 2010 State of the Union coverage everyone will remember may be Chris Matthews' admission that he "forgot Obama was black for an hour" on MSNBC. But the moment that ends up being most pivotal in changing the way the media covers big, live events may well have happened on CNN, where John King used the "Magic Wall" to analyze almost 150,000 Twitter responses to President Obama's speech.
Using technology from software startup Crimson Hexagon, CNN presented a comprehensive breakdown of Twitter responses to the State of the Union, ranging from "Support Obama" to "Obama too liberal." King, operating the Magic Wall, was able to drill down to show state-by-state reactions and highlight sample tweets from each state, as well as show a macro-view of Twitter users' responses to the speech.
Missouri Tweeters, for instance, were about 47% supportive of Obama's speech; Massachusetts Tweeters about 49% supportive; California Tweeters about 50%.
At a time when media organizations big and small are debating how best to integrate sites like Twitter and Facebook into their coverage, CNN appears to have found a successful application.
"We turned the corner tonight," Alex Wellen, CNN's Senior Executive Producer, Integrated Programming said in the control room shortly after King demonstrated the technology for the first time.
Wellen said that CNN had access to the entire "firehose" of Twitter data, as opposed to the limited amounts Twitter makes publicly available for search, and said that there were three elements that made the analysis successful: 1. massive amounts of data, 2. timing of that data, and 3. state-by-state geotagging of that data.
"All together, it gave us a 50,000 foot view of what the Twitter reaction was," he said.
David Bohrman, the CNN Senior Vice President and Washington Bureau Chief who was executive producer Wednesday night, agreed.
"Twitter is all noise, but to be able to harness it and group it and actually intelligently cluster it and derive moods and opinions from it is very interesting," he said.
Bohrman said that he and Wellen met executives from Crimson Hexagon at CES, and invited them to begin tests for CNN soon therafter. They tested the technology with the Massachusetts senate race last week, and Bohrman said the results were "fascinating."
"We began to develop some confidence that there is interesting value there," he said in an interview Thursday, but still was not sure he would use the technology on Wednesday's broadcast. "I went into the control room with about a 50/50 chance of using it. I wanted to see it work. Over the course of the evening, Alex [Wellen] would update me and I was talking to John [King] so my confidence began to grow as John began to get comfortable with it. He and I both got ourselves to a point of comfort sometime during the Republican response and then I worked it in relatively soon after that."
Bohrman said one of the most interesting aspects of the technology is that the categories are not pre-defined; rather, they emerge out of the algorithm as the reaction begins to take shape. And he added that he hopes to expand CNN's use of it going forward.
"If we can expand it to Facebook and various social platforms, it's not a replacement for opinion polling because of the universe of people who are using these various platforms, but it does provide pretty interesting data," he said.
Melyssa Plunkett-Gomez, an executive with Crimson Hexagon, echoed Bohrman's sentiment, but added that recent analysis the company did on the public option and Afghanistan came within two percentage points of a CBS poll on the same topics. She said the company hopes to be able to drill-down even further in future analyses.
"In major events like the State of the Union, we actually want to get to real-time analysis," she said. "We also want to get, if we can, more granular with location, based on cities and zip codes rather than just states."
Plunkett-Gomez said her company's analysis "adds a lot more value than just reading out individual tweets.
"We're more about the haystack than the needle," she said. "We show you what the patterns are in thoughts without seeing the tweets."
Bohrman, who produces all of CNN's special programming, compared the network's use of Twitter Wednesday to the inclusion of blogs in CNN's 2004 convention coverage, and the YouTube debates the network hosted during 2008.
"This is light-years beyond what we've done, because we're actually examining the messages and letting them tell us what the people are saying," he said. "You don't want to build something up too far but I think it was a really big moment in how mainstream media can connect up to social media without just running Twitter messages on the bottom of the screen."
Related
Popular in the Community