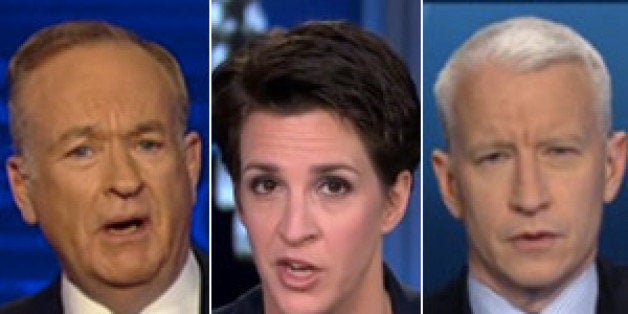 All of the cable news networks touted victories at the end of March, which marked the close of the year's first ratings quarter.
The disappearance of Malaysia Airlines Flight 370 was one of the biggest stories of the month, and CNN — whose obsessive coverage of the plane has brought it both ratings victories and repeated criticism — reaped the rewards. The network beat MSNBC in weekday primetime in the demo, averaging 240,000 viewers ages 25-54 to MSNBC's 201,000. Those numbers represent a 71 percent increase in the demo compared to March 2013. Meanwhile, MSNBC was down nine percent.
In total day throughout the week, CNN drew an average of 498,000 total viewers to MSNBC's 379,000. The network was up 42% in total viewers since this time last year. Fox News topped both MSNBC and CNN in total viewers and the demo as usual — but "Anderson Cooper 360" even beat "The O'Reilly Factor" in the demo for three days in March.
Still, the results in March didn't extend to the rest of the quarter. January and February were rough for CNN, leading to a quarter which Deadline said was its third-worst ever in terms of total viewers. MSNBC beat CNN during weekday primetime in both the demo (MSNBC's 233,000 vs. CNN's 176,000) and total viewers (805,000 vs. CNN's 527,000). A release from MSNBC on Tuesday touted the results as the network's best quarter in the demo in a year.
Calling all HuffPost superfans!
Sign up for membership to become a founding member and help shape HuffPost's next chapter